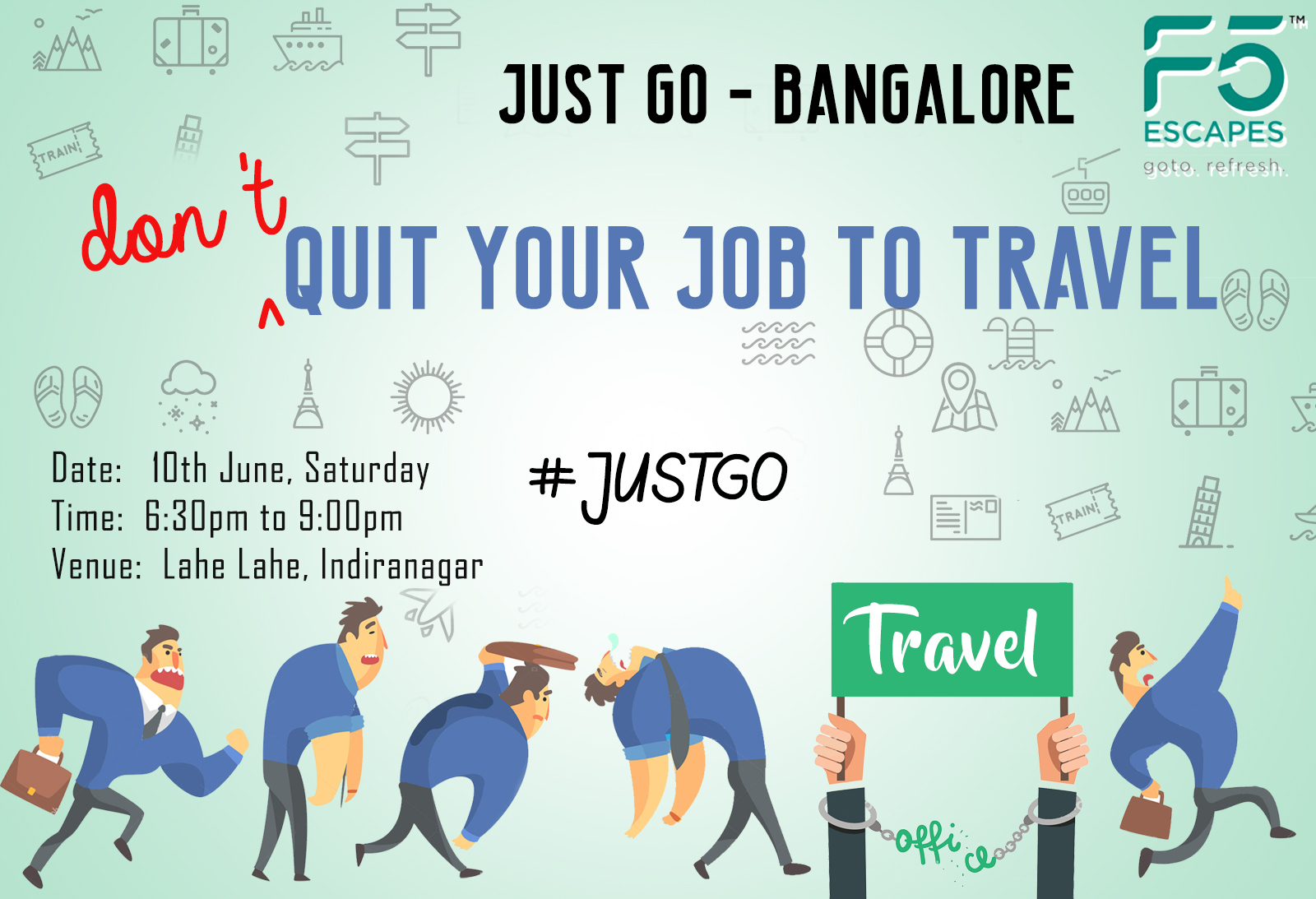 There is a traveler in each of us – realized in some, waiting to come out in others. We all are looking for something, especially when we travel. You seek thrill, peace, yourself – or you seek travel itself.
With this thought in mind, we started Just Go – an offline community meetup of travelers, to share stories, ideas, tips, guidelines and pitfalls. We try to make this exciting event happen once in every two months, getting together the seasoned travelers and the newbies, the backpackers and the luxury trotters, bikers and cyclists, photographers and writers – all coming together for their common love for travel. Although it is an initiative by an all-women travel outfit, Just Go is gender neutral. It is a varied group, but isn't that what travel is all about – Being comfortable in contradictions?
Each edition of Just Go revolves around a theme. Photo journeys, Travel on two wheels, Budget Travel, Voluntourism, Travel Planning, Travel and Mythology, Jungle Tales, Travel and Social Media are some of the themes we have covered in our jam-packed sessions.
Launched on 29th March 2014 in Bangalore as a small travel meetup, we have doggedly met and drawn inspiration from some of the most amazing travelers in the country over the years. Currently, Just Go is happening once in every two months spread across 6 different cities in India – Bangalore, Mumbai, Delhi, Ahmedabad, Hyderabad, Chennai.
Do not miss when it happens near you. Don't Think. Just Go. You won't regret. That's a promise.
You can remove the poster on the page. We can add a link to our Just Go Travel community group on FB here.
Follow our Just Go community group for updates about the next Just Go event.
Just Go Delhi on 14th October at Kunzum Cafe. – More Details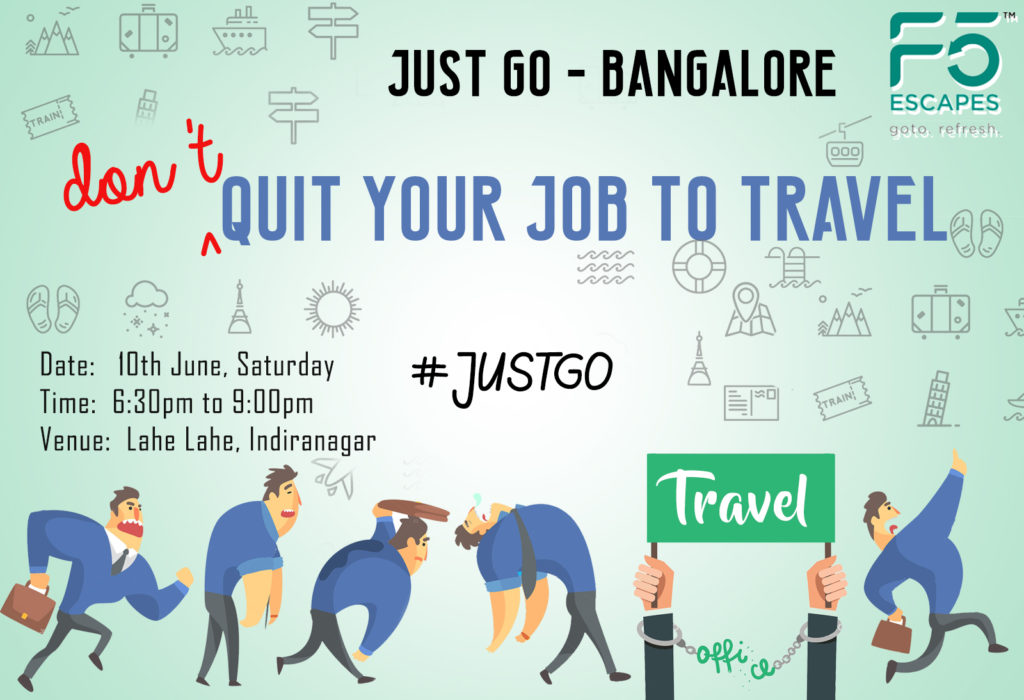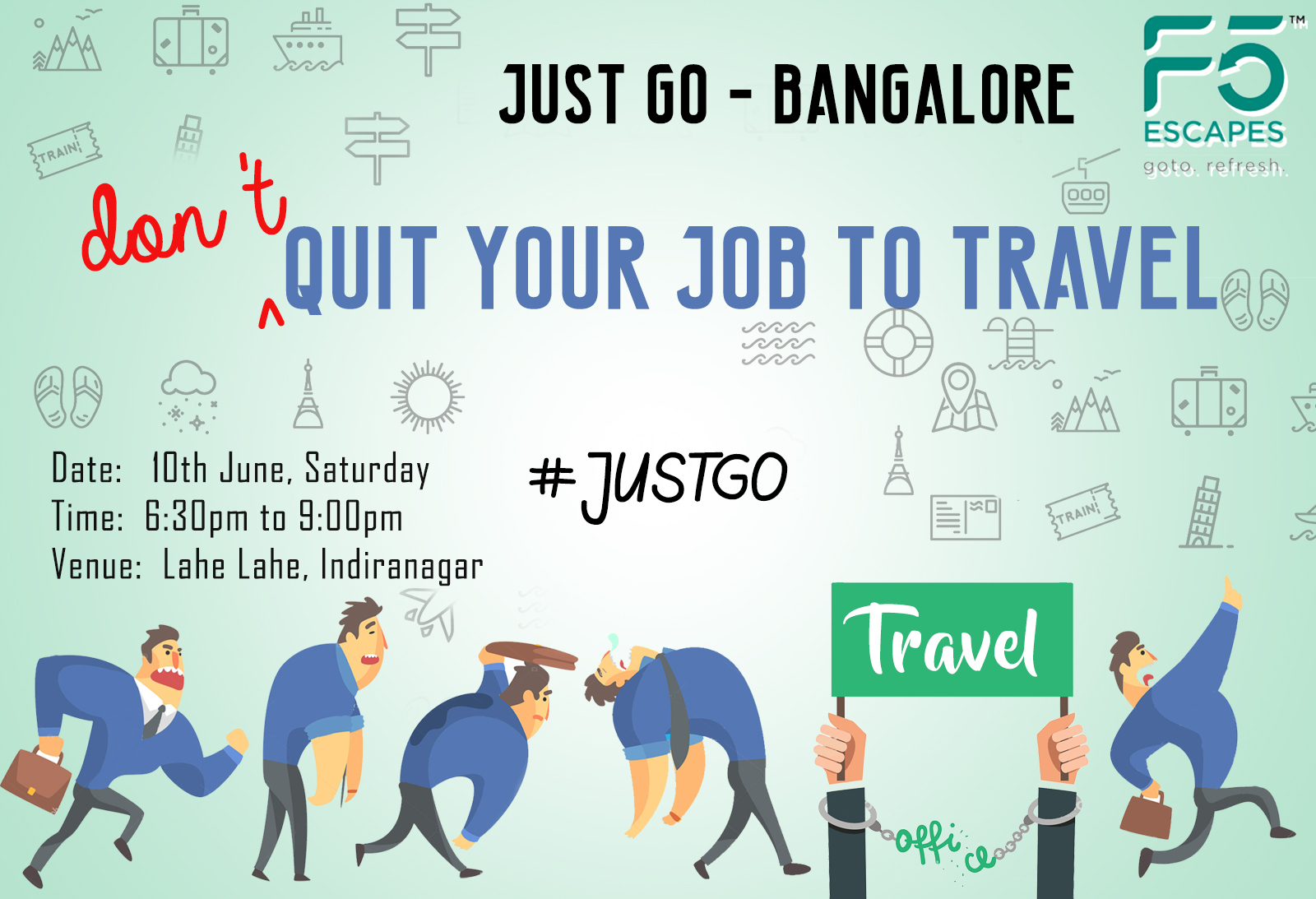 'F5 Escapes' is a Bangalore-based, experiential travel company, with a focus on crafting and executing all-women travel experiences in India. The premise of F5 is an ambitious dream –  to put India on the global travel map as a preferred destination for women.  Come, join us, as we work towards redefining the way women travel India.
We all need regular breaks, be it a day's off from our daily chores, life's chaos, the work stress, the urban traffic or a relationship crisis. Be it anything, what matters is the break that you need. How often is that idea put into action? Well, we don't blame you for the inaction. We have been there, done that and hence the idea of F5 Escapes. Let us help you travel. Sustainably, responsibly, safely.