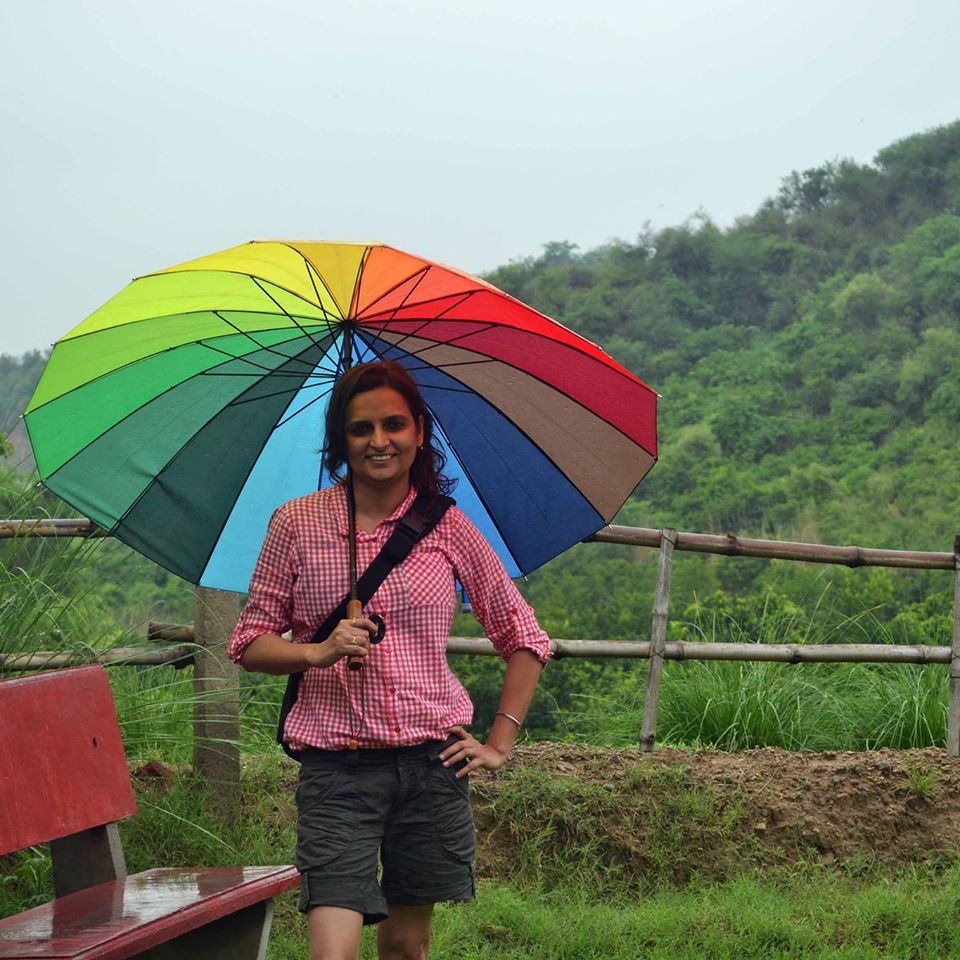 19 Jul
Akanksha Dureja - Direct Dil Se
---
Akanksha Dureja day-dreams about beautiful beaches, lush green valleys, curvy roads and snow clad mountains. Wanderlust is a way of life for her. She is not a girl whose best friends are diamonds. Instead she would happily settle for travel vouchers to exotic destinations and an expensive camera. She is reading-romance-at-a-beach type of girl when she is not being a techie, which she is trained to be. We caught up with this SRK Devotee to get know her a little better, about her travel experiences & her choices in traveling responsibly.
Can you tell us when and how did the travel bug bite you?
Travel bug was always there. Guess it's in the genes and I inherited it from my father. I remember reading a Hindi poetry about Satpura forests and longing to go there. Another time it was a chapter in my Geography textbook about sand dunes of the great Indian Thar desert that left me wishing for a flying carpet. So yes, as far as I can remember, I've been a traveler.
And how do you fund your travel ?(savings/work whilst traveling/other)
Most of my travels are self-funded. I don't use up my savings to travel, but yes I have a full time job that helps me fund my travel dreams. I earn to travel. Now that brands are working with bloggers a lot, there are times that a sponsored trip also lands up in my kitty.
How long have you been documenting your travel stories ?
The blog is 8 years old but the travel stories got in there three years ago. You can read about them here.
Can you share with us, that one travel memory that you cherish till date ?
It was around 11:50 PM in the night and I was on a bus to see the Eiffel Tower. We had visited in the morning that day and even climbed up. But somehow, I knew the night would be special. We reach around midnight and just in a few minutes, the Eiffel is all lit up. I was with a group of friends, but I strayed along, wanting some solitude. Staring that the Eiffel sparkling in all it's glory, a few tears rolled down my cheeks. I cried a hearty cry, but the water droplets didn't make my view hazy. Instead, they made it all even prettier. Eiffel is like a beautiful poetry. And beautiful things can make you shed a tear or two.
Have you been to any place, which turned out to be totally different to how you had imagined? If so, how?
A three day trek to Nag Tibba in the Himalayas in March (2016) turned out to be totally different than what I had imagined. Though a winter trek, it hadn't snowed much this year but I got really lucky.
A sudden change in weather later the entire trial was covered with snow and it seemed like we have landed up in Narnia. I know you won't believe that until I show you some pictures! So, here you go.
Your preferred travel companions?
Friends, both real and virtual.( from the travel blogging community)
Your views & experiences (if any) on safety while travelling on your own .
I am not really a solo traveler but yes, I have done a couple of trips on my own. The key to safely while traveling solo is to keep your eyes and ears open and follow your instinct.
Do you have a bucket list? If so what is the first item?
I have a bucket list that is unending and still growing every minute. But, I don't really believe in numbering the items on that list. Each place is special and unique in it's own way and I try to check-off whatever is possible at a given time, with the given resources.
We all know that travel teaches us a great deal of things about life. Can you share with us what has travel taught you ?
Travel has taught me many things. Some days it is patience that I learn, some other days it is humility. Some days it is letting go, some other days it is holding on to life. Some days, I don't need to learn a new lesson but only need to implement what I already know. Guess I can do an entire blog post on this one!
Is there anything you do on your travels or in your every day life to try to minimize your impact on the environment?
I try and be responsible about what I bring to the place and what I leave behind – Don't leave behind something that's undesirable, whether that is plastic bottles, wrappers, higher carbon footprint or anything else that's a menace to the environment.
That's my single point agenda and it covers all aspects of being a responsible traveler as well as a responsible citizen of our country.
Please share with us, your message to aspiring women travelers?
Travel, for not all who wander are lost and you might just find yourself on one of those journeys!
We asked Akankshaa to give a one word substitute on few travel related questions.
If some one asked you to give up travel and choose exactly one thing to do in life, what would you choose?

I can trade travel for some more travel.
A fictional character would you most like to meet or travel with ?
One Dream Destination?

Santorini, Greece.
Your most preferred way of travelling (Backpacking/Economy/Luxury)?

Economy
What describes you as a travel style as a woman, the best? Nomad / Diva / Aam Aurat

Aam Aurat
A traveler who inspires you

Ibn Batuta.
You can follow Akanksha's travel journey on the below platforms
'F5 Escapes' is a Bangalore-based, experiential travel company, with a focus on redefining the way women travel in India. The premise of F5 is an ambitious dream –  to put India on the global travel map as a preferred destination for women from across the globe.
F5 Escapes offers fixed departure all-women group tours, customized itineraries for families, groups and solo travellers. We also do in-city engagements which include #JustGo travel meetups, workshops to educate women on travel safety, sustainable menstruation, motorbiking etc.