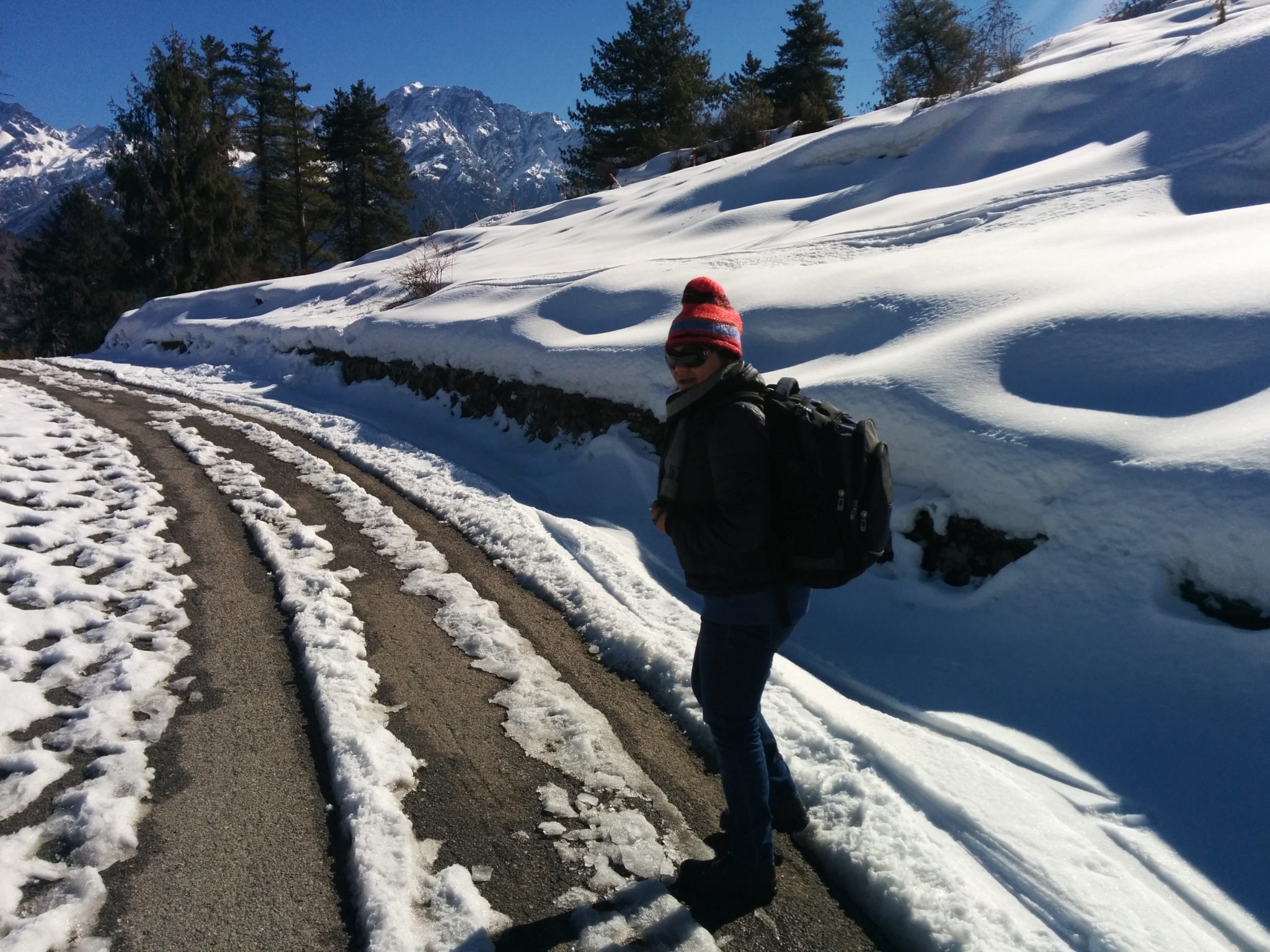 04 Jan
Alka Kaushik - Life In Transit
---
Alka Kaushik is a trained journalist who started her career from the newsroom of Doordarshan, the national broadcaster in the mid nineties and worked as newscaster with All India Radio briefly.
"Changed my gear completely after the family responsibilities started overwhelming me and joined a telecom PSU for more than a decade. I am currently on sabbatical and pursuing my dream to travel the farthest I can. I have deep and abiding love & respect for many art forms like dance, music, paintings etc (though I am a big failure in all three). May be in next birth I would like to be born in a Tamilian family to be a trained dancer or musician/singer."
We caught up with Alka to find out little bit more about her travel journey.
Can you tell us when and how did the travel bug bite you?
The urge to know the planet I was born in is the inspiration behind my journeys and I have been travelling ever since I started earning my own money. It has been almost two decades now. In the first decade, I traveled less, with meticulous planning because of young kids in tow. But after children grew up, I had been to far and wide in the last one decade. And travel had been intensive in the last four years after I traveled to Kashi for Dev Diwali in Nov 2012. There was not a single month in my life when I had not been to at least 2-3 destinations each month after Kashi. This phase is still continuing by God's grace
And how do you fund your travel ?
Savings, Work whilst travelling, a third of my visits are sponsored/invite basis/FAMs
How long have you been documenting your travel stories ?
Since 2012 seriously, that's the year when I started my travel blog in my mother toungue to share not just my experiences but information about very less visited places in the world like Kailas – Mansarovar in Tibet and Siachen glacier in the Karakoram Himalaya.
Blogging for me is a medium where I can document some fleeting moments of this beautiful journey called "Life". All these years I have been retracing the paths of several seekers and luminaries down the ages. In each of my journeys so far, I have carefully, consciously and deliberately left a pregnant space behind for a future return!
Written words always mesmerize me, mountains, of course, have cast a black magic on my very being! I always find roads inviting me with open arms and great conversations can pull me anywhere. A cup of tea, few peaceful moments, a book to read, a friend to share in between some destinations is what I call purrrrrfect life. Heaven can wait..for sure!
What attracted you to travel in India? How has your journey been so far in India – in terms of living, interaction with locals, exploring places.
I have mostly traveled in India because I know this is one country which you can travel throughout your life and still you won't be able to fully know its vastness and variedness. I have always been intrigued by the difference in simplest of things like food habits, dressing styles, languages we have with our fellow countrymen.
Despite being a vegetarian, a Ladakhi kitchen amazes me as much as a Naga platter. Meeting people from different cultural backgrounds, faith and geography has been my prime motivation for travel.
It's a tough question, we know, but if you could suggest one place that everyone must visit in India?
Oh, that's a real difficult question to answer. I can mention Garhwal Himalayas in my own home state of Uttrakhand where my ancestors came from, but I guess I am biased towards this place, to Ladakh in the state of Jammu & Kashmir or Ajanta-Ellora in Maharashtra.
"But if given a choice to name just one, I will say temple circuit in the South. one must must visit any of the great Chalukyas temples in Tamilnadu to understand and appreciate our architectural splendors and the artistic perfection our artisans had acquired many centuries ago."
First – hand advice for someone who is planning to visit India for the first time?
Come without expecting anything and I can assure that you will return with a memory box so full that you will need a lifetime to process! Come with not less than a month so that at the end of your holiday you are at least able to decipher what exactly constitutes India. Be ready to embrace our noises, imperfections, informalities and sometimes awkwardness for herein lies the beauty of our life philosophies.
Can you share with us, that one travel memory that you cherish till date ?
The arduous trek to the Kailas – Mansarovar from Uttarakhand to Tibet traversing innumerable mountains, rivers, springs, falls and valleys and passes.
Have you been to any place, which turned out to be totally different to how you had imagined? If so, how?
Siachen glacier.
I went on a trek to the glacier with the Indian Army in the year 2011. This was the first proper trekking experience in my life and lo, I was on the snowy heights of Karakoram. The challenges, the never seen before landscape and hitherto unknown experiences to the ill prepared and inexperienced trekker in me turned a city dweller into a Himalayan pilgrim for life. I was expecting to see a moving body of snow which would be an eye candy for me.
In all frankness, I would accept that I was waiting to see a white, cold desert but never did I expect the barrenness which can cause depression in soldiers guarding our snowy sentinels. Little did I know that the snowy charm could also be fatal. I managed to walk, climb moraines and cross crevasses above 12000 feet with great difficulty. I barely survived the extreme weather and had a slight brush with AMS also. But after returning from the Siachen glacier, I was a world traveller who was now prepared for anything and everything. The hand holding and guidance of the Indian army made me a trekker, a walker for life.
Your preferred travel companions?
My family, friends and sometimes I just want to go on my own.
Your views & experiences (if any) on safety while travelling on your own.
I prefer to be on the safer side of travel. I am a strongly intuitive person and sincerely listen to what my intuitions tell me. I avoid real time updates on social media so as not to invite any trouble in the form of stalkers etc. Keep your location off on smartphone while travelling, do not reveal your travel plans to strangers if travelling alone, keep your cards and cash in different places are the rules I have always followed. It's always better to safeguard ourselves than regret later.
I make sure that my family know my whereabouts/plans always, no matter what. My hotel and travel bookings, itineraries are always in my family's inbox as a general rule. This is one travel tradition each one in the family follows since we are a family of journalists and all of us are travelling during most part of the year.
We all know that travel teaches us a great deal of things about life. Can you share with us what has travel taught you ?
Travel has definitely made me a lot calmer person than I was a decade ago. I no longer shout at people, try to understand other's viewpoint. My journeys to the distant, stranger, unknown and sometimes extreme situations/weather have taught me to adjust and not be demanding always.
And above all, I know I am travelling in this space and time for a very limited time, hence want to make best use of it.
Is there anything you do on your travels or in your every day life to try to minimize your impact on the environment?
I know I cannot avoid air/motor travel completely but I try to walk as much as I can. This is the reason I retraced the footsteps of my ancestors on Kailas-Mansarovar trek from Uttrakhand to Tibet instead of helicopter rides or road trips in luxury SUVs to the base of Mt Kailas via Nepal or Lhasa.
In fact, I take lot many walking tours in all the places I visit. That's my idea of reducing my carbon footprint. I have hardly wasted food and always remember the face of the farmers toiling in fields to bring that food to my table. Respect for fellow travelers/locals by not causing noise pollution from my vocal chords or gadgets is another rule I religiously follow. 🙂
At home, I segregate waste and do not allow green waste to add to the woes of my already burdened city. All waste from my kitchen and my garden goes to the pit for manure.
Please share with us, your message to aspiring women travelers?
Be a strong person to travel the world. Invest your time and money wisely. Be an avid observer, gather a lot and share a lot.
Alka answers to some of the more frequently asked travel related questions.
If some one asked you to give up travel and choose exactly one thing to do in life, what would you choose?

Writing and documenting my journeys for posterity.
A fictional character would you most like to meet or travel with ?

Shiva, the most innocent God.
Your most preferred way of travelling (Backpacking/Economy/Luxury)?

Comfortable, somewhere in between economy and luxury. I slog hard to earn enough to fund my travels
What describes you as a travel style as a woman, the best? Nomad / Diva / Aam Aurat

Nomad
Three items your travel bag pack is most likely to have in all your travels.

A tissue roll, towel (since I am a hygiene freak) and lipstick (to satisfy the feminine aspect of my personality).
Top 3 Destinations that are at the top of your bucket list

Norway, Antartica and the Arctic circle.
A traveler who inspires you

The Chines Buddhist monk, Xuanzang more commonly identified as Hiuen Tsang who was here, there and everywhere.
You can follow Alka's travel experiences on the below platforms
'F5 Escapes' is a Bangalore-based, experiential travel company, with a focus on redefining the way women travel in India. The premise of F5 is an ambitious dream –  to put India on the global travel map as a preferred destination for women from across the globe.
F5 Escapes offers fixed departure all-women group tours, customized itineraries for families, groups and solo travellers. We also do in-city engagements which include #JustGo travel meetups, workshops to educate women on travel safety, sustainable menstruation, motorbiking etc.