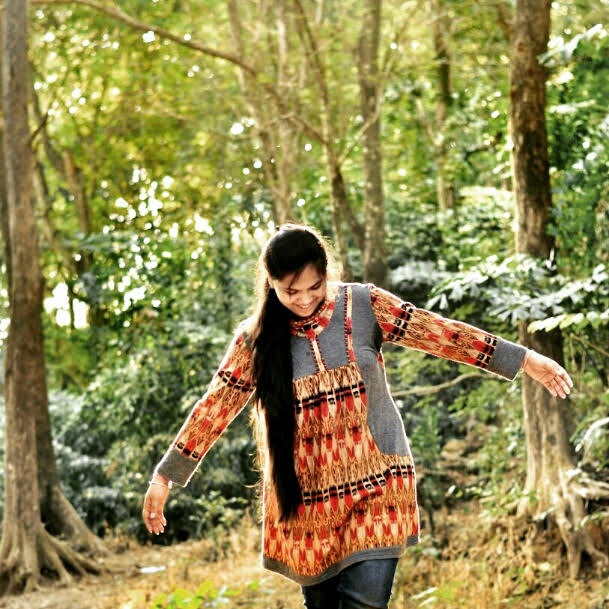 12 Apr
Divyakshi - The Quirky Wanderer
---
Divyakshi Gupta is a female traveler born in Punjab & brought up in Mumbai. After experiencing Banaras, this Quirky Wanderer is looking forward to her next destination on the list – Bhutan. We caught up with Divyakshi to get know her a little better, about her travel experiences & her choices in traveling responsibly.
Can you tell us when and how did the travel bug bite you?
The travel bug is hereditary, passed on to me by my parents, who love traveling. To add to it, I spent most of my childhood vacations with my grandparents, who were settled in Himachal. Long nature walks by the riverside, growing up near brooks and orchards and exploring forests were some of the many factors that imbibed the love for travel at a very young age.
And how do you fund your travel?
Savings! I have a travel fund. I quit my advertising job in 2012, to head the marketing department of my family business. Travel writing is something I freelance in. Travel is a great motivator to earn 🙂
How long have you been documenting your travel stories?
Travel and nature have inspired me to write since I was 9. Started blogging in 2006 and haven't stopped since then. My travel blog is Quirky Wanderer.
Many of photo – stories can be found on my Instagram account.
Can you share with us, that one travel memory that you cherish till date?
One is tough. There are so many!
When I was in Manali and I stood on the banks of Beas, on the rocks. There was an inexplicable calm which enveloped me. For a second everything around me dissolved and it was just the mountains and me, as if I was in perfect sync with nature for that particular moment.
Another travel memory is when I was sitting by the jetty in Venice. An hour spent people watching and sea gazing. There was perfect silence in complete chaos. Ironical, but extremely memorable.
From visiting an illuminating sea cave in Italy, to jumping off the cliff in Solang Valley to paraglide, to spending the night star gazing in the Thar desert to visiting a Monastery perched on a cliff in Manali.
Your preferred travel companions?
I love traveling with my mom. Additionally I like traveling with like-minded travelers with similar interests, especially the love for wildlife, nature, appreciating the beauty of little things and an undying curiosity of the unknown.
Have you been to any place, which turned out to be totally different to how you had imagined? If so, how?
I remember visiting a place in Rajasthan, called the Bharapur Rajaon ki Chattri. Stumbled upon it, by chance and loved its architecture from the exterior.
But the interior was far more mystical. Almost had an out of the world experience. The place is full of Rudraksh trees (even though Rudraksh cannot thrive in places like Rajasthan), has an old Shiv ling and an intriguing history. Made me marvel at what secrets can be held in tiny, unimaginable nooks of our country, completely out of bounds of tourist guides.
Do you have a bucket list? If so what is the first item?
1. Sky dive in New Zealand.
2. Scuba dive in Belize
3. Island hop in Greece
4. Hot air ballooning in Cappadocia
5. Visiting the North Pole and the list is endless !!
Your views & experiences (if any) on safety while travelling on your own.
1. Trust your gut
2. Research and read up.
3. Don't attract too much attention.
4. Always keep family informed.
We all know that travel teaches us a great deal of things about life. Can you share with us what has travel taught you ?
Travel has humbled me in ways I cannot fathom. It has enriched me as a human being, taught me to be grateful and count my blessings, made me independent and adaptable, loosened my knots, broke barriers, helped me inculcate the art of observation and patience and most importantly helped me to face and conquer the fear of the unknown in many situations.
Is there anything you do on your travels or in your every day life to try to minimize your impact on the environment?
Responsible travel is something I strongly feel for and stand by. Maintaining sanctity of hills, not indulging in animal cruelty in the name of tourist attractions, no littering and respecting local cultures is the bare minimum that should be done.
Please share with us, your message to aspiring women travelers?
Travel isn't easy. It isn't always a fantasy or a dreamy sequence out of a novel. It is hard work. But a kind of hard work you would strive to undertake. Because the outputs are far more greater than the inputs.
My message to women travelers would be – Travel solo, but do not travel solo JUST for the sake of traveling solo. It is perfectly okay to travel with a bunch of like minded people and learn with them.
Regarding women safety, I always insist women should trust their gut. It helps a great deal, along with other general precautions.
We asked Divyakshi to give a one word substitute on few travel related questions.
If some one asked you to give up travel and choose exactly one thing to do in life, what would you choose?

Set up a restaurant
A fictional character would you most like to meet or travel with ?

George from Famous Five. Oh! The ginger breads and camps and the endless adventures!
One Dream Destination?

Belize
Your most preferred way of travelling (Backpacking/Economy/Luxury)?

Not constant. Its always a mix for me. Some are budget trips, some are indulgence.
What describes you as a travel style as a woman, the best? (Nomad / Diva / Aam Aurat)

I think Nomad is too extreme for me. Yes, I do find myself at home, at random places but the feeling of getting back to my haven is priceless in itself. I will just call myself a traveler – who travels to places, to people, to stories and to herself.
A traveler who inspires you

My mom. Her enthusiasm to travel is infectious!
You can follow this quirky wanderer's travel tales on the below platforms
'F5 Escapes' is a Bangalore-based, experiential travel company, with a focus on redefining the way women travel in India. The premise of F5 is an ambitious dream –  to put India on the global travel map as a preferred destination for women from across the globe.
F5 Escapes offers fixed departure all-women group tours, customized itineraries for families, groups and solo travellers. We also do in-city engagements which include #JustGo travel meetups, workshops to educate women on travel safety, sustainable menstruation, motorbiking etc.