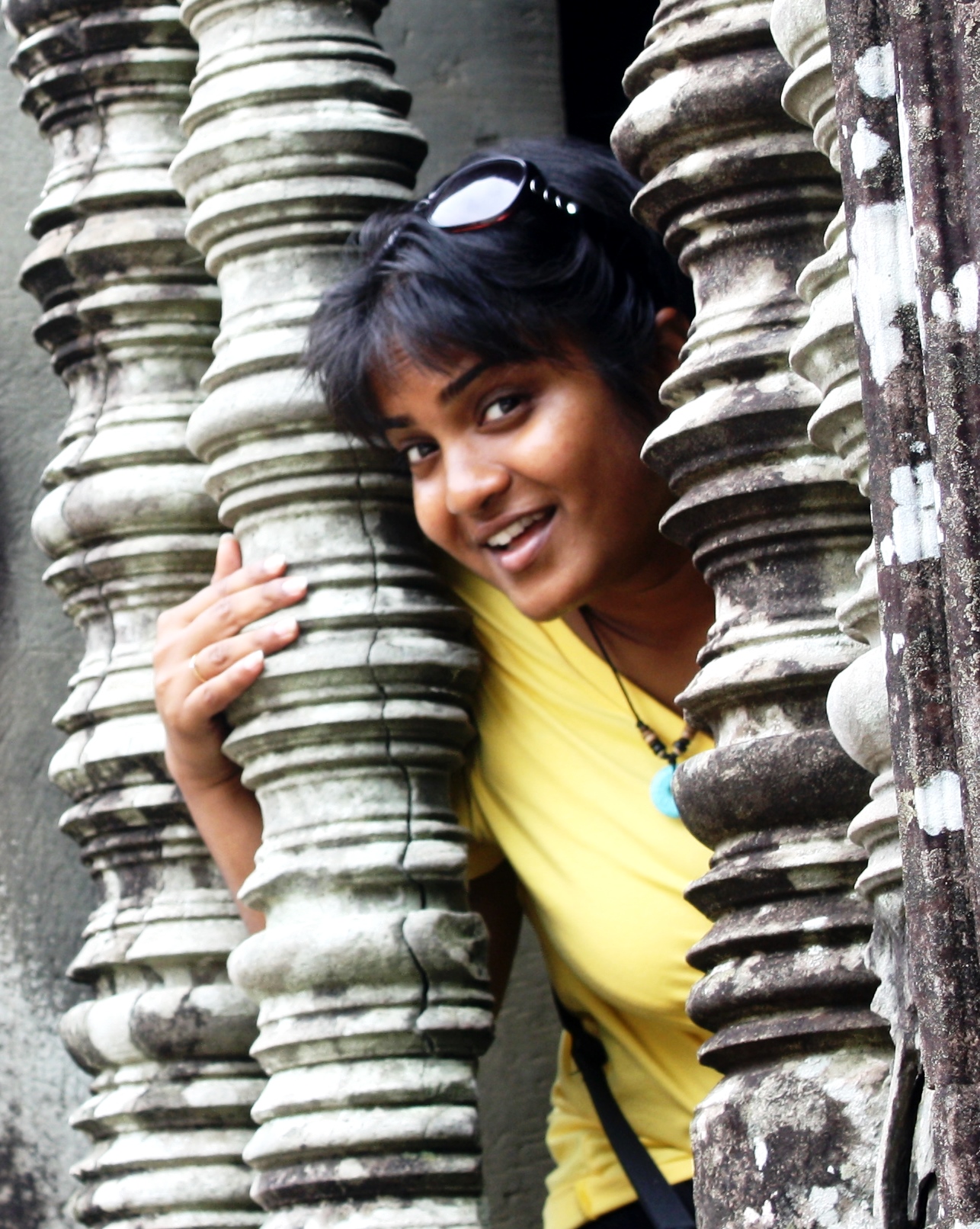 16 Jul
Gayathri Setty - Away From Shor
---
Gayathri Setty aka G3 😉 is a travel enthusiast who is constantly falling in love with world,traveling and inspiring people to travel more. G3 hails from Bellary, Karnataka and is currently living in Bangalore. A trip to Ladakh in 2013 changed G3 completely into a travel addict. She shares her travel stories & personal rants at awayfromshor.com
We caught up with G3 to know about her travel diaries, on how she started a travel blog and her views on F5 Escapes as a women travel group.
So, when and how did the travel bug bite you?
I enjoyed traveling even as a child. I used to pester my dad to take us out on a vacation at least once a year.
But it was in the summer of 2013, to make our first anniversary more memorable, we embarked upon a road trip to the magical land of Ladakh. Little did we know that it would change our lives forever! We were hopelessly bitten by the travel bug.
How do you fund your travel (savings/work whilst travelling/other)?
Large part of it comes from savings from our regular job. I'm a doctor – work whilst traveling (though I would love to) is almost impossible.
For our six month backpacking trip, we could only save about Rs. 6 lakhs before we set out and we did well. The idea is not to splurge money on things but save it for experiences
Share with us, that one travel memory that you cherish till date.
How can I forget this, we met one of the most friendly and hospitable persons while we were in Iran. Though we hardly spoke to each other due to the language barrier he did so much for us – some random strangers he met in the elevator.
When we simply asked him for directions to a mosque, instead of telling us directions he offered us a lift to the mosque, took our number, invited us to his home for a grand lunch, after which he took us on a picnic to a nearby lake with all his family members and even dropped us to the bus station to help us reach our next destination!
Have you been anywhere which turned out to be totally different to how you imagined? If so, how?
Yeah, it has happened many times. We were on our way to Dubrovnik from Split, Croatia and had to pass through Bosnia. We decided to spend a few hours in Mostar, a small town in Bosnia which was severely bombed in the recent Bosnian war. We imagined it to be a small little town with few historic places.
What we saw completely took us off guard. Here was a place which was yet to recover from the aftermath of war with almost every wall in the town riddled with bullet marks. It had one of the cutest city centers we had seen till then. We checked into a lively hostel, met some of the friendliest people who narrated some heart-wrenching stories of the war and took us to places which moved us to tears!
Do you have a bucket list? If so what is the first item?
Yeah, I do! The first thing in it is to start a blog which I did. It's a very special place where I share my musings and personal rants. You can read about my bucket list Here .
Your preferred travel companions?
My husband Vijay! We complement each other very well. He's spontaneous and not much of a planner. And I'm really good at starting conversations with strangers! Imagine communicating with a Bulgarian grandmother, who could not understand a word of English – I managed to chat up with her (don't ask me how) and grandma was so pleased she even cooked some vegetarian snacks for us 🙂
I also like to travel with friends and family at times.
Your views and experiences (if any) on safety while travelling on your own?
I recently went on my first solo-trip to Amritsar. It will always have a special place in my heart as I connected to the place like never before.
With regard to safety, I did not face many challenges. Using public transportation, blending in with the surroundings, a fair knowledge of self-defense would be sufficient I feel. Above all, use common sense and have confidence in yourself and your ability to travel alone.
What has travel taught you?
The freedom that I feel when I travel is something words cannot explain. Traveling has opened up my world like nothing else. I have had such beautiful and eye-opening experiences which are helping me grow as a better human-being. Travel has taught me –
How to live out of my comfort zone
How to live with less
Be less materialistic
That we are meant to be nomads! 😉
Travel is something that has made me not only a better human being, but a way cooler one too
Tell us about your 6 months trip? What initiated you to take the 6 month break from work and how did you plan your travel.
As I have said before, it all started in Ladakh. That was one amazing journey which we can never forget. We met so many travelers from far and wide who had left the comfort of their homes to travel the world! Being passionate about travel, we decided to take a break from routine life and go traveling for a few months. That was when the seed of long-term travel was sown in our minds!
We pursued this thought consistently for almost nine months – saving up all the money we could, fulfilling our family commitments, deciding on the places that we could travel to, planning the exit from our respective jobs and motivating each other through out!
And finally, I quit my job and we went backpacking across Middle East, Eastern Europe and South East Asia for a good six months!
What do you think about F5 Escapes?
First of all, F5 is run by a team of very passionate travelers and that makes all the difference to the kind of experiences which it strives to provide. All women travel is on the rise like never before in India. I've personally met many women traveler groups in India and their enthusiasm is commendable. F5 is taking all this to the next level by making these women experience travel much beyond just sight-seeing. Kudos to the entire team!
Please share with us, your message to aspiring women travelers?
Travel often. It makes you younger and smarter! You start appreciating the little things in life. It restores your faith in human kindness and makes you fall in love with the world.
Travel is one of the best gifts you can give to your family, especially your kids! J
We asked Shikha to give a one word substitute on few travel related questions.
If some one asked you to give up travel and choose exactly one thing to do, what would you choose?

Teach.
Your 'that one dream destination'?

Scandinavia
Your most preferred way of travelling (Backpacking/Economy/Luxury)?

Backpacking!
What describes you as a travel style as a woman, the best? Nomad/Diva/Aam Admi

Nomad
Name one traveler who inspires you.

Neelima Vallangi .( A travel writer and photographer)
You can follow G3 on the below platforms
'F5 Escapes' is a Bangalore-based, experiential travel company, with a focus on redefining the way women travel in India. The premise of F5 is an ambitious dream –  to put India on the global travel map as a preferred destination for women from across the globe.
F5 Escapes offers fixed departure all-women group tours, customized itineraries for families, groups and solo travellers. We also do in-city engagements which include #JustGo travel meetups, workshops to educate women on travel safety, sustainable menstruation, motorbiking etc.