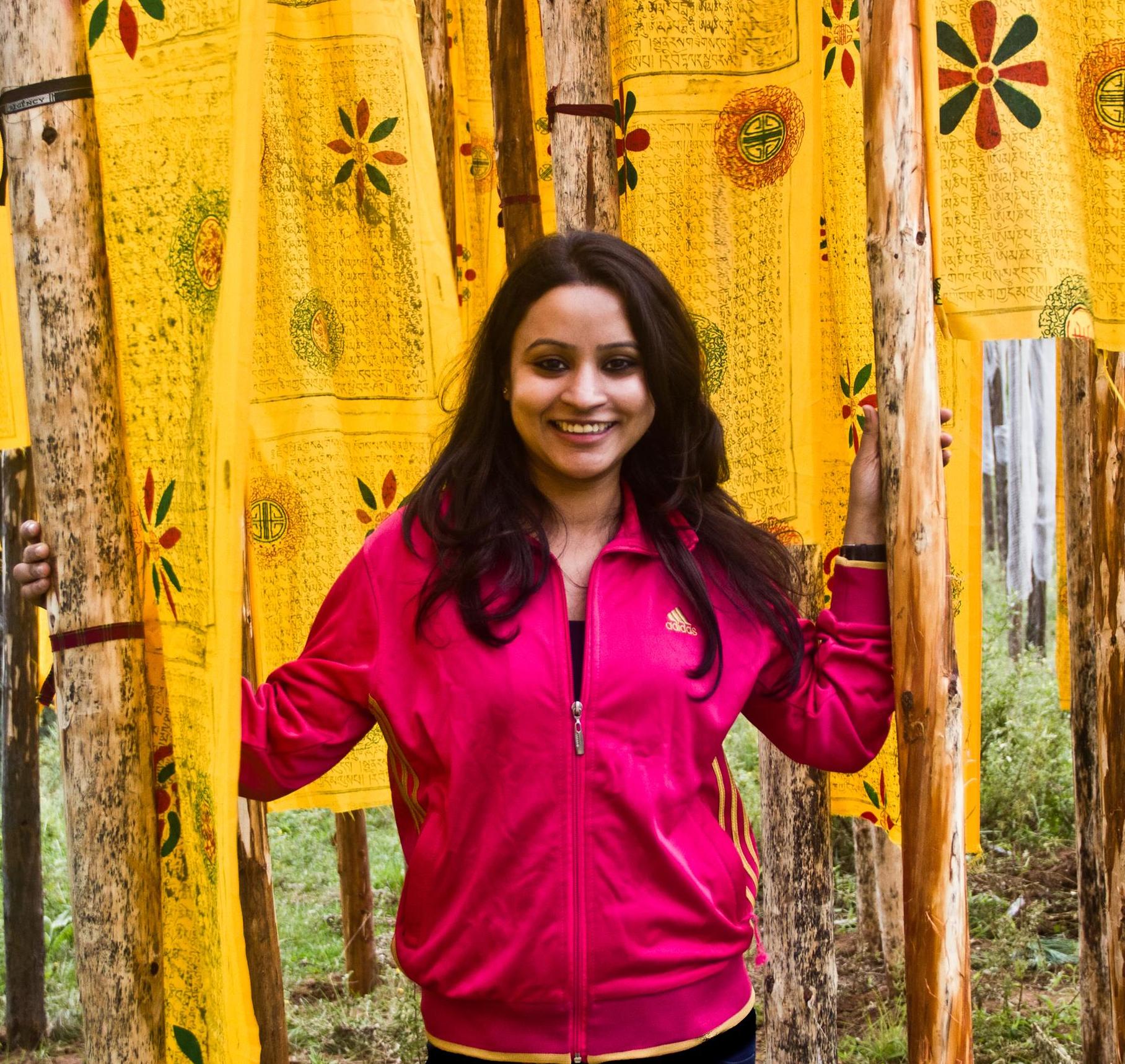 08 Dec
Leena Bansal - Miss Walking Shoes
---
Leena Bansal is a female (solo) traveler from Delhi, India who has traveled to 32 countries on a round-the-world (RTW) trip, after quitting her job in April 2014. Read the tales of female nomad on Miss Walking Shoes.
We caught up with Leena to get know her a little better, about her travel memories & her views on safety while travelling on your own.
Can you tell us when and how did the travel bug bite you?
As far as I remember, I always wanted to travel and see all that is wonderful and not so wonderful in the world. My 9 year old self told my teacher that my dream is to go to Antarctica when most of my classmates told about dreams of becoming doctors, engineers and astronauts. She laughed off by saying that you can't go there, no human being can go there. To which I said, that's why I want to go there and also I want to go to moon and also travel in space. After the class, many of my curious classmates asked me about my plans, how I will go there and what will I do there etc etc. Since then most discussions with my friends are about travels and places.
And how do you fund your travel ?(savings/work whilst traveling/other)
I fund my travels through saving as much as I can.
How long have you been documenting your travel stories ?
I started Miss Walking Shoes since last three months. Before that, I was documenting my journey on my Facebook page – Miss Walking Shoes.
Can you share with us, that one travel memory that you cherish till date ?
As for experiences, I have too many to share like getting stuck at the French-Spanish border, while crossing over at midnight, with no place to sleep, finding a green pit viper (venomous snake) wrapped around my leg in 4000 Islands, a wall fan breaking on my head in Phnom Penh, chasing a guy who stole my camera lens in Split (in case you want to know, he managed to run away with it), bumping into my lookalike in Berlin, witnessing natural disasters, deep-sea diving into the Atlantic, climbing the Pyramids, watching the active volcano, paragliding, surviving a week on fruits (I'm vegetarian) and much more.
Have you been to any place, which turned out to be totally different to how you had imagined? If so, how?
My perception of Mexico changed completely after I visited the country. Before my visit, all I read about Mexico was concerning the poverty, crimes, drug lords, gang fights and shoot outs. I was always told that Mexico is a dangerous country and I should avoid traveling it solo.
However, after visiting Mexico, I realized that the general sentiment about Mexico is not exactly right. True it is not a rich country but it is not poor either. Like many other developed and developing countries, it has both rich and poor neighborhoods.
Same goes for the crimes. Not every part of Mexico is unsafe. There are a few states that face gang wars. Rest of the country is safe. In fact, I am really impressed with the diligence of armed forces in ensuring peace and safety in the region. Also, the emphasis on tourist security is high.
Your preferred travel companions?
My camera and journal
Do you have a bucket list? If so what is the first item?
Antarctica
Your views & experiences (if any) on safety while travelling on your own.
The world is not as bad as we are told to. Still it is advisable to take certain precautions while traveling solo. The most important thing is to trust your instincts. They will always guide you. If someone or something seems not quite right, get out of the situation as quickly as possible.
Common sense is always the most important thing to bring with you on any trip. Blending in with locals is also helpful. Thieves often target tourists who look the most touristy. Don't carry anything too expensive on your trips.
We all know that travel teaches us a great deal of things about life. Can you share with us what has travel taught you ?
Best lesson I feel is the education it gave me about the goodness of the world. In our regular lives, we are always told to be skeptical of goodness. If someone is good, there has to be a motive behind. But when I was out of my comfort zone, I realized how wrong we all have been.
Is there anything you do on your travels or in your every day life to try to minimize your impact on the environment?
I carry a reusable water bottle. And I prefer walking or traveling in local transportation than hiring cabs to visit different places.
Please share with us, your message to aspiring women travelers?
Just do it!!
We asked Leena to give a one word substitute on few travel related questions.
If some one asked you to give up travel and choose exactly one thing to do in life, what would you choose?

Teaching
A fictional character would you most like to meet or travel with ?

Phileas Fogg
One Dream Destination?

Antartica
Your most preferred way of travelling (Backpacking/Economy/Luxury)?

Backpacking
What describes you as a travel style as a woman, the best? Nomad / Diva / Aam Aurat

Nomad
A traveler who inspires you

Roald Dahl, L'amour, Batuta and John Muir
You can follow Leena on the below platforms
'F5 Escapes' is a Bangalore-based, experiential travel company, with a focus on redefining the way women travel in India. The premise of F5 is an ambitious dream –  to put India on the global travel map as a preferred destination for women from across the globe.
F5 Escapes offers fixed departure all-women group tours, customized itineraries for families, groups and solo travellers. We also do in-city engagements which include #JustGo travel meetups, workshops to educate women on travel safety, sustainable menstruation, motorbiking etc.