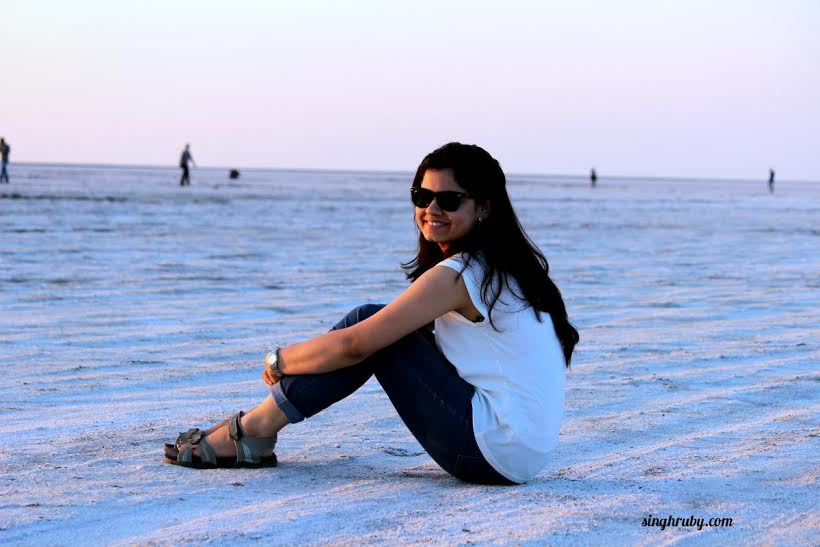 18 Apr
Ruby Singh - Life and Its Experiments
---
Ruby Singh is a travel and an adventure enthusiast from Lucknow who likes blogging about her travel stories. We caught up with Ruby to find out about her travel experiences,her choices in traveling responsibly and more.
Can you tell us when and how did the travel bug bite you?
There wasn't a particular time or instant, it was a gradual thing that happened to me. Probably one thing lead to another and I realized that traveling makes me happy. Happiness is what all of us are seeking, isn't it? For no specific aim or agenda, I started traveling for happiness and solace.
And how do you fund your travel?
I fund my travel on my own. I work full time as a consultant in an IT firm. Money that I make slogging five days of a week are spent generously over the weekend for various travel plans. Having said that I have also been invited from various property owners for review, which eventually results in more traveling to new places.
How long have you been documenting your travel stories?
It has been around 1.5 years since I started documenting my travel stories on my website.
Can you share with us, that one travel memory that you cherish till date?
I will have to quote two memories as both of them have been instilled in my mind like carvings on stone.
First one was when I went trekking into the Valley of Flowers, the one trek changed my life and I came back a different person. The mountains and the picturesque postcard sight will be cherished all my life.
Then, visit to the salt desert of Little Rann of Kutch. The white glowing salt desert on a full moon night is something I can never forget.
Your preferred travel companions?
Like minded people.
Have you been to any place, which turned out to be totally different to how you had imagined? If so, how?
Kanatal in Uttarakhand.
I thought it would be just another hill station kind of location but it turned out to be very beautiful and quaint location. I wasn't expecting much from the location but I came back with all praises about the location. You would believe as I wrote this after I got back.
Read about my experience here as I wrote it down after I returned from Kanatal.
Do you have a bucket list? If so what is the first item?
Yes!! The list is topped by Santorini, Greece in terms of foreign destination and Kerala, God's own country and Kashmir in terms of destinations in India.
Your views & experiences (if any) on safety while travelling on your own.
– Be alert.
– Be informed and have complete information about your destination, hotel and transport.
– If traveling solo then do a good research.
– Have emergency contact numbers handy in a dairy just in case you lose your mobile phone.
– Keep some cash separately.
– If not sure then travel in a group.
We all know that travel teaches us a great deal of things about life. Can you share with us what has travel taught you ?
Travel has made me a better person. It has broaden my horizon and I have come over various pity issues. The things that could have troubled me once now just look so insignificant. It has made me more humble, more forgiving and inspired me to push beyond boundaries. I have started valuing small things in life be it just a bed to sleep after a tiring day or a sip of water after a long sunny day. Travel has instilled gratitude in me, for everything that I have in my life.
Is there anything you do on your travels or in your every day life to try to minimize your impact on the environment?
I always try to be responsible as much as I can, like every drop counts even the smallest of the acts can help for a better tomorrow.
– Don't print the tickets to save paper.
– Use shower instead to bath tubs.
– Switch off lights when not in use.
Please share with us, your message to aspiring women travelers?
The only right time is now. If you have a dream, if you want to be somewhere then go for it. It is not only about traveling but pretty much everything in life. A women's life is full of uncertainty and the only certain time is now. So take that trip, buy that short dress, take that spa irrespective of anything.
We asked Ruby to give a one word substitute on few travel related questions.
If some one asked you to give up travel and choose exactly one thing to do in life, what would you choose?

Gardening in hills.
A fictional character would you most like to meet or travel with ?

Tintin
One Dream Destination?

Santorini
Your most preferred way of travelling (Backpacking/Economy/Luxury)?

Backpacking/Economy
What describes you as a travel style as a woman, the best? (Nomad / Diva / Aam Aurat)

Aam Aurat
A traveler who inspires you
You can follow Ruby's travel tales on the below platforms
'F5 Escapes' is a Bangalore-based, experiential travel company, with a focus on redefining the way women travel in India. The premise of F5 is an ambitious dream –  to put India on the global travel map as a preferred destination for women from across the globe.
F5 Escapes offers fixed departure all-women group tours, customized itineraries for families, groups and solo travellers. We also do in-city engagements which include #JustGo travel meetups, workshops to educate women on travel safety, sustainable menstruation, motorbiking etc.