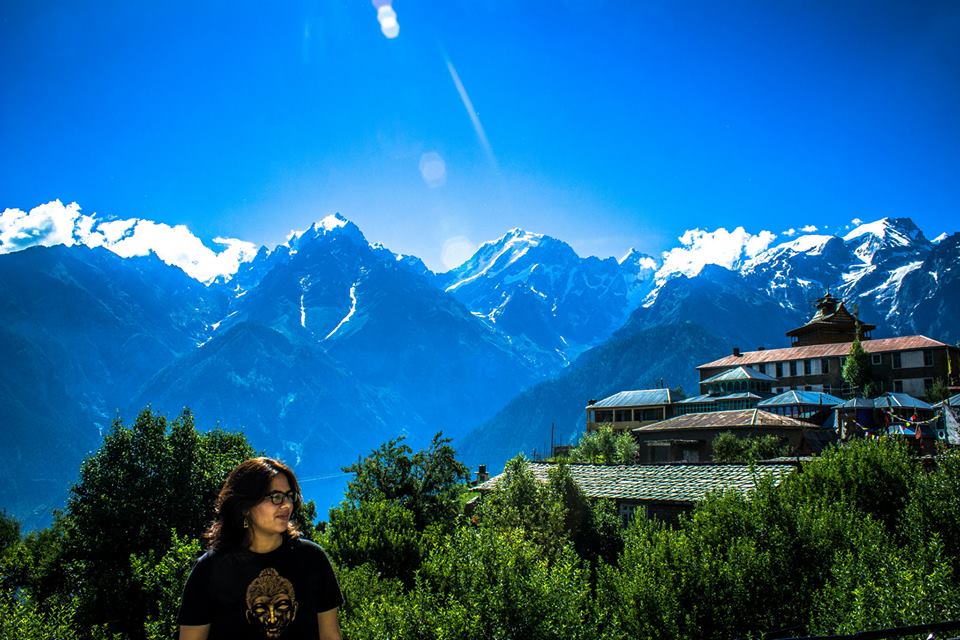 16 Jul
Shikha Gautam - Nomad Scribblings
---
Shikha Gautam is a travel writer and a photographer from India. She hails from Haridwar, Uttarakhand and is currently living in Haridwar/Mcleodgang. She weaves stories in photos at Nomad Scribblings .
We caught up with Shikha to know about her travel diaries, on how she started a travel blog and her views on F5 Escapes as a women travel group.
So, when and how did the travel bug bite you?
I guess it happened quite early for me. I would see a lot of foreigners wandering in Haridwar, where I was brought up, during the Kumbh Mela. I ardently wanted to be as free as them. And then, a lot of school trips to the hills made me realize my love for the roads. I knew I wouldn't be happy without travelling!
How do you fund your travel (savings/work whilst travelling/other)?
Most of the times, I keep working on the go. As for savings, those are as meager as you can expect from any traveller!
Share with us, that one travel memory that you cherish till date.
One of my most cherished travel moments was watching shooting stars at Kalpa, Kinnaur. There were apple orchards spread right below my hotel's balcony, and I had the Kinner Kailash range for the horizon. The first shooting star came as a surprise, followed by so many that I lost count and sat outside for some hours in the bitterly cold night.
Oh gosh, I'm in love with this one.
Have you been anywhere which turned out to be totally different to how you imagined? If so, how?
Dzongu, this tiny village in Sikkim, caught me by surprise. It's surprisingly gorgeous and offbeat. At some 3 hours away from Gangtok, this is right in the buffer zone of the Kanchendzonga National Park and has surprises like hot water geysers, waterfalls, tiny monasteries that you have to explore by trekking and really charming Lepcha people.
Do you have a bucket list? If so what is the first item?
Ahh.. no. A bucket list would be too limiting for me; I want so many experiences! For a place, there is Liechtenstein and Austria on my wish list from long.
Your views and experiences (if any) on safety while travelling on your own?
The world isn't as bad as it seems. Plus, common sense and fast legs are great saviors.
What has travel taught you?
Travelling has made me quite patient. So, like many people of my age, I don't scream at waiters for late service; I'm usually okay with doing everything that helps in my comfortable survival. Apart from cooking! Another thing that I have learned from travelling is that I'm not the only whimsical dreamer out here.
When did you start blogging?
I started blogging in the year 2007, though my first blog is scrapped now.
What motivated you to blog about TRAVEL, of all the topics that are there to choose from?
Initially, it was just to keep an online journal of my trips, photographs, experiences and information that I gathered. Motivation kicked in when strangers started dropping in emails and requesting my help in planning their trips. So, I knew that good content works and carried on blogging.
Many people start blogging and abandon it after a while. What keeps you going?
Blogging is tough; given that it takes years of hard work to actually get any money out of it. Thankfully, I kept going and found my niche. Start a blog on something that you can't live without, that thing being travel for me, and you'll have ample of motivation to cheer you up in money-less days.
Moreover, my current venture, that will soon have me taking travellers on guided tours is one of the biggest motivations to keep me going.
What do you think about F5 Escapes?
I love F5 Escapes owing to the way it promotes women empowerment through travel. Plus, F5 Escape's ideology that every woman deserves a break from routine, even when they don't realize it is true; making them realize this need is a refreshing initiative.
Please share with us, your message to aspiring women travelers?
Don't let your being a woman stop you from travelling, or anything else for that matter. Get a taser gun, be a regular runner, try to fit in all your belongings to one bag and a satchel so that you can carry it all even to a loo, google maps is a great app, homestays are safer and the families give you the best advice regarding travelling as well as safety issues in their region. And once you're on a trip, don't let overthinking mar your experience – smile often.
We asked Shikha to give a one word substitute on few travel related questions.
If some one asked you to give up travel and choose exactly one thing to do, what would you choose?

Photography
Your 'that one dream destination'?

Liechtenstein
Your most preferred way of travelling (Backpacking/Economy/Luxury)?

Economy. Give me a vehicle to drive around and I would not need any luxury!
What describes you as a travel style as a woman, the best? Nomad/Diva/Aam Admi

A nomad. I'm way too reckless to be a diva and too offbeat to be an aam aadmi. If you see a woman camping by a lake in the high Himalayas, that would be me.
Name one traveler who inspires you.

Alex Chacon (also my current crush)!

Dave Gatenby, of silverbackpacker, is another traveler who keeps inspiring and motivating me. He's been travelling for more than 30 years now and is great help when I need somebody for brainstorming on travel.
You can follow Shikha on the below platforms
'F5 Escapes' is a Bangalore-based, experiential travel company, with a focus on redefining the way women travel in India. The premise of F5 is an ambitious dream –  to put India on the global travel map as a preferred destination for women from across the globe.
F5 Escapes offers fixed departure all-women group tours, customized itineraries for families, groups and solo travellers. We also do in-city engagements which include #JustGo travel meetups, workshops to educate women on travel safety, sustainable menstruation, motorbiking etc.