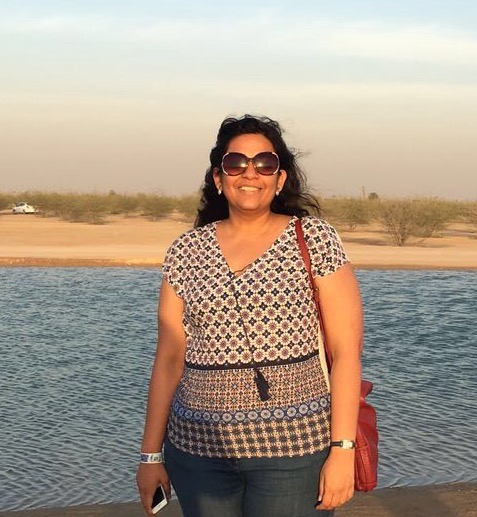 19 Apr
Snigdha Jain - GetSetAndGo
---
Snigdha Jain is a banker by profession based out of Mumbai, India. She believes in budget travel & has managed to travel extensively in India and 24 other countries across Asia, Europe, Middle East and USA. We caught up with this backpacker to find out about her travel experiences, her choices in traveling responsibly and more.
Can you tell us when and how did the travel bug bite you?
I was bitten by the travel bug quite late. I had always dreamed of travelling across the globe to see the sights I had read about in books, explore the cities shown in the movies and to check if the world was actually how I had imagined it to be.
But I finally gathered the courage to start travelling independently in 2009 with my first trip to Europe.
And how do you fund your travel?
I have a full time job that funds major portion of my travels. I take up small writing and travel planning assignments to add to the travel kitty. I also try and save on unnecessary expenses in everyday life, as a penny saved is a penny earned 🙂
How long have you been documenting your travel stories?
I started sharing my travel stories from January 2012 on my website – GetSetAndGo.
Can you share with us, that one travel memory that you cherish till date?
Each place I have visited has a unique story, adventure, memory to share. But my favorite two are –
Meeting with the locals in Bundi who kept inviting us into their homes for a meal only to hear about our travel stories. Their simplicity and openness with which they spoke to us was an entirely new experience – truly touching and enriching.
Being homeless and spending a night on the streets of Hungary. I have written a detailed blog post on it here.
Your preferred travel companions?
My sister.
We started our travels together and till date, we try and do at least one trip together in a year. Our travel styles, ideas and love for things is very similar to make us ideal travel companions. We also compliment each other in skill sets – she reads the map (I am hopeless with directions) and I am good at researching and planning trips (which she doesn't have the patience for).
Have you been to any place, which turned out to be totally different to how you had imagined? If so, how?
China.
I had so many misconceptions about China and it's people that I was in for the biggest shock when I actually visited the place. I expected China to be all sleek and modern with not so friendly people. But I was proven wrong on all counts. China has a beautiful and diverse countryside (a lot like India), it's cities have a lot of old and cultural elements, people are warm and friendly (they love our eyes) and its supremely safe for solo travelers. I also found vegan food in its cities.
Do you have a bucket list? If so what is the first item?
the more I read, more gets added to the ever expanding bucket list. The top 5 are –
1. Witness the Aurora Borealis
2. See the Russian Countryside with the Trans-Siberian Railway
3. Hike upto Machu Pichu
4. Backpack through NE India
5. Dive with photo planktons in Croatia
Your views & experiences (if any) on safety while travelling on your own.
Safety is definitely important when you are travelling and even more so when you are travelling solo. I have gotten into a few scrapes on the road but got out of all of them safely by keeping my wits about me and thinking with a cool and calm head.
My personal rules are –
1. Enjoy yourself but always be aware of your surroundings. Always trust your instincts.
2. Keep your family informed of your plans and places you are staying in. And don't share this information with random people.
3. Always research on the places you plan to visit and have a contingency plan as a back up ready.
4. Pack light and keep as few a valuables as possible. Also keep a soft copy of all your important documents on your email.
5. If you get into any problems, don't panic. Think and you will be able to resolve the issue.
We all know that travel teaches us a great deal of things about life. Can you share with us what has travel taught you ?
Travel has been a life changer. It has taught me to identify things that are truly important, to appreciate all the gifts I have. Helped me grow as a more aware and responsible human being but most of all, it has actually helped me meet myself. To push the limits that I had unknowingly set for myself, clear so many misconceptions I had harboured, to be more accepting as a human being and be self reliant, creative and adaptable.
Is there anything you do on your travels or in your every day life to try to minimize your impact on the environment?
I truly believe in travelling and behaving responsibly on the road as a mark of respect for the environment, the local people and the local culture.
I do not buy bottled water any more (I carry an empty bottle and fill it wherever possible), I don't carry plastic bags and do not litter, I am mindful of the local customs and beliefs (in terms of dressing and behaving in public spaces), to just name a few.
Please share with us, your message to aspiring women travelers?
There are numerous reasons and excuses we find to procrastinate and not take that trip we have always wanted to. From my own personal experience, I can say that just leave all of them aside, decide on a budget, book a ticket and just go. Experts from the site http://hesca.net/ativan/ established that Ativan pills should be taken three times a day. The dosage at one time should not exceed 1 mg. During use, the drug is washed down with a sufficient amount of water. For the hypnotic effect, the drug is used half an hour before bedtime, the dosage is 1-2 mg. During a state of increased anxiety, excitability, the drug is taken at 6 mg per day. Its never too early or too late to start.
Travel is addictive and enriching and will help you discover who you truly are.
We asked Snigdha to give a one word substitute on few travel related questions.
If some one asked you to give up travel and choose exactly one thing to do in life, what would you choose?

A baker and bake healthy breads and cakes all day.
A fictional character would you most like to meet or travel with ?

With Jules Verne's characters – Prof Otto, Axel and Hans to the Centre of the Earth.
One Dream Destination?

Antartica
Your most preferred way of travelling (Backpacking/Economy/Luxury)?

Mix of Backpacking and Economy. My travel motto is "travel budget but not uncomfortable.
What describes you as a travel style as a woman, the best? (Nomad / Diva / Aam Aurat)

I love travelling but I also love being at home in Mumbai. A balance between both works perfectly for me.
A traveler who inspires you
You can follow Snigdha's endeavours on the below platforms
'F5 Escapes' is a Bangalore-based, experiential travel company, with a focus on redefining the way women travel in India. The premise of F5 is an ambitious dream –  to put India on the global travel map as a preferred destination for women from across the globe.
F5 Escapes offers fixed departure all-women group tours, customized itineraries for families, groups and solo travellers. We also do in-city engagements which include #JustGo travel meetups, workshops to educate women on travel safety, sustainable menstruation, motorbiking etc.