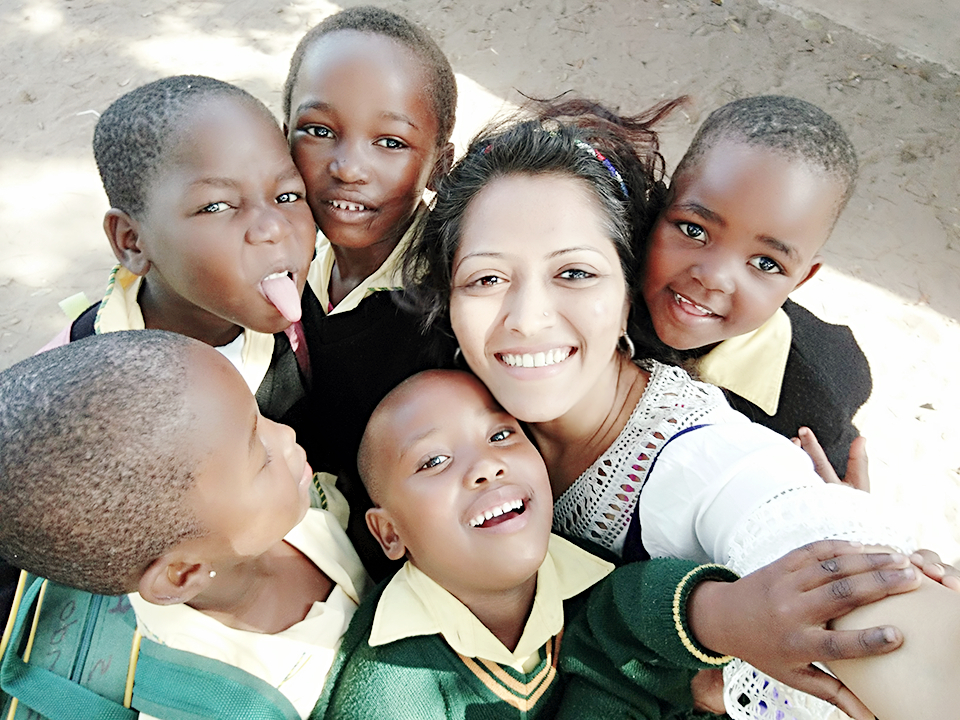 02 May
Divya Prasad - Obsessive Compulsive Traveller
---
Divya Prasad is a writer, obsessive compulsive traveler and energy healer who is currently living in a Gaddi village called 'Khirku' in Kangra Valley, Himachal Pradesh. She intends to go on a journey with the Gaddi shepherds who migrate with their cattle from this valley to another someday. We caught up with Divya to get know her a little better, about her travel experiences & her choices in traveling responsibly.
Can you tell us when and how did the travel bug bite you?
About 9 years ago, I met the Himalayas for the very first time and fell in love. Something was very special about it. Arriving here felt like home. I used to go trekking with my friends around Maharashtra and Southern India in my growing up years before visiting the Himalayas.
I made my first solo trip to Lahaul Valley in Himacal Pradesh which also urged me to explore other valleys. Back then, I was working full-time as a writer with an advertising and digital agency. Since that trip, something shifted inside me and I wanted to surrender to the experience of travel even more. After two years, I decided to take a sabbatical from my job and travel to far off lands to explore life just as it is. I always felt a deep connection to mountains, tribes and certain places. I made another solo trip for four months via the tribal circuit of Kinnaur and Spiti in Himachal Pradesh up to Ladakh, Jammu and Kashmir. It was one anthropological experience for me. I was deeply moved by the souls I met in these nondescript villages. That was when my love for travel grew even deeper because it was beyond just seeing a place or ticking off a bucket list. Every moment was a learning experience. Meeting different tribes, living with the Brokpa aryan tribes at Dah-hanu in Jammu and Kashmir and be a apart of them felt meaningful.
Besides art, energy healing also happened to me. It was truly an expansion of spirit. Despite a small pocket, I grew richer in spirit. After a one and half year sabbatical, I returned to Mumbai to work and save up for my travels. After working for a year, I decided to freelance and work on the go. By now, I had also found many a homes to return to. Above all, it made way for gratitude in my life. 🙂
And how do you fund your travel?
Every time I arrived at Himalayas or left from there, it has been a magical blessing in my life. It always feels like home. That little home in the hills, a farm, a simple life and the road towards light always had my heart. So I decided to move here, freelance, commit to writing, travel, energy healing and my spiritual arts venture Iktomi.
I take up freelance writing assignments, practice energy healing put up my crystal dream catchers and mandalas for sale on my Facebook page – Iktomi and look forward to conduct more healing arts workshops.
How long have you been documenting your travel stories?
Travelling happened way before blogging. And I traveled a lot more than blogging about them for about nine years. I am still not a religious blogger. I post a story only if I feel like. My blog was merely a medium for expressing these stories I met with. There are so many experiences that haven't been inked yet. But whatever stories happened, it was just the right time for them to be shared. I have always felt a deep connection to Himalayan mountains, tribes, folk, cultures and places. I feel it's the love that got me closer to them. I have been documenting folklore and culture in the Himalayas. Overtime, I expanded to places outside Himalayas too.
Can you share with us, that one travel memory that you cherish till date?
It is my journey via the tribal circuit of Himachal. I was at Komic- the highest inhabited village in Spiti. The home that hosted me there asked me if I want a pair of Ammonites which they gathered high up in the forests. I accepted those Ammonites since I was drawn to them. Those moments there were life-changing. Just being present at Komic village. Back then I didn't trace the reason why I accepted those Ammonites. Later on, when I began learning energy healing and started practicing crystal healing, I understood that those Ammonites were metaphysical treasures to have.
In fact, two months before I learnt Crystal healing, I happened to go on a trek to the Great Himalayan National park in Banjar Valley and found Clear Quartz crystal clusters high up on the trek. It was when I practiced crystal healing that I learnt that Ammonites aid in bringing you on your soul path and that the soul path of the person who receives the Ammonite is encoded within it. And Clear Quartz is known to be the master crystal. Now when I feel deeply about these experiences, I am sure they happened for a purpose and I feel guided by the universe. I believe the Ammonites and quartz chose to bring their blessings into my life and led me to my soul path. The light in these moments can only be realized through awareness and often seem illogical when narrated, and are real moments of magic.
Another special experience was Grab your Dream wherein I journeyed across South Africa and even explored East-Africa on my own and summited Mount Kenya. What made this journey special was sharing my Iktomi crystal dream catchers – energized to manifest dreams, with the people I met on the journey. I have been blessed with so much unconditional love on my journeys, it was my way of giving back energetically.
Your preferred travel companions?
Myself. Although I would love to share my travels with my lovely family, friends and someone who absolutely dislike travel. It would be good to integrate and learn from other souls, thereby connecting with them.
Have you been to any place, which turned out to be totally different to how you had imagined? If so, how?
It has to be living through winters in Ladakh.
I never happened to visit Ladakh in season time. I always arrived when the crowds left. I went on a frozen river trek to Zanskar and decided to spend a month and a half there. On some days, the temperatures dipped as low as minus 41 degrees. I saw a completely different side of Ladakh in winters, which it has kept hidden since very few outsiders live in Ladakh during winters. I witnessed the Dosmoche Festival which is a celebration to welcome the spring. I met the shamans of Ladakh at a sacred ceremony at the monastery in Stok village. I shared my time with refugee kids, taking them on picnics. There's so much to learn from the people who are living happily and with contentment even in the harshest conditions.
Besides these, Africa surprised me with its warm heart. I heard so many negative notions about Africa, but I never trusted them. Living with those tribes, meeting traditional healers, and connecting with them was a soulful experience. I went with an open heart, traveled solo and it was all positive.
Do you have a bucket list? If so what is the first item?
I don't have a bucket list anymore. Although, I share a deep affinity for Native American lands which is linked to my purpose, Japan – for the Reiki connection, and Asia. The Himalayas, above all.The world and its universes are too vast, and experiencing it all in a lifetime isn't possible, but embrace what you come across. I will accept it as a blessing when the universe takes me to these lands. I feel happy and content with whatever came my way so far. There's no hurry at all, and there's always the trust that I will be where I am meant to be on my path, as per divine timing.
Your views & experiences (if any) on safety while travelling on your own.
As a woman, I admit that travelling in India is absolutely safe. I have always used state transport in Himachal, and no matter how back-breaking the journey is, it is the most reliable mode of transport. Keep yourself in a positive vibe, shed your pre-conceived notions and inhibitions, always smile, respect nature, use common sense, be responsible and you are good to go.
We all know that travel teaches us a great deal of things about life. Can you share with us what has travel taught you ?
Every time, I am in the mountains, there is one Pahadi I meet who yearns for the city life or beaches. In their eyes, mountains have always existed and they don't go on a trek to a certain mountain like the city folks who feel drawn to the mountains. They even ask me why I am here, and I say I come here to learn and appreciate them. And learnt to not take anything for granted and appreciate it while its there. In the end, each finds their own reason to arrive at a certain place. In fact every time I return to the cities from the Himalayas, I look at my own city in a different light. Travel blessed me with gratitude.
I happened to embrace the simplicity of slow life itself, share happiness, receive love, feel gratitude for all the blessings and wisdom of the universe. I learnt to be present to all that life showered on me and share it with other souls I met on the road. This expansion of consciousness and spirit is liberating. The exploration of the cosmos within and outside of me and its inter-connectedness felt healing and transformational.
Overtime I realized that home is a feeling we carry in your heart. Be it a Ladakhi or Himachali home. And happiness a state of being. The landscapes change, mountains change, you meet new souls; but the home is within me. It's a never-ending learning process that lets me transform and evolve in spirit. More than anything, it makes way for gratitude and even more blessings in my life. Being present wherever you are is the greatest gift.
Is there anything you do on your travels or in your every day life to try to minimize your impact on the environment?
In my day to day life, I have minimized my wants and only keep what's essential. When I receive something today, I embrace it. It starts with making positive changes in your own life. Over years, I have learnt to live as consciously as I can. By helping villagers in the farm and living the mountain life, I have understood the value of resources. Nature is abundant and shares itself unconditionally but we should respect and value her blessings. It teaches you to be content and happy in any conditions. Besides these, I intend to contribute energetically to these souls and places I live in to my highest potential through energy healing. And with Iktomi by my side, I intend to share and manifest dreams for the souls I encounter on my journeys.
Please share with us, your message to aspiring women travelers?
Find your own reason to travel. Shed your inhibitions and listen to that calling you have – whether its how you intend to live or scale that mountain. Be aware. Be grateful. Trust your intuition and pack your bags if your heart feels so. Chances are you might find your path, a soulful hobby, new friends, a new home and above all you will find yourself. 🙂
We asked Divya to give a one word substitute on few travel related questions.
If some one asked you to give up travel and choose exactly one thing to do in life, what would you choose?

Energy healing and arts
A fictional character would you most like to meet or travel with ?

Pocahontas or a Shaman
One Dream Destination?

Native America – South, Central, North
Your most preferred way of travelling (Backpacking/Economy/Luxury)?

Backpacking on a budget
What describes you as a travel style as a woman, the best? (Nomad / Diva / Aam Aurat)

Aam Nomad Aurat
A traveler who inspires you

A time-travelling Shaman or a yogi
You can follow Divya's travel tales on the below platforms
'F5 Escapes' is a Bangalore-based, experiential travel company, with a focus on redefining the way women travel in India. The premise of F5 is an ambitious dream –  to put India on the global travel map as a preferred destination for women from across the globe.
F5 Escapes offers fixed departure all-women group tours, customized itineraries for families, groups and solo travellers. We also do in-city engagements which include #JustGo travel meetups, workshops to educate women on travel safety, sustainable menstruation, motorbiking etc.