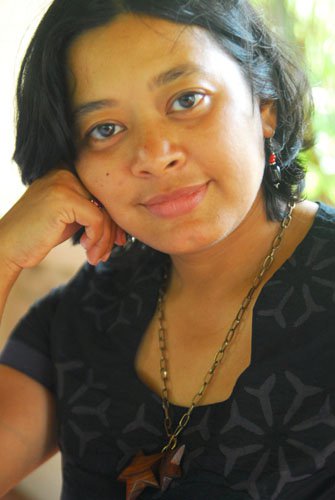 28 May
Anita Bora - Just A Little Something
---
Anita Bora is a travel, adventure, food and lifestyle blogger & writer. Partial to tea, wine and cats. Anita is most likely found outdoors indulging in activities like running, cycling, hiking, swimming. Also an aspiring tri-athlete, Anita hails from Assam and currently living in United States. She loves telling stories at Just a Little Something .
We caught up with Anita to know about her travel diaries, on how she started a travel blog and her views on F5 Escapes as a women travel group.
So, when and how did the travel bug bite you?
A long time ago. Around a decade ago. My years in Mumbai saw me catching local trains mostly. I moved from Mumbai to Bangalore and realized that I could discover a lot of South India, but just taking overnight buses. Thus began my journey of discovery!
How do you fund your travel (savings/work whilst travelling/other)?
It's a mix of everything. To do overnight trips, treks and close-by destinations, you don't really need a big budget. Just a bit of planned. Most of my travel is self funded but of course, I make sure I don't go beyond a limit. I always wanted to do a Europe trip, and though the plan was to backpack and stay with friends, I didn't have enough savings. But I was so determined that I decided to fund it from the bank! I have also been lucky to travel quite a lot on work. So much of my travels to the US, Philippines, Hong Kong etc. have been on work.
Every year, I usually plan one big trip and this is self funded. I have been blogging since 2001 and built a good brand in the first few years – due to this reputation I also get invited to travel sometimes. I usually do some research and if I find the place appealing, I take up the opportunity. I've recently traveled to Jailsalmer, Kanha and just come back from Jaipur. So it's really a mix – needless to say, I grab every opportunity!
Share with us, that one travel memory that you cherish till date.
I think travel is all about memories and experiences. It's not really about the 'destination' for me. So instead of picking out one memory, what I'd really like to say is that I cherish the local experiences, interacting with people, hearing their stories. For example, recently on my new year break, I heard so many interesting fireside stories. And then in Jaipur, I met a cycle rickshaw guy who tried his level best to convince me to bring him to Bangalore with me! I was almost convinced.
In Jaipur, around the village I visited a few schools and saw the progress that the girl child is making – nearly 60-70% of enrollments are women. Surely, these are things I would never have experienced if I stayed in the comfort of my home.
Have you been anywhere which turned out to be totally different to how you imagined? If so, how?
Rarely. Mainly because I do a lot of research. In the days of the Internet and guide books, it's ill advised to be unprepared, especially when you're travelling solo. I read, I look up fellow traveller's blogs. I ask for recommendations – there has to be some use of Facebook groups! Also, I don't really have set expectations regarding a trip, so I'm rarely let down.
Do you have a bucket list? If so what is the first item?
A bucket list is a must, in my opinion 🙂 Even if you're not doing anything towards achieving it, once in a while it's nice to just look at it. I have a long one on my blog, but it's actually even longer. Some of them in the near future are
a) Wine tasting and cycling around the vineyards in France
b) Diving in South East Asia – maybe Indonesia or Malaysia
c) Spending a couple of weeks in Switzerland – cycling their hills
d) Experiencing Amsterdam – the cycling hub of the world!
e) Visiting the Rann of Kutch and it's extreme landscape
f) Revisiting the north east of India – though I'm from this region, I haven't explored it enough.
Your views and experiences (if any) on safety while travelling on your own.
Be safe; take precautions, research, don't be in places where it's generally advised not to travel. And yes, travel in a (like-minded) group if you're not completely confident. This is why I completely advocate groups like F5, which bring in safety along with an aspect of fun and discovery. You can also customize your trip to a great extent and have a variety of experiences. And travelling partners who share your passion are so much fun.
Don't wander into areas if you're not comfortable. Most places you stay will organize for your pick-up and drop – always advised. Keep your phone fully charged when travelling. If possible, carry one of those rechargers – they are really handy for smart phones which run out constantly! Read up on the place. For example, if you've heard that a particular place is not very safe in the evening, try not to land there late night. Just make sure you take all the precautions possible! And to add to all this, let me say that it's actually relatively safe to travel in rural India. People are helpful and nice in general.
What has travel taught you?
Humility, patience, and the ability to learn, imbibe and be open to all kinds of experiences. And the most important lesson – never judge. Also, to develop a sense of wonder about the world – and when you think about it – you're like a drop in the ocean. I think our worlds become very shallow, when all you do is go to work, live and come back home and watch the idiot box. In a sense, you know why it's called the idiot box.
When you open the doors, peek out of a few windows, you'll expand both your horizons and be surprised at how the rest of the world lives and works. It's an experience that shouldn't be missed.
When did you start blogging?
Way back in 2001. I started on the blogspot platform. And then moved onto my own domain – anitabora.com – where I publish now.
What motivated you to blog about TRAVEL, of all the topics that are there to choose from?
Well, I was doing a lot of travelling anyway. So why not just document and write about it? Combined with my love for photography, it was just the natural way to progress.
Many people start blogging and abandon it after a while. What keeps you going?
It's difficult, like any habit. It's easy to start it, but to sustain and keep it going takes commitment, which is something that we run out of. I got off the bandwagon too for a while since I got busy with corporate work life, but reviving the blog and my writing now is giving me a different kind of pleasure. I do hope to continue the journey I began so many years ago!
Please share with us, your message to aspiring women travelers?
Take the time and make the effort. We get so busy nowadays with our lives, our children, our spouses and putting everything else in front, that we forget that we need the time to indulge, to enjoy ourselves to just get some "me" time. I also want women to get away from this feeling that they are "indispensable". Maybe, we are to an extent.
But believe me; things will go on – children will manage, husbands will adjust, if you make up your mind and feel you deserve a break. Take it. In fact, I think everyone needs at least 1-2 such breaks in a quarter, even if it's just a weekend out, away from the humdrum, the noise and the mundane. Make the time for it (believe me, all of us can do it, if we just decide to) and watch the difference it makes to your lives.
We asked Anita to give us a one word substitute on few travel related questions.
If some one asked you to give up travel and choose exactly one thing to do, what would you choose?
Photography and cycling (two of my other passions, besides many others!)
Your 'that one dream destination'?
The Bora Bora islands (I believe it's so expensive that I would have to work for an entire lifetime to earn a vacation there 🙂
Your most preferred way of travelling (Backpacking/Economy/Luxury)?
Any !(depending on my mood and budget 🙂
What describes you as a travel style as a woman, the best? Nomad/Diva/Aam Admi
All of them?🙂
Name one traveler who inspires you.
No one traveler in particular. But I have many on my blog list who are consummate travelers and inspire me everyday!
You can follow Anita on the below platforms
Website URL – Just A Little Something
Twitter Handle – @anitabora
Instagram Handle – @boranita
Facebook Page – Anita Recommends
Pinterest – Anita Bora
'F5 Escapes' is a Bangalore-based, experiential travel company, with a focus on redefining the way women travel in India. The premise of F5 is an ambitious dream –  to put India on the global travel map as a preferred destination for women from across the globe.
F5 Escapes offers fixed departure all-women group tours, customized itineraries for families, groups and solo travellers. We also do in-city engagements which include #JustGo travel meetups, workshops to educate women on travel safety, sustainable menstruation, motorbiking etc.