---
There is a famous Ladakhi saying that "The land is so barren and the passes so high that only our fiercest enemies or our best friends would want to visit us".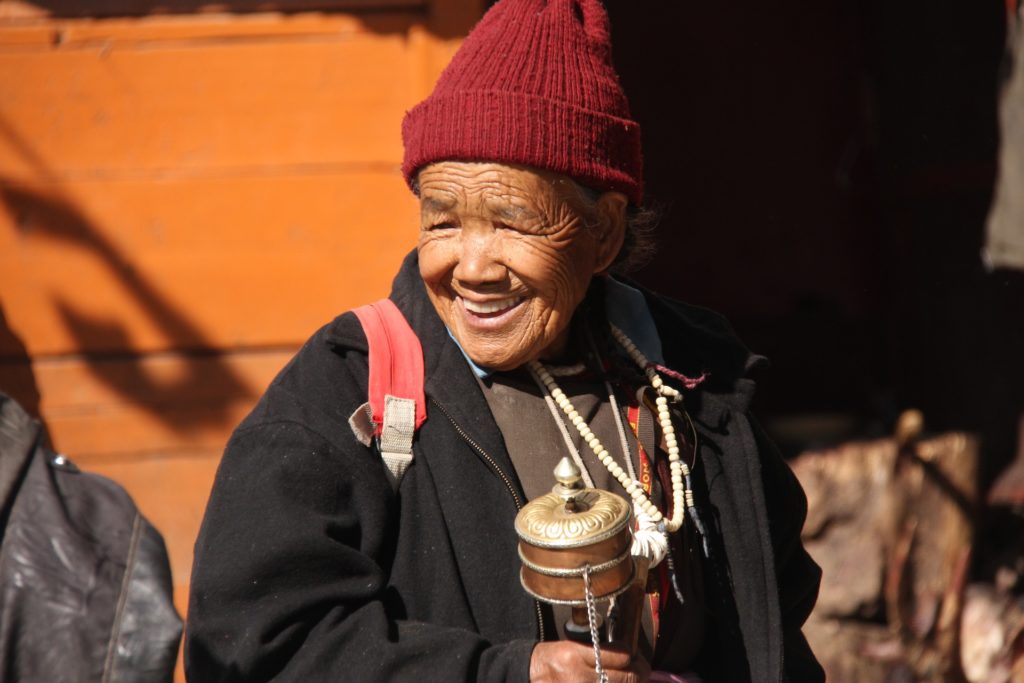 Ladakh,located in the Indian state of Jammu and Kashmir, is a heart-warming example of how nature allows life amidst the harshest conditions. And the people in Ladakh are one with nature. One smile from them, while they work, and you feel your materialistic worries melt away, much like the snow on the mountains you can see from your balcony. When you cross the Khardung La at 5602m (18,379ft) and enter the stupendous Nubra Valley, you understand why it is the heaven on earth. Surrounded by the seemingly impenetrable Himalayas, the valley was once a hotbed of the thriving Trans-Himalayan trade.
The ever changing colors of Pangong Tso make you cry. And we narrate by experience. No religion of the world can give the peace and clarity you get by starting at those ever changing blue waters. Get your epiphany!
This guide is divided in 7 sections. Have a look and feel free to contact us if you have any questions!
[tabby title="How to reach"]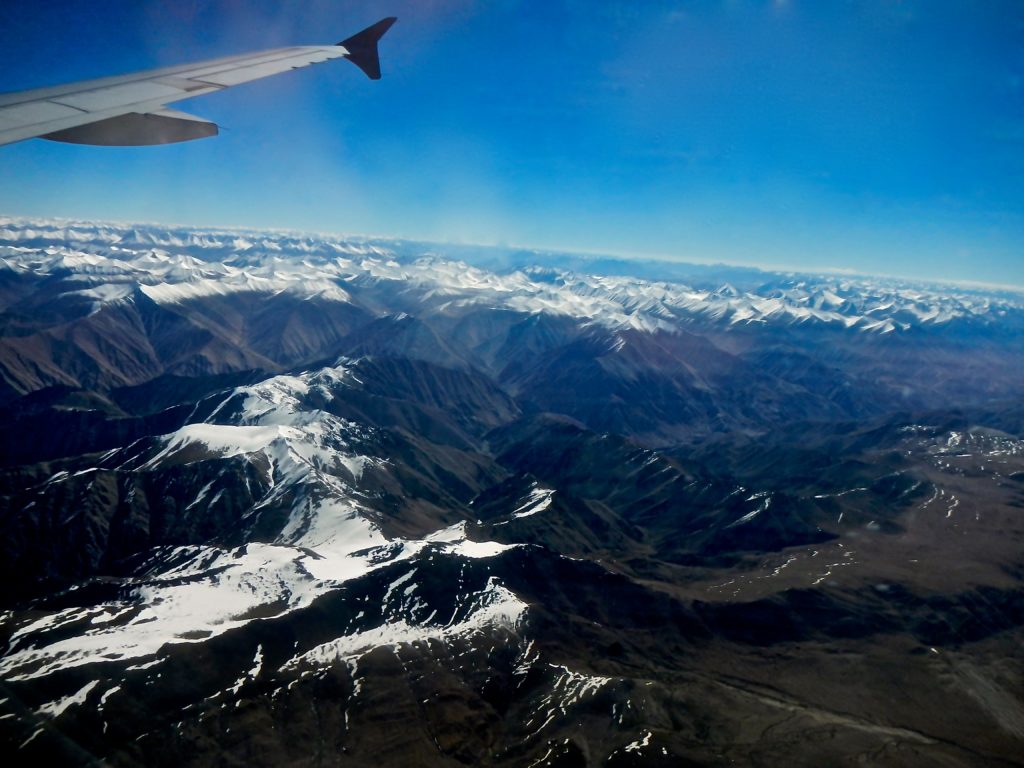 You can reach Ladakh either through airways or roadways.
There are daily flights from Delhi to Leh (Capital City of Ladakh) and weekly flights from Jammu and Srinagar. Airport security is tight and it is not advisable to carry handbags. Do not carry batteries, they are forbidden. Security check at the airport may take longer than you are used to, please be patient.
If you wish to travel via road, you can either take a taxi or a bus.
Taxis are available for hire on fixed point-to-point tariffs and will be the most convenient, although expensive option. Buses, however, will be the cheapest and offer a certain level a comfort with their Deluxe and A-class offerings.
[tabby title="Health and Safety"]
Health
Being situated at such high altitudes, Ladakh has about 25% less oxygen which can lead to nausea, dizziness, headaches and mountain sickness, which is why it is important to spend some time acclimatizing to the altitude.Frostbite and dry skin problems are common.
Possible medications
Make sure to stay well-hydrated. It is best to carry medicines for motion sickness and headaches. We also suggest Diamox as a preventive medicine for high altitude sickness. We advise travellers to consult their doctors before starting the medication as this is a suggestion, not a prescription. Women might also see a change in flow and schedule of menstruation cycles. We would suggest menstrual cups and reusable cloth pads as they might be more convenient.
Accessories
We advise all travelers to be prepared with a hand wash, extra water bottle or toilet paper as there will be vast stretches of travelling without loos. We also advise you to do your part in maintaining cleanliness. It is best to carry lots of warm clothing as the cold will be brutal. Travelers should carry shoes with a good grip as snow covered areas will be slippery.
Safety
It is advisable to carry your passports as some areas have police check points. Do not take pictures of soldiers, or other 'military things'. At the very least, it may lead to your camera being confiscated.
Ladakh is safe to walk around and travel alone. If at all you feel unsafe at any point in Leh, which would only be because of the high tourist influx, don't hesitate to ask the locals for help. the Ladakhi ladies are extremely warm and welcoming – they will definitely help you out of the situation.
Women are requested to wear appropriate clothing, nothing revealing to avoid unwanted attention. Stick to culture norms around the region and dress according to the places being visited e.g. Temples, church, mosque or other places of worship.
It is important to stay alert of your surroundings at all times of the day. Travelling after dark is not advisable especially in lonely/uncrowded areas.
Toilets
Many hotels would have the common western commodes, some have the squatter type of loo, but in the majority of places outside, like public toilets, toilets at trek stops are the traditional Ladakhi type—a hole in the ground surrounded by lose earth/sand. The way to use this type if toilet is to squat over the hole, do your business and then cover it up with the sand (There should be a shovel around to cover the waste with).
Ladakhi toilets are a type of dry-composting toilets that do not use water to take the waste somewhere else. Instead, it allows natural processes to rapidly break down the waste to produce compost that is later used to enrich the soil.
If you are uncomfortable with this, take a bottle of water, sanitizers or hand soap and enviro-friendly toilet paper. Do not leave any items behind. Do not dispose off products that cannot be composted.
Emergency Contact Details
Airport: +91-1982-253076
Police Station: +91-1982-252018
Fire and Emergency services: +91-1982-257101
[tabby title="Climate"]
December, January and February are brutally cold, with night temperatures approximately reaching -20°C and day temperatures hovering around 2°C. Maximum snowfall occurs during the month of January, and thick ice forms over the lakes and rivers.
March and April are relatively better, with temperatures going up to 10°C during the day and -5°C in the night. The occasional bout of snowfall will lower the temperature, but it is more bearable than the earlier months.
September, October and November bring the onset of winter. The wind again starts to become biting cold. September is still alright, with day temperatures hovering around 20°C. By the beginning of November, the weather returns to its cold temperatures. All interstate roads are closed for 5-6 months
[tabby title="Places to visit And Things to do"]
Monasteries
Buddhism is the predominant religion in Ladakh and hence, you can find stunning monasteries in this area. Some popular monasteries are Lamayaru Monastery, Hemis Monastery, Matho Monastery and more.
The Thiksey Monastry located a top of the Thiksey village, that's on a hill give beautiful views of the village below and the surrounding area. It is a twelve-story complex and houses many items of Buddhist art such as stupas, statues, thangkas, wall paintings and swords.
One of the main points of interest is the Maitreya (future Buddha) that's approximately 2 stories tall and is the largest statue in Ladakh.
During the months of October and November, sacred dances like the mask dance or Cham Dance are performed which is a must see when one is around during this time.
A fee of ₹ 20 is applicable on entry to this monastery.
The Shanti Stupa is a Buddhist white-domed Stupa (chorten) on a hilltop in Chanspa, 5kms from the city of Leh. This Buddhist temple does not follow the traditional Ladakhi architecture, making it stand out to the rest of the monasteries around in the area. This beautiful temple, located on top of a hill gives beautiful panoramic views of Leh and the breath taking mountains around in the vicinity.
The Diskit Monastery also known as Deskit Gompa is the oldest and largest Buddhist monastery. A popular festival known as Dosmoche, the "Festival of the Scapegoat" is held in the monastery during February. The festival express the superiority of good over evil forces and is a masked dance.
Lakes
Apart from the colour changing Pangong Tso Lake, Ladakh also has Tsomiri, Tso Kar and Yarab Tso lakes to offer. May to July being the best months to visit these lakes, you can camp by the Tso Kar lake bank.
The Pangong Tso lake meaning – "High Grassland Lake" in Tibetan. 60% of this lake is in China and due to this, an Inner Line Permit is required to visit the lake as it lies on Line of Actual Control (LAC).
While Indian nationals can obtain individual permits, others must have group permits (with a minimum of three people) accompanied by an accredited guide; the tourist office in Leh issues the permits for a small fee. Foreigners are not allowed to go beyond the Man – Merak villages on Pangong Tso as permits are not issued for them.
The Tso Moriri is the largest of the high altitude lakes entirely within India and entirely within Ladakh. Accessibility to the lake is largely limited to summer. Mid May to Late October is the best time to go to Tso Moriri. During winters access to the lake can be blocked due to snowfall and avalanches on the route to the lake.
It is possible to hire a motorcycle or a taxi from Leh or take a bus run by J&K SRTC.
Bus: There is a regular bus service run by J&K SRTC to the village of Korzok and occasionally there are buses operated by travel agents for large groups.
Taxis: You can get a seat in local taxis, which are normally run in the same manner as a local bus or you can hire one yourself. A taxi can be booked at the Leh Taxi Union on Tel #: 252723/253039.
If taking your own vehicle, make sure the tank is full and extra fuel is carried as there are no petrol stations/bunks on the way.
Hills
The Magnetic Hill also known as a Gravity Hill is located near Leh. The phenomenon that creates an optical illusion is a must see, as there are only few such spots in the world. This small stretch of road of about 30 kms has the most peculiar manifestation. Basically this optical illusion in which a slight downhill appears to be an uphill slope is due to the alignment of the road and of the background that gives the illusion that cars are able to drift upwards.
A trick that drivers driving in the area show you is the sign at this spot invites you to stop your car over a white square marked on the road, switch it off and leave it in neutral. Following these instructions your car actually starts moving on its own at speeds of 10-20 km per hour. This was downhill and it was just following the rules of gravity but turn your car in the opposite direction and repeat the steps. The car will start moving uphill on its own without the need of using the accelerator!
Passes
Fulfill your craving for adventure and go mountain biking along the Khardung La and the Lotu Fa passes or if you're not an adventurous soul, take a road trip along the Chang La pass to reach Pangong Tso Lake. Either ways, passes are unavoidable in Ladakh and trust us, you wouldn't want to avoid them!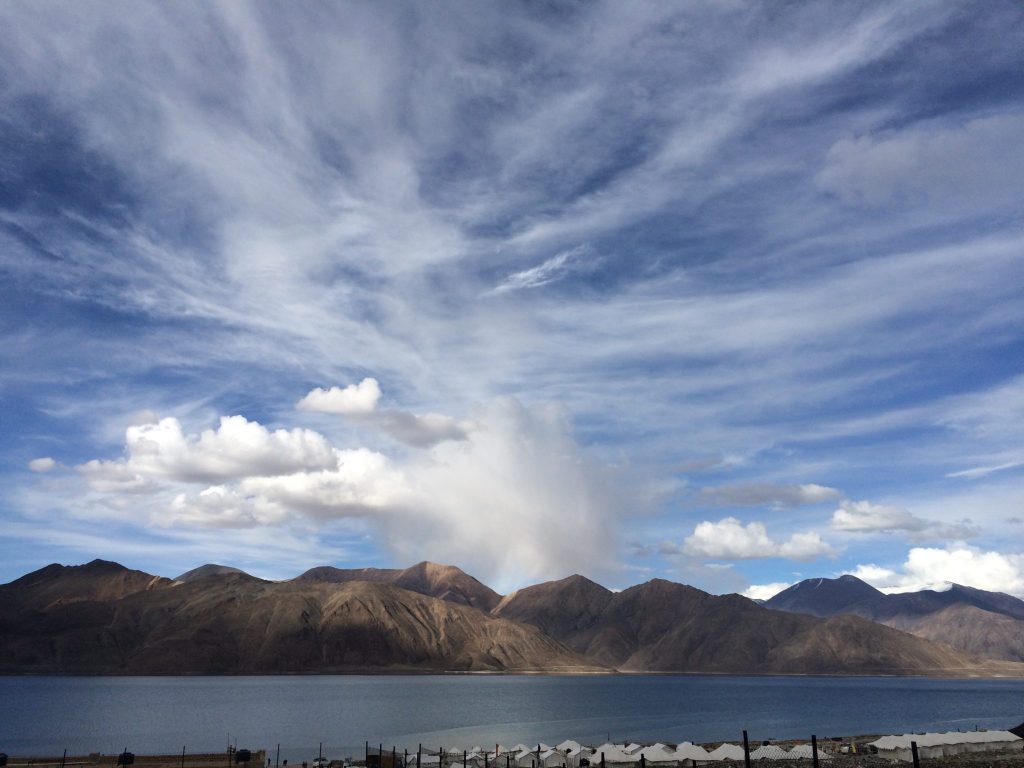 Chang La Pass
The Chang La Pass, meaning— "Pass Towards the South", is the second highest motorable road in the world. During summer months melt water create small streams across the road making it a challenging drive for bikers. The ride to the pass is very steep and it is advisable not to stay there for more than 20-25 minutes. Chang La pass is covered with snow all year round. Once at Chang La, the views are scenic and beautiful and one cannot miss it when visiting Ladakh!
Attractions
Palaces, Masjids, Gompas, Forts, National Parks, Ladakh has got 'em all!
Leh Palace
While the Leh Palace is now unoccupied and currently being restored , the Stok Palace is the residential palace of the royal descendants of King Namgyal. You can witness the annual dance-mask festival here. It also houses a collection of royal clothing, crowns and more which can be viewed on an excursion of the palace.
Hamis National Park
The Hemis National Park provides shelter to various endangered species of animals. It is a photographer's paradise to find exotic animals like the snow leopard, yaks, blue sheep, Tibetan Antelope and more.
You can also catch a number of Ladakhi festivals, most notably the Hemis, the Strongday Gustor and the Yuru Kabgyat festivals. These festivals are known for being celebrated with great pomp,and usually involve a sacred dance by the monastery's monks.
For the adventurous soul, there's a lot you can do here. You can go river rafting in the Indus river with routes available for all kinds of expertise, starting from beginners and ending with advanced. You can also go trekking or mountaineering, with various trails and routes being available for both.
[tabby title="Accommodation"]
There is nothing like living with a family or a bed and breakfast to fully take in what Ladakh has to offer. Hotels of various stars are also available for those who wish to see Ladakh and have more luxurious comforts. Hotels and B&B's are located quite close to town for easy access to busses, other transport and other tourist attractions as well as cafés and restaurants and shopping.
[tabby title="Local Transportation"]
You have options – Taxis, rented bikes, hitchhiking and buses. While Ladakhi taxis are more convenient than the public transport, the rates, however, are fairly steep. Motorbikes and cycles are available on rent for fairly cheap prices. If you are not confident riding in steep and narrow roads, this option is not a recommended mode of transport. Trucks often stop for hitchhikers, though you may be expected to pay as much as the bus fare. Minibuses and Buses run from Leh to the surrounding villages at a relatively low fare. These are quite convenient and comfortable.
Some taxi services:
Travel Duniyaa :
Address : Jeevan Deep Building, Leh Ladakh – 194101, Near Diamond Restaurant
Phone : +(91)-1982-267190 Mobile #: +(91)-9805626334, +(91)-9218626334
Maa Sharda Tours & Travels :
Address: Fort Road, Leh HO, Leh Ladakh – 194101, Near Hotel Kesar
+(91)-1982-252348, Mobile #: +(91)-9469073437 , +(91)-9796867142 , +(91)-9858047795
The best way to get around Leh, and take in the surroundings is of course by foot! There are plenty of trekking trails around the area to help you get around. However, this is only recommended for short distances, as the steep trails can be quite tiring.
If you are on budget and do not want to wait for public transports, check out the travel notice boards on the streets of Leh market and in the numerous cafes of Leh These notices will have people sharing their travel plans around Ladakh, in hopes of finding travel companions to share the taxis.
[tabby title="Food"]
As Ladakhi cuisine is also very similar to Tibetan cuisine, you will find Thukpa and momos at most places. Potatoes, pumpkins, beetroots and beans are commonly cooked in various different styles and served here.
Some recommended places to eat are:
Chopsticks Noodle Bar
Address: Raku Complex, Fort Rd, Leh, Jammu and Kashmir 194101.
Phone : +91 91191 78652
Tibetan Kitchen
Address: Fort Road, Leh 194101.
Phone : +91 84 92 056456
Gesmo café Budshah Inn
Address: Fort Road, round the corner from main post office
Himalaya Cafe
Address: Main Bazar, Leh, India
Lamayuru Restaurant
Address: Opp Hotel Yak Tail, Fort Rd, Leh, Jammu and Kashmir 194101
Phone : +91 1982 256 069
Penguin Bar and Restaurant
Address: Yurtung, Leh, Jammu and Kashmir 194101
Phone : +91 94191 78630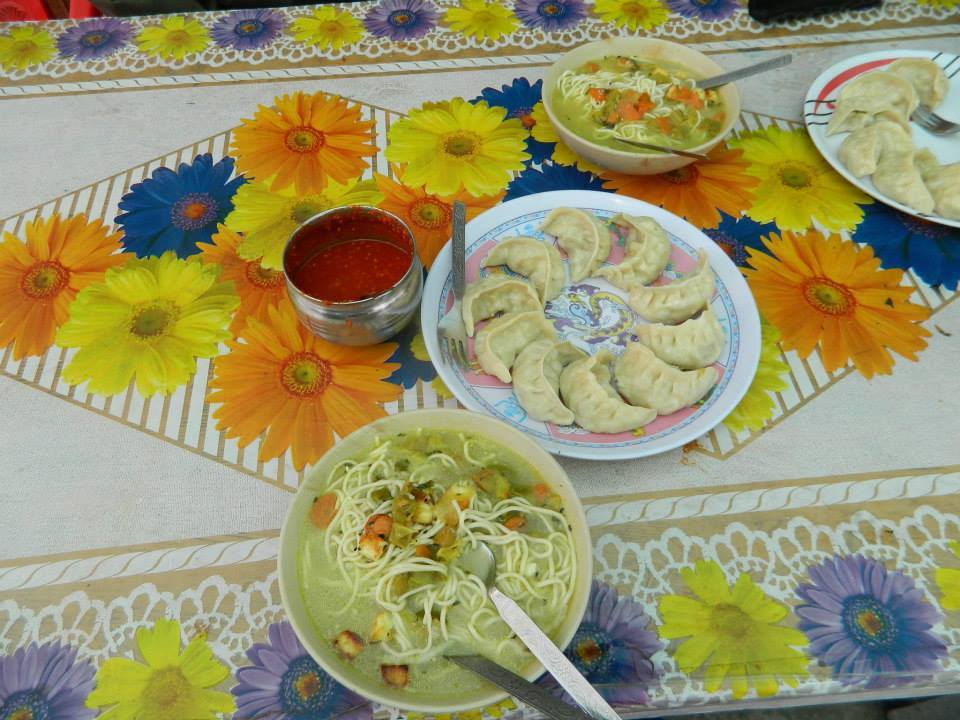 Be sure to try Skyu, a local delicacy that is native to Ladakh. It is a heavy pasta dish with root vegetables. German bakeries in Leh serve seasonal fruit pies, tarts, brownies and a variety of breads. Be sure to try some of these with locally made Apricot jam. We suggest Pumpernickle German Bakery and Rendevouz café for some great desserts.
Visit Ladakh Finest Foods on Changspa Road for a great organic coffee experience. Traditionally, Ladakhi drink strong black tea with butter and salt. Ordinary sweet milk tea is also available, but we recommend this local delicacy!
[tabby title="Shopping"]
Pashmina Shawls and Stoles are popular items available in various price ranges that tourists purchase. Hand woven rugs of intricate design are also available in Ladakhi markets. Items from Tibetan heritage, which are hand crafted, are also abundantly available in Ladakh. These include prayer wheels, Buddhist masks, prayer bowls, Thangka paintings and various other beautiful items. Although Ladakhi women don't dorn accessories, traditional Tibetan silver and Ladakhi turquoise jewellery are available for purchase at the markets.
Quirky T-shirts with Ladakh based prints and messages is a fun idea for gifting! Another popular gift item you can purchase here are Apricots! Nothing like a box of fresh, ripe apricots to take back home for your family and friends. While shopping in the open markets, feel free to bargain with the jovial shopkeepers to get the best rates. The final amount you pay will depend on your negotiating skills. At the government-run crafts emporium and in larger, well established stores, the price is fixed.
[tabbyending]
'F5 Escapes' is a Bangalore-based, experiential travel company, with a focus on redefining the way women travel in India. The premise of F5 is an ambitious dream –  to put India on the global travel map as a preferred destination for women from across the globe.
F5 Escapes offers fixed departure all-women group tours, customized itineraries for families, groups and solo travellers. We also do in-city engagements which include #JustGo travel meetups, workshops to educate women on travel safety, sustainable menstruation, motorbiking etc.