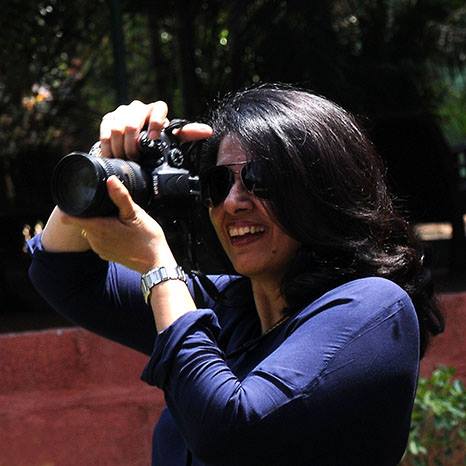 09 May
Madhu Shetty - The Urge To Wander
---
Madhu Shetty is an interior designer turned travel blogger from Chennai. She says that it's because of her true passion towards travel that lead her to embark on a long sabbatical in 2010 and there has been no turning back ever since. Read all of Madhu's wandering experiences on The Urge To Wander.
We caught up with her to understand her perspectives on different travel experiences, her choices in traveling responsibly and much more.
Can you tell us when and how did the travel bug bite you?
Books and National Geographic magazines were the initial triggers that got me dreaming of exploring the world. A 1985 multi country whirlwind escorted tour of Europe was a sampler, in an era when we weren't sure we would ever step out of the country again. But it was on a leisurely visit to mainland Greece in 2004 that I think I got completely hooked.
And how do you fund your travel ?(savings/work whilst traveling/other)
Savings mostly. We aren't full time nomads. My husband runs a business and enjoys it as much as travel and my invested savings from my design practice forms the core of our travel fund.
How long have you been documenting your travel stories ?
Since Jan 2012. Although, we had been actively travelling since 2003.
Can you share with us, that one travel memory that you cherish till date ?
Hard to choose between soaring up in a hot air balloon over the fairy chimneys of Cappadocia, witnessing an enormous herd of migrating wildebeest gallop past us in a humongous cloud of dust, locking eyes with a 400 pound silverback mountain gorilla, or attending mass in Saint Mark's basilica in Venice with a dozen other people and being alone under the glorious mosaics in the church after!
Have you been to any place, which turned out to be totally different to how you had imagined? If so, how?
Yes, Rwanda! We were blown away by this sub Saharan country's extraordinary climb from the dark chasm of mass murder. An ambitious plan aims to raise Rwanda to international middle income range by 2020!
Your preferred travel companions?
My husband of course. My daughter is a close second.
Do you have a bucket list? If so what is the first item?
No I don't. 'Everywhere' is on my list!:)
Your views & experiences (if any) on safety while travelling on your own.
Be sensible. Heed your instincts. Do not wear expensive jewelry or accessories, including handbags.
In places like Rio, even your expensive camera might have to stay behind in certain areas at night or on deserted stretches.
Never carry on your person more than it would hurt to lose.
Did I say use common sense?
We all know that travel teaches us a great deal of things about life. Can you share with us what has travel taught you ?
Wish I could say something profound and life changing, but my most important takeaway has been the reaffirmation that people, anywhere in the world, are just people. That despite all our surface distinctions, we aren't that dissimilar after all.
Is there anything you do on your travels or in your every day life to try to minimize your impact on the environment?
We have been consciously paring down our consumption and waste at home and outside. We use solar power for water heating and cannot imagine why it isn't mandatory for common area lighting in all residential complexes in India. When we travel we try to use local services as much as possible.
Please share with us, your message to aspiring women travelers?
Don't stop dreaming. If you want something – within reason – badly enough, you will find ways to make it happen.
We asked Madhu to give a one word substitute on few travel related questions.
If some one asked you to give up travel and choose exactly one thing to do in life, what would you choose?

Interior designing
A fictional character would you most like to meet or travel with ?

Don Quixote
One Dream Destination?

Iran
Your most preferred way of travelling (Backpacking/Economy/Luxury)?

Mid Range to Luxury
What describes you as a travel style as a woman, the best? Nomad / Diva / Aam Aurat

None of the above. Wanderess
A traveler who inspires you
Connect with Madhu or follow her journeys on these platforms
'F5 Escapes' is a Bangalore-based, experiential travel company, with a focus on redefining the way women travel in India. The premise of F5 is an ambitious dream –  to put India on the global travel map as a preferred destination for women from across the globe.
F5 Escapes offers fixed departure all-women group tours, customized itineraries for families, groups and solo travellers. We also do in-city engagements which include #JustGo travel meetups, workshops to educate women on travel safety, sustainable menstruation, motorbiking etc.