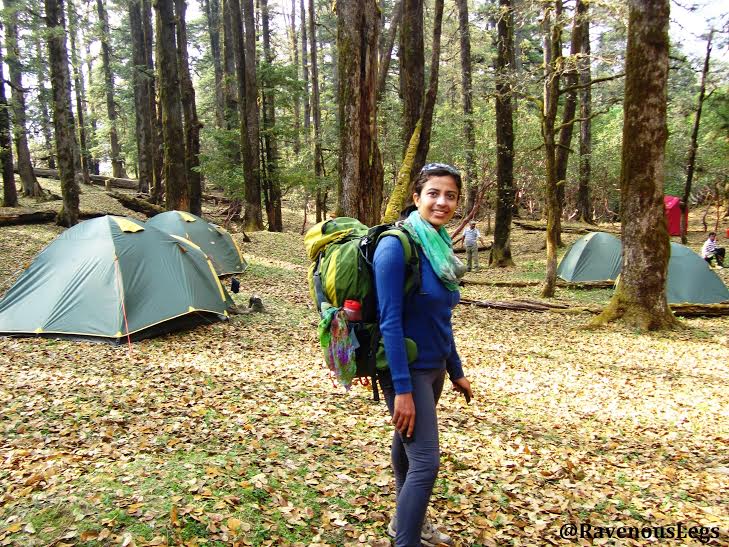 05 May
Medhavi Davda - Ravenous Legs
---
Medhavi Davda – born and raised in a Tata township at Mithapur, Gujarat, she worked in Pune before quitting corporate career and moved to Bir, Himachal Pradesh in the Himalayas – the place she calls home. She is currently exploring the vibrant, peaceful and adventurous life in this part of the country.
We caught up with Medhavi to get know her a little better, about her travel experiences & her choices in traveling responsibly.
Can you tell us when and how did the travel bug bite you?
Travel bug has been running in my veins since ever.
I have been a state champion and national level badminton player in my early days. Every month I had to travel to different places for my ranking tournaments. I would make sure to find extra time to sneak out to explore places. I had become a solo traveler at a very early age.
There was a time in my life when I focused on my career as a software professional and had become a workaholic. Over the years, the adventure seeker in me, started growing restless with my regular job and I was aspiring to do more with the streak of adventure in me. I always knew desk job wasn't for me. I would always find reasons to run away to the Himalayas for trekking and the oceans for diving.
I've been traveling extensively since 4 years.
And how do you fund your travel ?(savings/work whilst traveling/other)
I have worked as a software professional with Multinational corporations for 9.5 years before I quit my desk job in Jan 2016. I funded all my travels and adventures from my salary. After quitting I went on a 5-week backpacking trip to southeast Asia and currently surviving in Himachal Pradesh on my savings.
How long have you been documenting your travel stories ?
I started blogging in November 2014. It happened only because of friends pushing me. Blogging comes to me only after I'm out of my travel hangovers. It has given me a great platform to connect with lot of interesting travelers, groups and events. It gives me an opportunity to relive my journeys and share my stories beyond my family and friends, i.e. with complete strangers.
Can you share with us, that one travel memory that you cherish till date ?
I had a horrifying experience on Chadar Frozen River Trek (It's done in Ladakh in winters when the temperature ranges between -15°C and -30°C). Addicted to solo traveling, I strayed from the group and was walking down the frozen river nonchalantly, with my backpack on my shoulders and camera hanging down my neck. Unfortunately my leg broke through the thin layer of ice and made its way through to the water flowing beneath. The feel of ice cold water numbed my leg and my brain together. I controlled the panic inside me and tried to lift up my leg. But the thin sheets of ice couldn't handle the weight of my body and the backpack and my other leg sunk in too. I was inside the flowing river chest-deep and my hands above the chadar.
It was this moment when everything around me became blur and I sensed rare possibility of my survival. I somehow gathered my senses and waved my trekking pole and called for help. There were locals on the trek who spotted me and rescued me. Yes, I was pulled out alive. My boots had a considerable amount of ice in it. Socks, double layer of pants, down jacket, gloves, camera, everything was frozen, rock hard. Luckily I had clothes waterproofed in my backpack. And the only way to warm myself again was to start hiking again.
I still remember how happy I was to have experienced this FORCED DIP in Chadar and survived too!
And now I know, lot of people too remember me for this experience they have heard about.
Have you been to any place, which turned out to be totally different to how you had imagined? If so, how?
Hoi An.
While I was backpacking in Vietnam, I had a brief idea about this town to be a world heritage site. But I was blown away by the diversity this little place offered. It had a tranquil beach, it had mountains overlooking the China sea. It had heritage influenced by Chinese, Japanese and Dutch architecture. It had boutiques which sold tailor-made first copies of all high-end brands. It had chic garden cafes serving the Vietnamese coffee, which I rate the best I've ever had. It had beautiful river-side homestays. The entire town was lit-up with creative Vietnamese lanterns. It had a vegetable village where the small place grew all kinds of veggies organically with beautifully thought-through techniques. The people here are warm and welcoming.
This is the only place that makes me go back to, may be to live there for sometime.
Your preferred travel companions?
Me myself.
I enjoy only solo travels. I am never bored of dating myself.
Do you have a bucket list? If so what is the first item?
My bucket list consists of living in different parts of the planet and experiencing all shades of life and I have just started.
Your views & experiences (if any) on safety while travelling on your own.
Most of the times, I travel solo and there are times when I have to spend more than my backpacking budget, for my safety. My brains have to be alert and witty all the time. I have to take chances and trust my instincts. Sometimes I need to compromise on my temptations for late night activities.
This has helped me trust my instincts and make quick safe decisions for myself.
We all know that travel teaches us a great deal of things about life. Can you share with us what has travel taught you ?
Travel has opened up my mind to feel liberated.
Helped me respect different cultures and people.
Taught me that happiness comes from doing things I love and not by owning things, to believe in myself and my instincts.
The adventures on my travels have helped me push my boundaries and surprise myself with my abilities.
This further helped me quit my corporate career and start living the life I had always been dreaming of.
Is there anything you do on your travels or in your every day life to try to minimize your impact on the environment?
Trekking is my favorite genre of travel.
I witness the best of the locations on foot and try to avoid vehicles as much as I can. I live in tents out of nowhere in them most basic setup. I live with locals and eat home-cooked food with them. I also participate in trail-cleaning trekking events.
Trekking has helped me understand happiness comes from doing things I love and not by owning things. Over the years, I have started living a minimalist life. I stopped buying plastic, I stopped buying groceries from departmental stores and buy limited stuff from the local stores. I stopped shopping for unnecessary clothes.
After moving to Bir, I have stopped using my car too. I either jog or walk around the places. I'm trying to lead a life with minimal carbon foot-print.
Please share with us, your message to aspiring women travelers?
Travel is liberating, soul searching and breaking free. Period.
We asked Medhavi to give a one word substitute on few travel related questions.
If some one asked you to give up travel and choose exactly one thing to do in life, what would you choose?

Badminton. The only unfinished dream of mine was to make a career in Badminton. I would love to spend hours on courts everyday.
A fictional character would you most like to meet or travel with ?

Sadly, I love solo travels!
One Dream Destination?

Papua. It has the most beautiful scuba diving site and one of the seven summits. An ideal destination for me.
Your most preferred way of travelling (Backpacking/Economy/Luxury)?

Backpacking. I generally book my flights and set out solo without any other bookings or plan on my mind.
What describes you as a travel style as a woman, the best? Nomad / Diva / Aam Aurat

I would want to call myself an adventurer 🙂
You can follow Medhavi's backpacking travel stories on the below platforms
'F5 Escapes' is a Bangalore-based, experiential travel company, with a focus on redefining the way women travel in India. The premise of F5 is an ambitious dream –  to put India on the global travel map as a preferred destination for women from across the globe.
F5 Escapes offers fixed departure all-women group tours, customized itineraries for families, groups and solo travellers. We also do in-city engagements which include #JustGo travel meetups, workshops to educate women on travel safety, sustainable menstruation, motorbiking etc.