TOUR OVERVIEW
Andaman Islands are charmed and have a hint of mystery. The astounding clarity of the azure waters, makes you question the impossible mess of our urban lives! And those who thought Andamans are just about coastlines and pristine beaches have again failed to estimate the dimensions of this gem. There are dense mangroves and limestone caves which transport you to another world.
This trip explores Andaman a little beyond the beaten path. Laze around at beautiful Neil island and just do nothing. Trek to a beautiful vantage point at Munda Parbat.
Price: INR 46500 + 5% GST
Single Occupancy Supplement – INR 18,500 + 5%GST
DISCOUNTS:
Pay in one go and earn a discount of INR 1500 in addition to the early bird discount.

Early bird discount – INR 1000 off if booked on or before 20th October.
Check out our Video
Arrive at Port Blair by morning/afternoon and settle. Visit the Cellular Jail and attend the sound and light show. Today is about getting to know the history of Port Blair and of course, getting to know your fellow F5ers. Overnight at Port Blair.
Take the morning ferry from Port Blair to Havelock island and be transported to paradise. Havelock is a picturesque natural paradise with beautiful white sandy beaches,rich coral reefs and lush green forest.  If you would like to try SCUBA diving, you can do it today. You can simply laze at the beach nearest to your resort. We will visit Radhanagar beach for the sunset. Overnight at Havelock.
Move towards Neil Island after breakfast. Less than 14 square kilometers in area, this is a flat, tiny island where the pace is relaxed and the Rosogollas are to die for. Equally mesmerizing are the sunset at Lakshmanpur beach and natural rock-bridge formations. Today is a do-nothing evening, but you can also hire a two wheeler and ride around the length and breadth of this small cosy bump in the ocean. You can try snorkeling & glass boat ride today. Overnight at Neil Island.
Get back to Port Blair today and relax. In the evening explore Chidiyatapu beach for sunset. A small trek to Munda Parbat will give you a jaw dropping view from the cliff. Spend some time shopping back in Port Blair. Overnight at Port Blair.
Start early in the morning to Baratang. To reach Baratang we would be crossing the Andaman Trunk Road covered with dense forest on both sides. Journey to Baratang is a little tedious one. But it is a reward in itself. Visit the mangrove forest and the limestone caves. And you thought Andamans is only about the beaches? Return to Port Blair by late evening. Overnight at Port Blair.
Go for a day tour of Ross Island and the North Bay Island. Ross Island was the headquarters of the British colony and today it houses the ruins of the buildings that were built during the British regime. You can indulge in underwater activities once more at the North Bay island. North Bay Island is perfect for under sea walk. Return to Port Blair. Overnight at Port Blair.
Depart for Port Blair Airport.
Inclusions
Permits, Ferry Charges and Boat charges

All Transfers in exclusive AC Cab (Tavera/ Xylo / Ertiga/TT)

Entry Tickets except camera charges

All meals starting from Dinner on Day 1 to Breakfast on Day 7. Some meals may be packed due to logistical constraints. Lunches will all be vegetarian, you can order a non-veg dish during lunch at your expense.

All applicable taxes

6 nights' accommodation on twin sharing basis (AC at Port Blair, Havelock, Non AC at Neil)

Your F5 trip lead's guidance
Exclusions
Flights from your city of residence to Port Blair.

Scuba Diving@Rs. 4500.00, Under Sea Walk@Rs. 4200.00 per head.

Boat Rides (Banana Ride, Jet Ski Ride, Speed Boat Ride) @Rs. 250 – 350 per head in Port Blair.

Boat Rides (Banana Ride, Jet Ski Ride, Speed Boat Ride) @Rs. 600 – 700 per head in Havelock.

Glass Boat Tour @ Rs. 3500 – 4500.

Cycle or two wheeler ride in Neil Island.

Alcohol

Food other than inclusions

Tips

Shopping and personal expenses

Any cost arising due to natural calamities, personal flight delays and aspect beyond our control. We will definitely facilitate an alternative and handle the contingency, the cost being yours.

5% GST
Terms & Conditions
If cancelled 90 days or more in advance, cancellation fee is 12% of the trip amount.
 25% of the trip cost if cancelled 89 – 60 days in advance.
 50% of the trip cost if cancelled 59 to 16 days in advance.
Last 15 days – no show – entire amount will be forfeited.
If you use our services to book flights, cancellation charges of the flights will apply.
Option of Deffered trip:
Following conditions apply:
You need to choose the trip you would like to go with instead (the deferred trip) within 2 months of deciding to cancel.
The travel start date of the deferred trip should be within 6 months from the day you decide to cancel.
There can be only one such change and once you decide the deferred trip, the cancellation policy of that trip applies.
You cannot choose a short trip (less than 5 days) as a deferred trip.
Disclaimer
50% of the trip cost is required to confirm the booking. You can avail discount if you pay in one go.
The booking does not include flights as the flight rates are extremely unpredictable. However, we can help you book your flights for the trip
All our trips are well-researched, including identifying access to medical facilities. In case of a medical emergency, F5 will assist the traveler in getting medical attention.
F5 Escapes is in no way responsible for any untoward incident happening due to the ignorance/negligence of the guests, natural/man-made calamities, accidents or any other events that are out of human control during the trip.
F5 reserves the right to cancel the trip under certain conditions – in such a case, the amount will be refunded in full.
Arrival & Departure timings:
This trip is Ex-Port Blair. Joining us from different city?
Reach Port Blair on 25th January by noon and book your return after 9AM on 31st January from Port Blair.
Weather
Though it is winter season however considering its coastal region, the temperature might vary from 14 degrees to 28 degrees.
*Please note that now a days, climate/ weather is dependent on many factors and unpredictable hence above information might be subject to change during your actual travel days
About your stay:
All stays in beautiful service apartments/resorts on twin sharing basis.
Food
We have tried and planned your meals at great restaurants/ hotel etc. There's a plethora of sea foods that you could just savour on and on.
Breakfast and/or lunches on some of the days will have to be packed owing to long sea travel or travel to the areas where habitation and facilities are minimum. Lunches will all be vegetarian. However, you are free to order a non-veg dish at your expense during lunches.
Note > Prepare > Accept > Embrace
This trip requires some long sea-bound journeys. If you are easily sea-sick or motion-sick, please reconsider.

You should be carrying a small towel and your swim-wear on most days. Trip lead will advise accordingly.

Please remember that Andaman archipelago is a group of islands and weather patterns sometimes get unpredictable. In a situation where the sea is rough, the trip lead may be forced to reshuffle the activities, because safety is our major concern. We give our heart and soul to make sure that you get to do everything we have planned. But "act of God" is something we cannot control.

The day you are travelling to Baratang will start very early. You are supposed to leave your stay at 3AM.  In case the Grand Andaman Trunk road is open, Baratang journey goes through Jarawah forest which is highly protected. They start at 6AM and we intend to join the first convoy itself to avoid reaching late. For this, it is necessary that we are amongst the first in line and complete the formalities of ID etc before the gate open. There will be multiple ferry crossings on this day.

While  crossing Jarawa Reserved area; please don't click the picture of tribes or not to feed anything maintain the time as per tour executive or by the driver, Since it a Tribe Reserve area, Vehicle will not be stopping for anything between reserve areas (convay)If the Grand Andaman Trunk Road Going  to Close, We have to travel Baratang Island by Govt. Ferry

We are not allowed to stop in the forest so use the loo before starting the journey.

Most of our days will be starting early in order to catch the convoy or meet the entry time of a limited-permit island. Please follow trip lead's guidelines on timings.

Coral and Shell collection is prohibited and punishable by law under the Wildlife Protection Act of 1972.

SCUBA can be scheduled during your stay in Havelock. Please notify the trip lead ontime.

A little bit of walking will be required on the beaches and around the natural bridge at Neil.As for the Munda Parbat trek (2.5 hours in all), you can choose to opt out and relax at the Chidiya Tapu beach instead. We do hope you join it, though. It is worth it.

The ferry transport to and from Havelock may be on government ferry or a small private ferry called Macruzz. The govt ferry will allow you to stand on the deck and experience the sea wind in your hair. Do try being there instead of sitting in the cabin. It is magical. Macruzz will not allow this as it is a small cruiser.

On days we have activities and long road journeys, delays are inevitable. We will try to mitigate them, but please do expect slightly late lunches. Carry your snacks.

Our group could be a mix of vegetarians and non-vegetarians. We will ensure that you get the food for your preference, but please remember that it is an island destination famous for its sea-food. So while you will get your vegetarian food, kindly understand that the restaurant will also be serving non-veg. If you are a non-vegetarian, please do not be offended if your fellow traveler may opt for a different table because she may not be okay with the smell.

Network is bad even in Port Blair. Chances of BSNL working are higher in Port Blair. North Andamans, Middle Andamans and Neil will have non-existent network. Havelock will be patchy.

While returning, please remember that you will have to reach Port Blair airport at least 2 hours in advance. It is a small airport and takes a lot of time to check-in.

All ferries require the passengers to report an hour prior to departure.
NOTE ABOUT SMOKING & ALCOHOL:
Everyone joining is an adult and we realise that we cannot dictate the behaviour on how you should enjoy the trip. All we ask is to drink responsibly. Hangover delays are going to cost a lot, and will not be tolerated at all. So please do not test your limits and enjoy in moderation. Also, do respect your roommate's comfort levels with the alcohol smell and avoid drinking in the room if she is not comfortable.
If you smoke, please do so outside the room, even if the rooms have ashtray.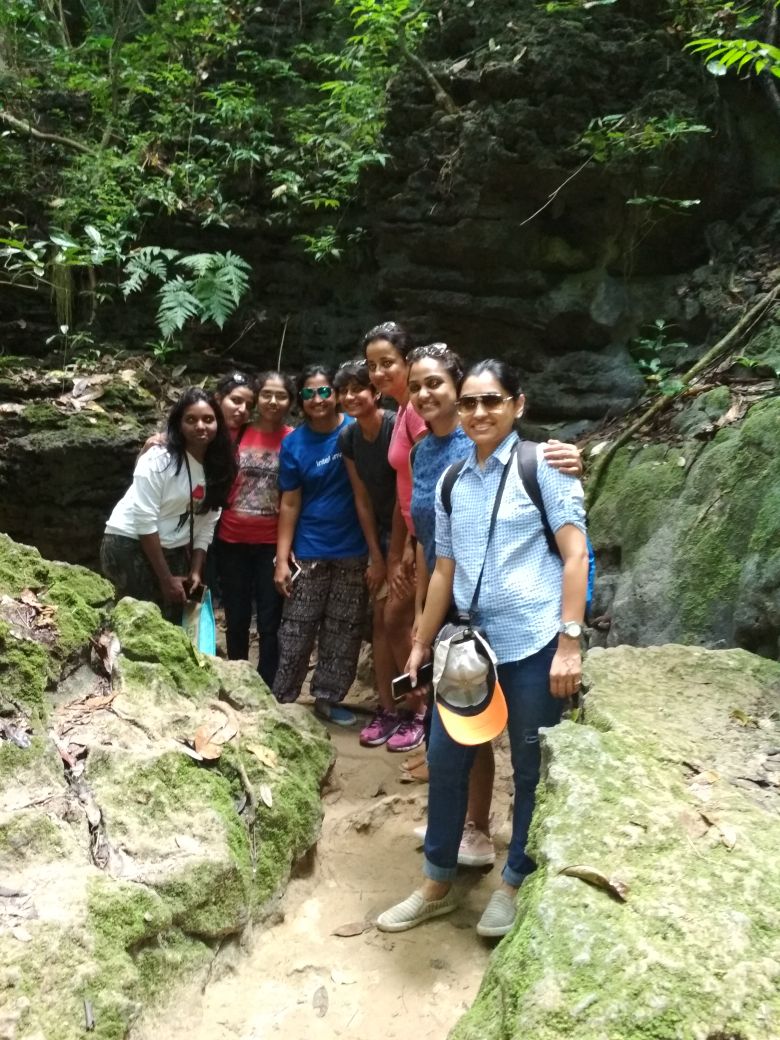 Andamans, Jan 2018
"My F5 trip to the Andaman Islands was excellent! It was my first with F5 and I was thoroughly impressed. Almost every aspect was well organized, which was no easy task especially in the more remote parts of the North Andamans. We lucked out with a wonderful group that was adventure-loving, humorous and considerate. We were led by a lovely tour lead, who was enthusiastic and accommodating. I highly recommend a trip with F5 and congratulate them for the amazing work they are doing for women's travel in India. I look forward to many more trips myself! Thanks F5 Escapes :)"
Interesting Read About Away from the Mainland
'F5 Escapes' is a Bangalore-based, experiential travel company, with a focus on redefining the way women travel in India. The premise of F5 is an ambitious dream –  to put India on the global travel map as a preferred destination for women from across the globe.
F5 Escapes offers fixed departure all-women group tours, customized itineraries for families, groups and solo travellers. We also do in-city engagements which include #JustGo travel meetups, workshops to educate women on travel safety, sustainable menstruation, motorbiking etc.