TOUR OVERVIEW
This is a trip which is hard to categorize. It is like a well cut slice of a multi-layered cake. We get the tranquil, awe inspiring vistas of the Dhauladhar range and the mystic charm of Buddhist monasteries and Tibetian history; topped with the adrenalin rush of paragliding and the earthiness of Punjab.
You experience the gratitude as you eat at the langar at the Golden Temple. And enjoy the dremainess of the mustard fields of Punjab on a tractor. Then of course, there are those hidden pecan crunches of a beautiful pottery village, a ride on the Himalayan train and a food-coma inducing walk through the delicacies of Amritsar.
The whole trip is also connected with the tragic pasts of our country and another one. Amritsar is a vibrant city, filled with boisterous talk and great food. But it also has a history that shaped our country. Dharamsala offers you a glimpse of the exile of Tibetians and makes us understand humanity from a different angle.
We arrive at the heritage city of Amritsar. Visit the Jallianwala bagh, Partition Museum and the Golden Temple. Get the blessing in form of Langar at the Golden Temple. Overnight at Amritsar.
Go for an elaborate food walk with our very engaging host. We bet, you will be tempted to eat more than your stomach can allow. Visit the Katra and Hall Bazaar for some shopping. Early evening proceed for a Punjabi experience along with dinner. Overnight at Amritsar.
We are entering the Himalayas today. We continue our journey to a beautiful village near Palampur which will be our home for next two days. We visit the Tashi Jong monastery before we get to our natural building stay. Relax in the beautiful property with the view of Dhauldhar range. Overnight at Chandpur.
Ever ridden in the joy-trains as a kid? How about travelling in one of them. We will take a short joy-ride on the Palampur-Pathankot line to reach our paragliding site. That's right! A mini adventure before a major one. Paragliding in Billing is one of the most amazing experiences you will have. It is optional but highly recommended. After lunch at Bir, visit the famous Baijnath temple. Overnight at Chandpur.
You can go for a short walk around the village across the stream, before the breakfast. Check out and proceed to the pottery village of Andretta where you may take up a demo class, if it interests you. We move to Mcleodganj today, near the seat of His Holiness Dalai Lama. Hop around the cafes in Mcleodganj. Overnight at Mcleodganj.
Check out and visit the Norbulingka Institute and the Dharamsala Cricket Stadium. Proceed to Nawapind, a small village in Punjab. We will experience the rural Punjab today on the day of Dussehra, in a heritage home. Enjoy the sunset ride in the sarson da khet. Get all your DDLJ poses done! Overnight at Nawapind.
Go for a village walk in the morning and visit the local Gurudwara. After an early lunch we depart for Amritsar. Those who want to witness the retreat ceremony at Wagah border can proceed further. We are making it optional. Those who stay back can stay at the homestay or visit the Golden Temple again. We all get together to have a sumptuous last dinner of the trip. Overnight at Amritsar.
After breakfast, depart for your respective flights.
Inclusions
All meals and evening tea/coffee starting from lunch on Day 1 to Breakfast on Day 8.
Accommodation for 7 nights

Double sharing in Amritsar Chandpur and Mcleodganj.
Triple sharing in Nawapind – it is a heritage structure with large rooms.

All transportation except while exploring the Mcleodganj bazaar on foot. Bigger vehicles are not allowed in the town.
Permits and tolls
Entry charges and toy train tickets
Food walk in Amritsar
Guidance of an F5er
Exclusions
Food, snacks other than mentioned
Camera charges
5% GST
Paragliding charges
Tips and personal expenses
Medication
Flights from your city of residence to Amritsar and return
Terms & Conditions
REFUNDS/CANCELLATION:
If cancelled 90 days or more in advance, cancellation fee is 12% of the trip amount.
 25% of the trip cost if cancelled 89 – 60 days in advance.
 50% of the trip cost if cancelled 59 to 16 days in advance.
Last 15 days – no show – entire amount will be forfeited.
If you use our services to book flights, cancellation charges of the flights will apply.
Option of Deferred trip:
You have an option of parking the paid amount with us for a future trip, if you wish to cancel joining this trip 60 days or more in advance.
 Following conditions apply:
You need to choose the trip you would like to go with instead (the deferred trip) within 2 months of deciding to cancel.
The travel start date of the deferred trip should be within 6 months from the day you decide to cancel.
There can be only one such change and once you decide the deferred trip, the cancellation policy of that trip applies.
You cannot choose a short trip (less than 5 days) as a deferred trip.
Disclaimer
All our trips are well-researched, including identifying access to medical facilities. In case of a medical emergency, F5 will assist the traveler in getting medical attention.
F5 Escapes is in no way responsible for any untoward incident happening due to the ignorance/negligence of the guests, natural/man-made calamities, accidents or any other events that are out of human control during the trip.
F5 reserves the right to cancel the trip under certain conditions – in such a case, the amount will be refunded in full.
This is a non-smoking and a non-alchoholic trip for all practical reasons.
Arrival & Departure Timings
Ex- Amritsar; You are expected to reach Amritsar on Day 1 by 1:30 PM & return on day 8 anytime after 10AM
Weather
October will see pleasant climate in Punjab. Himachal will be slightly cold, especially Bir and Mcleodganj. You will need warm clothes. The exact nature of weather will be known closer to the time and you will be advised accordingly.
*Please note that now a days, climate/ weather is dependent on many factors and unpredictable hence above information might be subject to change during your actual travel days
Stay
We have a variety of stays in this trip. A family run homestay in Amritsar. A unique, naturally build property in Chandpur. A guest house close to the cafes in Mcleodganj and an ancestral house in rural Punjab.
Food!
Authentic Punjabi food with a lot of variety
Simple Indian food such as rotis/dal, rice etc. Toast/Omlettes will be available.
Continental food at Mcleodganj
If you have special dietary requests, please let us know beforehand.
Note > Prepare > Accept > Embrace:
Paragliding is an adventure sport and comes with its own risks, same as river rafting or deep sea diving. The tandem ride includes a pilot flying with you and you are not in charge of making any technical judgment, which makes it much safer. It doesn't require much physical work but has a weight limit. Also, if you are over 55 and have medical history like diabetes or blood pressure, we advise you to first consult your doctor for paragliding. Paragliding is weather dependent and cannot be guaranteed.
Larger vehicles are not allowed in Mcleodganj, so exploring the market area will be on foot. You can hire, the small taxis (like you hire auto rickshaws) to go from one road to another, but the distances are only few hundred meters.
Stay in Chandpur requires a 15 minute trek one way. There will be porters to carry your luggage. The place is right in the middle of story-book setting but stepping out to market etc is not possible once you get there. It is a retreat in the real sense of the word.
The retreat ceremony at Attari is something we have kept optional as most of our guests did not enjoy it on previous trips, neither did we. We will still facilitate your visit and the vehicle will always be there for you.
If your return flight is late in the day, and you want to visit something in Amritsar, vehicle can be arranged for you at extra cost. Or you can hire autos. We can help you plan.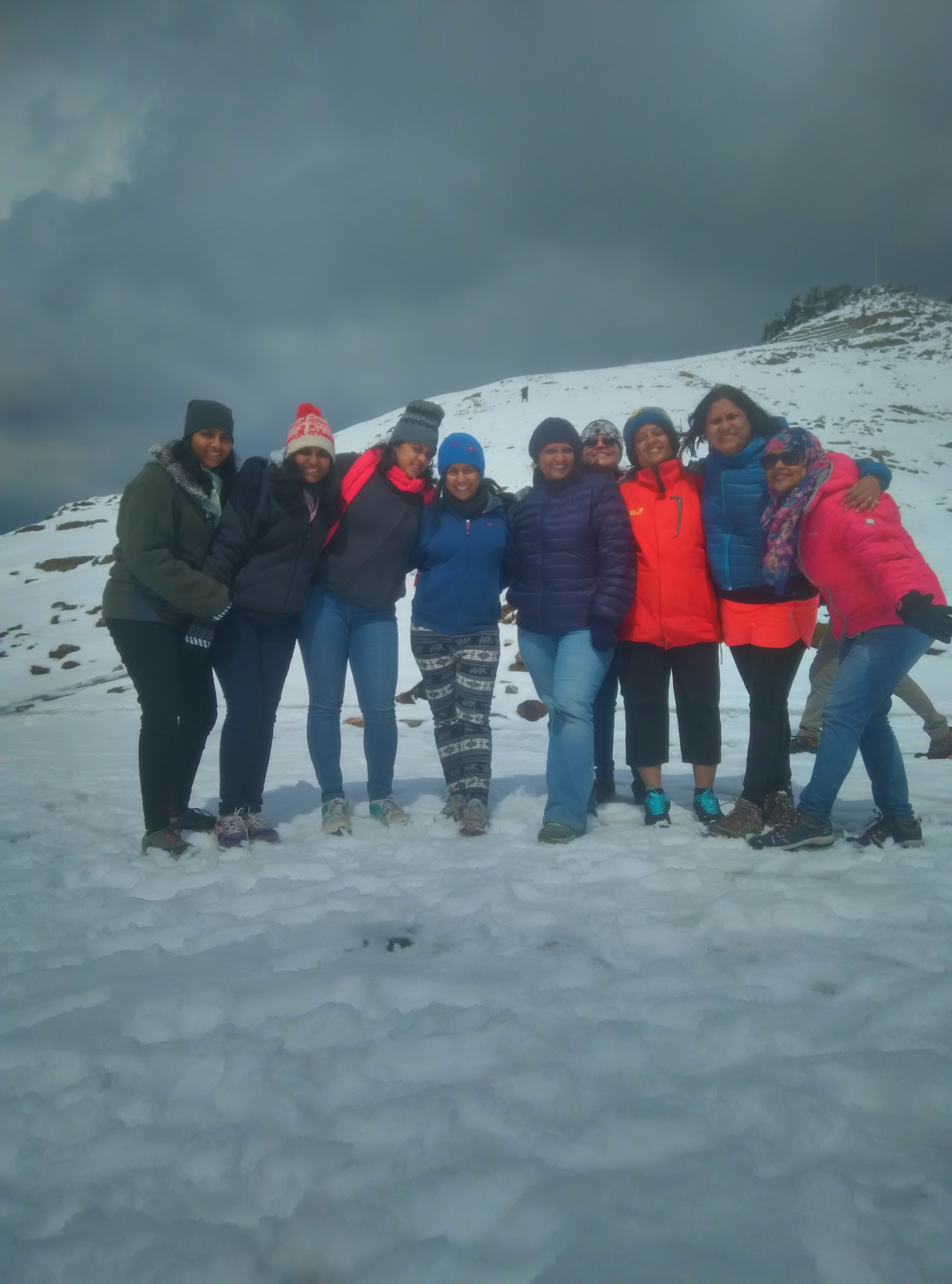 Amritsar & Himachal, March 2017
"The group trip to Amritsar, Palampur and McLeodGanj was excellent! Each day, we had a very local experience planned for us, that was perfectly executed. We stayed with a Punjabi family at Amritsar and lived like they do; we lived in the hills in Palampur in a beautiful cottage; and we stayed at a Tibetan lodge at McLeodGanj – three very different, very immersive experiences. From paragliding at Biling, to gorging on street food near the Golden Temple, to the lovely cafes around the Dalai Lama's seat – each day was wonderful and memorable. We packed in so much over 6 days!"
– Sneha Prabhu
'F5 Escapes' is a Bangalore-based, experiential travel company, with a focus on redefining the way women travel in India. The premise of F5 is an ambitious dream –  to put India on the global travel map as a preferred destination for women from across the globe.
F5 Escapes offers fixed departure all-women group tours, customized itineraries for families, groups and solo travellers. We also do in-city engagements which include #JustGo travel meetups, workshops to educate women on travel safety, sustainable menstruation, motorbiking etc.