TOUR OVERVIEW
It's Navratri time! It's the time when the temple circuit of Tamil Nadu is abuzz with cultural activities.
Madurai  or 'Thoonga Nagaram' (The city that never sleeps) is the cultural capital of TamilNadu with a strong Tamil history and is one of the seats of the Tamil Sangam literature. The city has been ruled by several kings including the Pandyas, Cholas, Madurai Nayaks and the British.  'Golu', an elaborate doll display is set up in the Meenakshi temple premises during this time of the year to celebrate Navratri. 
Handpainted floor tiles, mammoth luxurious mansions etched with Belgian glass and fine antiques from across the world, Traditional Tamil handloom mills, spicy food – Karaikkudi is sure to overwhelm the senses of any traveller.
We then head to Rameshwaram – we cross the bridge from the mainland to this island, where people go to absolve themselves of their sins. But Rameshwaram is beyond its temples –  the eerie history of Dhanushkodi, the inspiring abode of Late President Dr. APJ Abdul Kalam, The history of RamSethu – the place has all these and more to offer. 
When you are in Tamil Land, can you miss the authentic Tamil food, Jigarthanda, Madurai Jasmine flowers and authentic Chettinaad cuisine? Come, explore this enchanting part of Tamil Nadu with F5 Escapes.
Leave Bangalore around 10 PM to Madurai. It would be an overnight journey. Reach the historic town by 6:00 AM.
If you wish to join from some other city, refer More Info section.
Reach early morning and freshen up. After breakfast, we will set out to explore the temple city of Madurai. Understand the city's history and explore the attractions here including the Thirumalai Nayakkar Mahal, Meenkashi Amman Temple etc.
We will witness the doll display in Meenakshi temple today or tomorrow which is an exclusive during this time of the year! If time permits, visit Azhagar Kovil and Pazhamudhir Solai. Stay in Madurai.
Leave for Karaikudi early morning after breakfast. Have the local tour of the town with experiences of saree weaving and tile making added in.  Also explore the huge mansions of Kanadukathan. Stay in Karaikudi.
We will proceed to Rameshwaram after an early breakfast. We will visit Pamban bridge on the way. Check in and proceed to visit Rameswaram temple. If time permits, we can squeeze in a train ride from Rameswaram to Pamban. Stay at Rameshwaram.
After an early breakfast, we will visit Dhanushkodi and leave for Madurai. Dhanushkodi is a ghost town which was declared unfit for living by the government post the disastrous 1964 cyclone.
Did you know the story behind the train that disappeared into the sea?  We will also visit the temple that houses the 6 feet tall Emerald idol of Shiva. Reach Madurai by evening and refresh. Post dinner, onward journey to Bangalore at night.
Inclusions
 Volvo Overnight Bus tickets from Bangalore to Madurai and back.

All meals for all 4 days 

– 

Breakfast, Lunch, Dinner and two tea/coffee

 Transport in an AC vehicle throughout the trip

All stay on twin sharing basis in well appointed A/c rooms.

All entry, parking and permit charges.

Temple special entry tickets

 Local guides at Madurai and Rameswaram temples

 Guidance of an F5 tour lead all through the trip
Exclusions
Tips
Shopping
Food other than inclusions. Personal expenses
Insurance
Anything not included in inclusions
5% GST
Terms & Conditions
25% of the trip cost if canceled 10 days in advance
50% of the trip cost if canceled 9 to 3 days in advance.
Last 3 days – no show – entire amount will be forfeited.
Disclaimer
F5 Escapes is in no way responsible for any untoward incident happening due to the ignorance/negligence of the guests, natural/man-made calamities, accidents or any other events that are out of human control during the trip.
All our trips are well-researched, including identifying access to medical facilities. In case of a medical emergency, F5 Escapes will assist the traveler in getting medical attention.
The trip is NON-SMOKING and NON-ALCOHOLIC.
F5 Escapes reserves the right to cancel the trip under certain conditions – in such a case, the amount will be refunded in full.
Arrival & Departure timings
Joining the group in Bangalore from a different city?
Take flight or train landing in Bangalore by 4- 5PM on 17th October evening and opt for return flight/train after 11 AM on 22nd October  would be ideal, so as to account for delays and travel time within the city.
You can join directly at Madurai too! Read on. 
The trip is ex-Bangalore – Bus ticket from Bangalore is included. If you are directly coming to Madurai, you will get a waiver of Rs. 2000 on the trip cost. Madurai is very well connected by air, train and road.
If you are arriving by bus, arrive not later than 7 00 AM on 18th October 2018 and plan your return bus after 9 PM on 21st October 2018.
If you are arriving by train, arrive not later than 7 00 AM on 18th October 2018 and plan your return train after 9 PM on 21st October 2018.
If you are arriving by flight, arriving previous(17th July) evening would be better so that you do not miss out on the activities the next morning. We will arrange accommodation (at extra cost) for you. Plan your return train after 8 PM on 21st October 2018 or you may choose to stay in Madurai that night and take the next flight for which you will be dropped.
Weather
October is the season of mild weather (about 30 degree Celsius) in Madurai, but given that Madurai weather is 'hot, hotter, hottest' all through the year, brace yourself for some heat and humidity in the coastal region, with occasional showers during to the North East monsoon.
Food
We will arrange for authentic Chettinaad food and Madurai food on the first two days, which will include non vegetarian options. However, we cannot guarantee availability of non vegetarian food in Rameshwaram. If you have any specific meal preferences / dietary requirements, please let us know before hand.
Stay
We will be staying in well appointed hotels in Madurai and Rameshwaram and in a beautiful Chettinaad style stay in Karaikudi.
Note > Prepare > Accept > Embrace
Navratri is peak season in Madurai and Rameswaram. Please be prepared for crowds, long queues.

Madurai and surrounding areas are seeped in Tamil culture and rich history. If you are not that interested in culture and heritage, you can consider some other trips of ours. If you love stories, history and experiencing local culture through their temples and food, then this trip is for you!

This trip will have a lot of temple visits. We will try keeping it as non-religious and as story-oriented and culture oriented as possible. However, if temples don appeal to you, then this trip might not be for you.

Rameswaram is more of a religious place than a tourist place. Please do not expect great restaurants and touristy beaches across the town. The natural beauty and history of the place are the things that appeal to a curious traveler.

The journey to and fro are by overnight volvo buses. If you have severe knee or back issues, you might want to reconsider.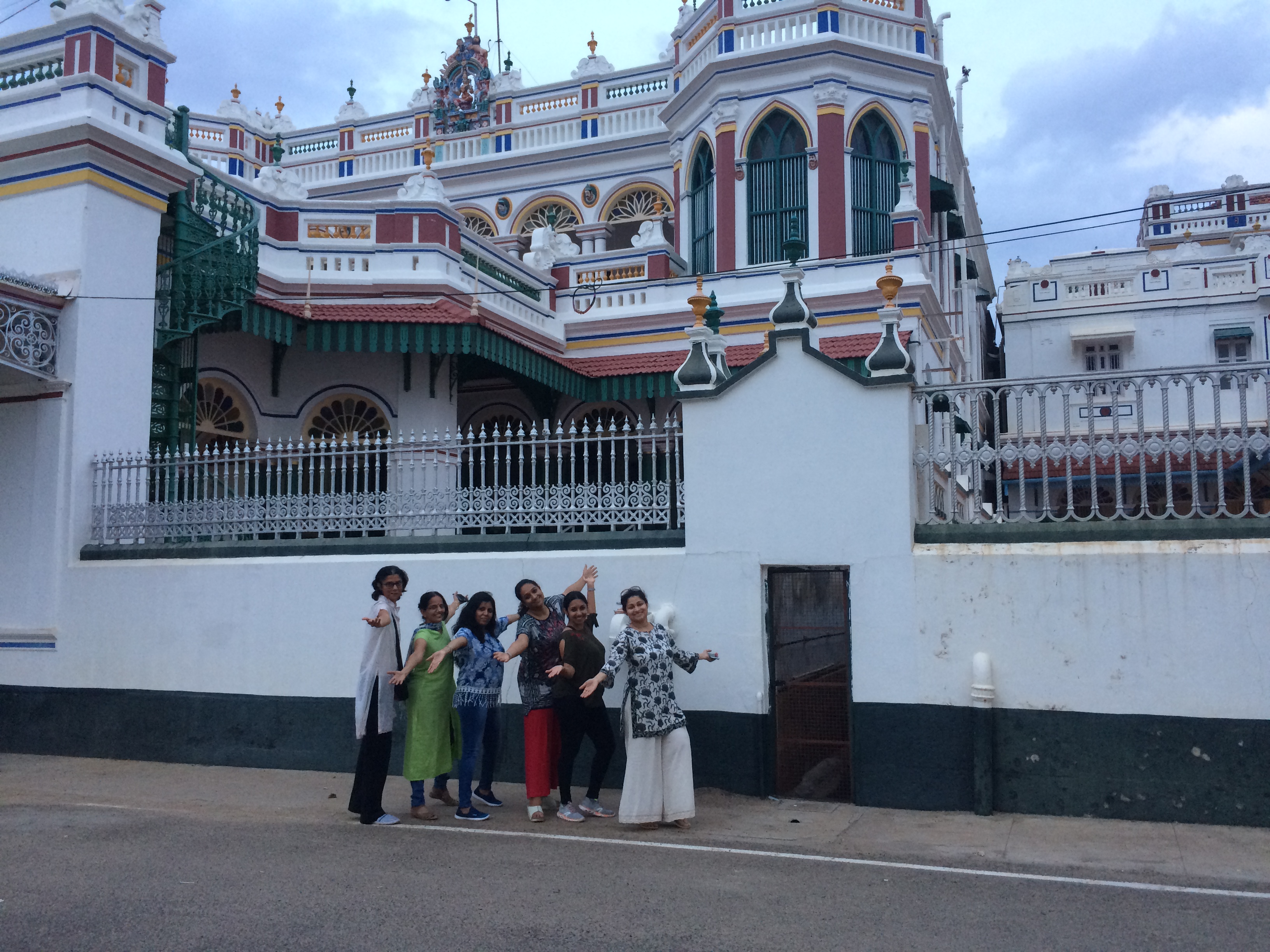 Madurai - July, 2018
There's no Escape..BE WARNED!!!!!!
You are going to be hooked, hooked to travel.. travel alone to unknown places with strangers, to travel to make friends and memories to last a lifetime. Our recent trip to Madurai was a blast.  The Jigarthanda, athangudi Tile-making, Karaikudi mansions, impromptu train ride on the sea, early morning theerthasnanam, emerald nataraja…Not to forget the ribtickling dumb charades night
The USP… Keep it Simple, Sight seeing pepperd with local experience. 

Way to go…The bar is set high….Keep up the expectations!!!!!!
Interesting Read About Madurai
'F5 Escapes' is a Bangalore-based, experiential travel company, with a focus on redefining the way women travel in India. The premise of F5 is an ambitious dream –  to put India on the global travel map as a preferred destination for women from across the globe.
F5 Escapes offers fixed departure all-women group tours, customized itineraries for families, groups and solo travellers. We also do in-city engagements which include #JustGo travel meetups, workshops to educate women on travel safety, sustainable menstruation, motorbiking etc.