TOUR OVERVIEW
There is a famous Ladakhi saying that "the land is so barren and the passes so high that only our fiercest enemies or our best friends would want to visit us".
Ladakh is a heart-warming example of how nature allows life amidst the harshest conditions. And the people in Ladakh are one with nature.  When you cross the Khardung La at 5602m (18,379ft) and enter the stupendous Nubra Valley, you understand why it is the heaven on earth. Surrounded by the seemingly impenetrable Himalayas, the valley was once a hotbed of the thriving Trans-Himalayan trade.
The ever changing colors of Pangong Tso and Tso Moriri, make you cry. And we narrate by experience. No religion of the world can give the peace and clarity you get by starting at those ever changing blue waters.
Get to Turtuk, the nearest you can get to LoC in that region and understand the Baltistan culture, distinctly different from the Ladakhi culture.
EARLY BIRD DISCOUNT
INR 1500 off if booked on or before 31st May 2019. Want more? Pay in one go and earn a discount of INR 1500 in addition to the early bird discount!
Check out our Video
Meet at Delhi airport with your trip lead board the flight. Flying to Leh is a beautiful experience as you get the glimpses of the snow covered peaks from the air. Arrive in Leh. We are ascending from 280m to 4000m during the flight. So today will be only for acclimatising our bodies to the higher altitude. Enjoy the calm of the guest house. Sit and drink your tea in the beautiful garden. Overnight at Leh.
Ladakh conjures up the image of Buddhist monks praying, smiling and going about their tasks in those beautiful monasteries. Today we try to become a part of it, even if briefly. Sit calmly, pray and be aware of yourselves at the Thiksey and Hemis monasteries. Understand the Ladakhi history and royal lineage at the Stok palace. We can also visit the recently open Central Asian Museum near our stay. Overnight at Leh.
Khardung-La is the highest civilian motorable road in the world. At 18000 feet, this is one of the most adventurous roads to cross where the snow line is the closest to you. We cross the mighty pass today and enter Nubra, literally, the valley of flowers. The journey is long and winding today and we relax for the rest of the day in the beautiful village surrounded by lush green fields and barren, mighty Himalayas. Overnight at Hunder village.
We visit Turtuk, which the last village before the LoC. Turtuk was under Pakistan's control until 1971, after which India gained control of this strategic area. Geographically, Turtuk lies in the Baltistan Region and is one among four such villages in India. Have lunch at a local farm and return to Hunder where we have a joy ride on the double-humped Bactrian Camels on the dunes of Hunder. That's right! A place where you have Indus, Himalayas, snow and a desert! Overnight at Hunder.
'3 Idiots' made it famous, but for those who love mountains, Pangong Tso has been the lake of pristine solitude. We proceed via the Shyok route and reach the Pangong Lake. Some cozy camping tonight! Overnight near Pangong Lake in comfortable tents.
Return to Leh after breakfast and relax. In the evening you can take a stroll around Leh and visit the Shanti Stupa for sunset. Overnight at Leh
We visit an eco school today, to understand how it is possible to live ecologically even in the harsh landscapes on Ladakh. You will be introduced to the pink-coloured butter tea, so loved in Ladakh. We visit the Hall of Fame, a poignant reminder of the bravery, courage and sacrifices of our armed forces. Overnight at Leh.
Today, we proceed to Tso Moriri, another high altitude lake of Ladakh region. Like Pangong Tso, Tso Moriri is also a Ramsar site hosting rare migratory and local birds. Enjoy the tranquility at the lesser known but equality beautiful glacial lake. Overnight on the banks of Tso Moriri.
We return to Leh via Kozak monastery today and take it easy for the rest of the day. Enjoy the cultural program at the guest house. Overnight at Leh.
For the thrill seekers, there is another opportunity today. To raft on the Zanskar is both adventurous and strangely calming. Witness the colours of the rocks changing as you negotiate rapids and reach the confluence of Indus and Zanskar, covering 28 kms. Rafting is optional and at extra cost. If time and energy permits, visit the Army Gurudwara and the Magnetic Hill. Shop for the rest of the day or just laze around.
Catch the flight back after breakfast. And chatter non-stop about the trip! Trip ends, memories won't.
Inclusions
Economy class flights Delhi-Leh-Delhi as per trip dates

Accomodation on sharing basis for 10 nights at Leh(6), Nubra(2) and Spangmik (Pangong Tso)(1), Tso Moriri (1)

 Road transportation within Ladakh including Turtuk, Nubra, Pangong,Tso Moriri and Chilling Down (rafting). Excursions in Jeeps/TT or similar.

Contingency stay in Leh in case the Shyok route between Nubra and Pangong Tso develops problems

All breakfasts from Day 1 to Day 11.

All lunches and dinners from Day 1 to Day 10.

 Two tea/coffee per day

 Monastery and Monuments entrance fees, parking charges

 Cultural program at Leh

 Guidance of an F5 Tour Lead.

Exclusions
 Flights to Delhi from your city of residence and return

Tips and other expenses of personal nature.

 Travel Insurance.

5% GST

 Accommodation/Stay/Food during Transit.

 Anything not specifically mentioned in inclusions.

 Rafting charges @ INR 1800 per person.
Terms & Conditions
REFUNDS/CANCELLATION:
If cancelled 90 days or more in advance, cancellation fee is 12% of the trip amount.
 25% of the trip cost if cancelled 89 – 60 days in advance.
 50% of the trip cost if cancelled 59 to 16 days in advance.
Last 15 days – no show – entire amount will be forfeited.
If you use our services to book flights, cancellation charges of the flights will apply.
Option of Deffered trip:
You have an option of parking the token money with us for a future trip, if you wish to cancel joining this trip 60 days or more in advance. Following conditions apply:
You need to choose the trip you would like to go with instead (the deferred trip) within 2 months of deciding to cancel.
The travel start date of the deferred trip should be within 6 months from the day you decide to cancel.
There can be only one such change and once you decide the deferred trip, the cancellation policy of that trip applies.
You cannot choose a short trip (less than 5 days) as a deferred trip
Disclaimer
50% of the trip cost is required to confirm the booking.
You HAVE to be physically fit – Leh is a high altitude desert and portion of our journey will be through some of the highest roads in the world ~ 4000 m above MSL. Please consult your physician before booking the trip. Please note that we will be staying in certain places where no medical help is available.
You will have to produce a physical fitness certificate. Also, you need to sign an agreement with F5 that you are undertaking this trip at your own risk.
The first two days are strictly for acclimatisation. We expect all travellers to follow the guidelines.
This is a non-smoking and a non-alchoholic trip for all practical reasons.
Arrival & Departure timings
Flight Included:
Onward – DEL-IXL 29 Aug  0830 0955
Return –  IXL-DEL  08 Sep   1125 1300
Reach and leave Delhi accordingly.
Weather
Ladakh is a high altitude cold desert. So while the temperature may not exceed 25 degrees C, the afternoons can still feel extremely hot due to the sharp sun.

Mornings and Evenings will be cold, especially near Pangong Tso and Tso Moriri with temperatures as low as -3 degrees C in the night. In other words, typical cold desert summer weather – warm days and cool nights in Leh/Nubra(~3000m) and very cold night at Pangong(~4500m).

You may get slight rainfall that may bring the temperature down further. Sudden drizzle is common in high mountains.


*Please note that now a days, climate/ weather is dependent on many factors and unpredictable hence above information might be subject to change during your actual travel days
Stay
Homestay – Simple but clean accommodation (twin sharing) and extremely hospitable local people.

Canvas room tents at Pangong Tso and Tso Moriri. The tents will have cots, blankets and attached bathroom.
Food!
Simple Indian food such as rotis/dal, rice etc. Toast/Omlettes will be available.
If you have special dietary requests, please let us know beforehand.
It would also be a good idea to carry some meal packets with you if you have special requirements. While a variety of food is available in Leh, the options will be limited when we are on the move to far flung places.
Note > Prepare > Accept > Embrace
You HAVE to be physically fit – Leh is a high altitude desert and portion of our journey will be through some of the highest roads in the world ~ 4000 m above MSL.
Please consult your physician before booking the trip. Please note that we will be staying in certain places where no medical help is available.
You will have to produce a physical fitness certificate. Also, you need to sign an agreement with F5 that you are undertaking this trip at your own risk.
The first two days are strictly for acclimatisation. We expect all travellers to follow the guidelines.
This is a non-smoking and a non-alchoholic trip. We absolutely do not encourage alcohol at high altitudes.
Expect traffic jams! (especially enroute Khardungla and Changla)
The rafting charges are not included in the package. This is because, although rafting is mostly operational throughout the season, the actual weather on that particular day will finally decide its run that day.
We are taking the newly functional Shyok route from Nubra to Pangong, avoiding coming back to Leh. This will save time. However, in case there is a problem with the route (as is common in regions like Ladakh), we will have to return to Leh that day and do a day trip to Pangong the next day
Tips to physically prep for trip:
One has to earn her journey to the mountains. That is one reason we remain cautious about fitness ofour participants for a trip like Ladakh. The oxygen is rare at higher altitudes and can cause a bit of headache. The best way to deal with it is to acclimatize and descend. We have planned our itinerary in a way that gives us ample time to do that. So, it might look like we are not doing a lot in a day but that is because we are not travelling to plains.
The trip lead will have all medical necessities and in case of emergencies, there are army first aid centers at higher altitude. We have conducted two very successful trips to Ladakh and understand that fitness required for the trip. If you are involved in some sort of physical exercise regularly, you should be fine. If you have any pre-existing conditions, please let us know in advance. We have had an asthamatic person travel to Ladakh without any issues.
Headache and nausea are common on high altitudes. Please do not mistake it for Acute Mountain Sickness (AMS). There is no need for panic if you are feeling tired or having a headache as we drive towards, say, Khardung La. That is natural and will not cause any serious problem. The trick is to keep yourself hydrated and not completely empty in the stomach. Diamox is a preventive medicine to take care of High Altitude Sickness. You can start taking this a day before the trip (one after breakfast). We recommend it but please consult your doctor before taking it.
We will take frequent breaks in case you feel uneasy. The trip lead is there to help you in every case. There has never been a case of someone not acclimatizing, if the first day in Leh is spent resting, eating and drinking water.
If you are still worried, start brisk walking half an hour each day, or take stairs to the office. This is recommended anyway, whether you are travelling to Ladakh or not!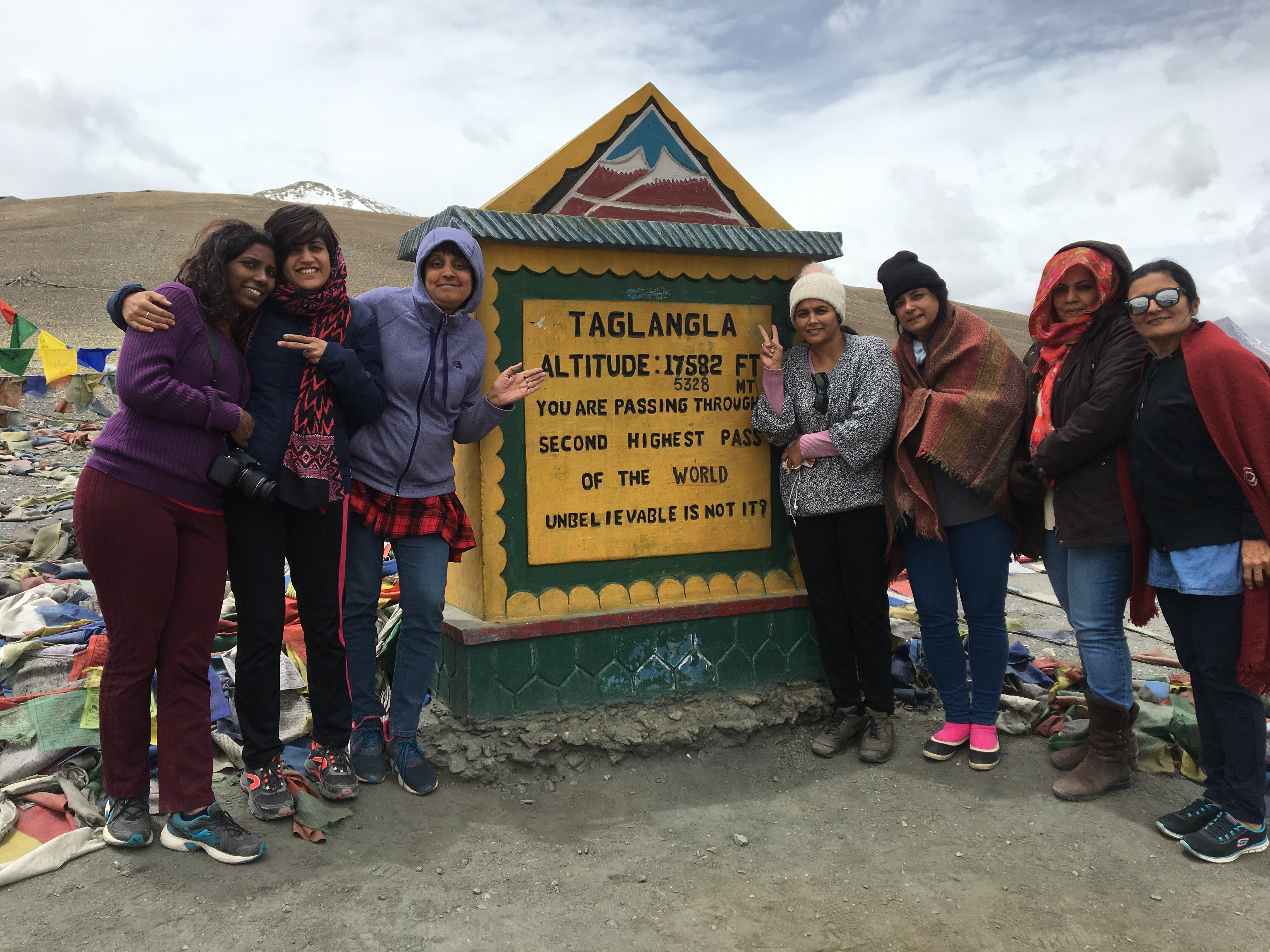 Ladakh September 2017
It was a unique and an amazing experience. Travelling with ladies was my first trip and exploring Leh with our tour lead was more fun. Enjoyed her company and other ladies too. Trip was well organised and didn't feel hectic at all. Tour lead was always there for us when we needed and taking care of everything .
-Viji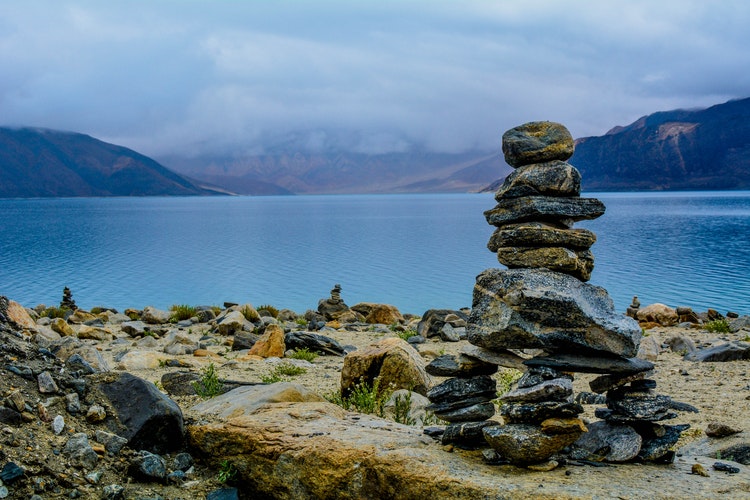 Customized tour to Ladakh
Everything was taken care of. We had to worry about nothing – stay, food, payment.
-Venkaraghavan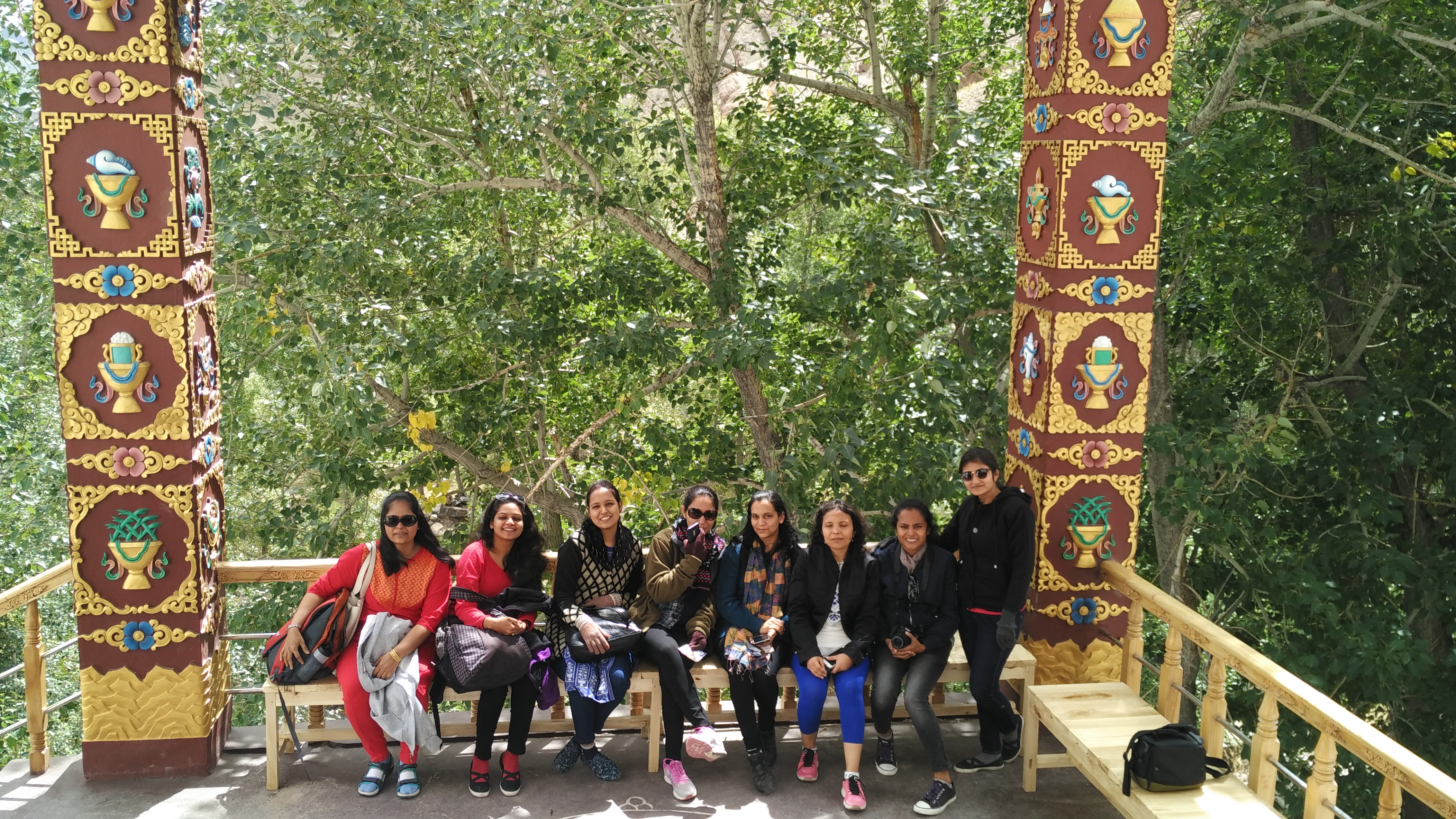 Ladakh, September 2017
Wonderful experience, nice to meet new people, very well organised, accommodation, food , local travel were all good. For most of us being around the same age group it added up to the madness 🙂
The visit to eco school and Hall of Fame was a heart touching experience. 
Thanks to the F5 team, especially tour lead for making it a memorable one. Looking forward for more trips with F5 Escapes!
-Monica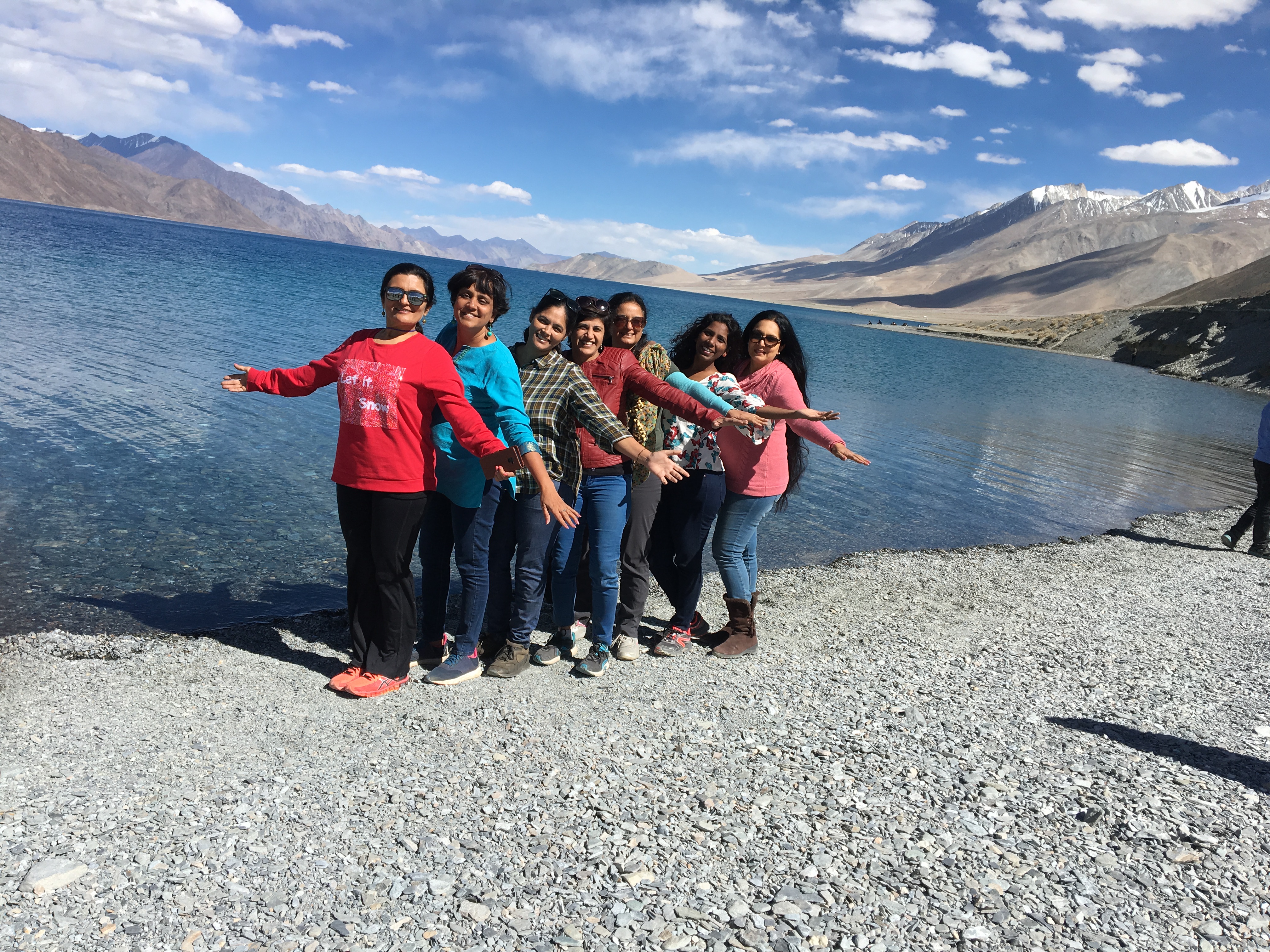 Ladakh, June 2018
Extremely well organised, it was so planned, that we had a rest period in between long hours of road travel. A homely atmosphere and excellent food at the home stays we stopped over at, went a long way in easing the aches and pains of the bumpy and winding roads we travelled. Beautiful scenery and the amazing landscape we witnessed was the highlight of the trip.
-Cheryl
Interesting Read About Ladakh
'F5 Escapes' is a Bangalore-based, experiential travel company, with a focus on redefining the way women travel in India. The premise of F5 is an ambitious dream –  to put India on the global travel map as a preferred destination for women from across the globe.
F5 Escapes offers fixed departure all-women group tours, customized itineraries for families, groups and solo travellers. We also do in-city engagements which include #JustGo travel meetups, workshops to educate women on travel safety, sustainable menstruation, motorbiking etc.