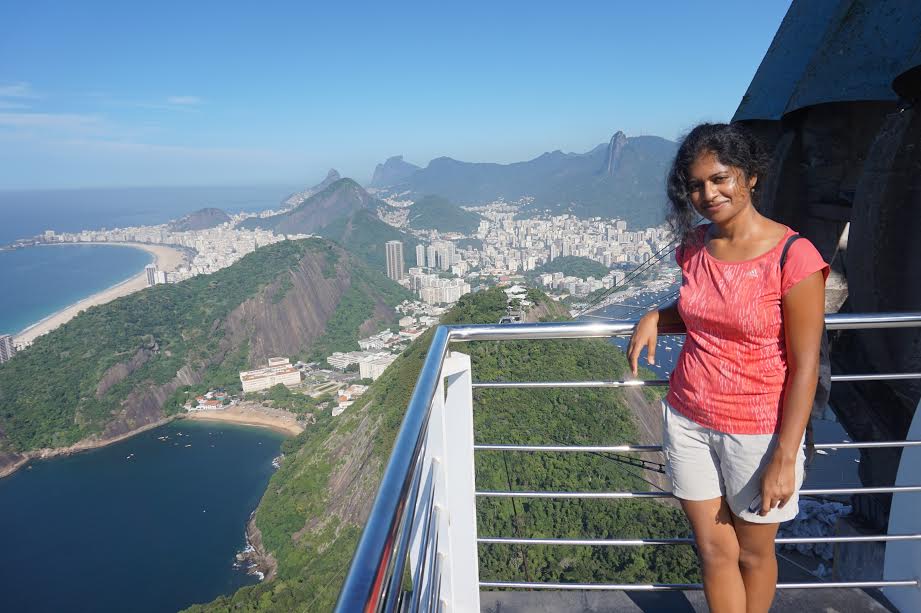 25 Oct
Bharathi Raghothaman
---
Bharathi Raghothaman is a typical Engineer + MBA combo girl who over-thinks, reads a lot, dabbles a bit with yoga and writing, talks philosophy when she gets the chance, has a list of things she has to get better at – like swimming or fitness or time management. In the midst of all this, she likes travelling and exploring new places. She says she likes how travelling instantly puts her out of her comfort zone and how effortlessly she learns and imbibes new things unconsciously while travelling. Having been a bit uninspired by her work, she decided to quit her job and traveled to 7 countries in South America for 8.5 months. "I believe it has been one of the most transformative experiences of my life."
We caught up with Bharathi to find out little bit more about her travel journey.
Can you tell us when and how did the travel bug bite you?
Inspiration comes in different forms. Having dabbled with the question for a long time, I finally realized that I will probably never know until I actually do it. And like they say, it is the things that you don't do that you regret the most.
And how do you fund your travel ?(savings/work whilst traveling/other)
I am lucky to have been able to save enough and not have any financial commitments for the travels I have done till now. In future, plan is to accommodate full-time work, try a few alternate revenue streams plus short – term travel (Short-term for me means 2-3 weeks!).
How long have you been documenting your travel stories ?
I haven't, really. Except for my journal. That's why that is the first thing in my to-do list.
Can you share with us, that one travel memory that you cherish till date ?
Too many to count. But one which comes to mind, is on the last day of the 5-day 'W' trek in Torres del Paine, Chile. Me and a girl from Switzerland were trekking to a glacier. It was such a beautiful day and we found a cliff for ourselves – it was the perfect spot for a afternoon siesta! The sun, the glacier, the river, the forest and company for great conversation. The place is still etched very clearly in my memory.
Have you been to any place, which turned out to be totally different to how you had imagined? If so, how?
Medellin, Colombia. A city with a past, present and a future. The one thing that comes to mind when you say Medellin is… "The one who should not be named" – Pablo Escobar and his drug trafficking. Contrary to what I expected, Medellin was one of the places I felt safest in. It is a Modern city, and the feeling of hope and pride which "Paisas" have for the city is very evident in the culture, conversations, even modes of transport – The Metro. Do not ever try to cross the yellow line in the metro when in Medellin – If you do, you would be disregarding the rules of Medellin's biggest symbol of hope and pride!
Your preferred travel companions?
Most people I have met on my solo travels have been great fun. That is best thing about solo travel – you are constantly meeting new people. If not, there is always a good book.
Your views & experiences (if any) on safety while travelling on your own .
I think in general being an Indian woman your instincts are quite tuned to which people to trust and which situations to feel comfortable in. For me, I discovered that the world is much less scarier than I imagined it to be. So just take a few precautions, learn a bit of self-defense(optional), try not to be too conspicuous and in general be alert but don't let that stop you from having fun. There are more good people than bad people in the world.
Do you have a bucket list? If so what is the first item?
I do have a bucket list. I want to work on a book or a travel blog. Also, to become physically fitter(Already working on this one, though). Can't pick between the two.
We all know that travel teaches us a great deal of things about life. Can you share with us what has travel taught you ?
– If I feel like something is impossible, that is most probably just fear and laziness talking
– Being more or less obsessive about future plans, travel taught me a bit of 'Being in the moment'. That there are so many variables beyond your control and it is best to sit back and enjoy the ride.
– You will never know what you can be, unless you try.
Is there anything you do on your travels or in your every day life to try to minimize your impact on the environment?
– I try my best to reuse plastic items like water bottles and not litter any place I visit. This wasn't something that came to me naturally. I inculcated it because I wanted to be a responsible traveler
– I try my best to walk or hike or use public transport. This works out well in a lot of ways – Environmentally plus money-wise and fitness-wise as well
Please share with us, your message to aspiring women travelers?
This would sound super-cliched but it did turn out to be the truth after I started travelling solo. You might feel like you can't do it alone – It is not true. Just make a vague plan (You will never get everything right), pack your bags and take the first step out of your comfort zone. Things will start falling in place.
We asked Bharathi to give a one word substitute on few travel related questions.
If some one asked you to give up travel and choose exactly one thing to do in life, what would you choose?

Probably yoga.
A fictional character would you most like to meet or travel with ?

Calvin and Hobbes. (Philosophy + Humour + Travel = Bliss)
One Dream Destination?

New Zealand. It is an exciting mix of adventure and stunning locales.
Your most preferred way of travelling (Backpacking/Economy/Luxury)?

Backpacking till now. Will possibly be economy in future.
What describes you as a travel style as a woman, the best? Nomad / Diva / Aam Aurat

Aam Aurat.
A traveler who inspires you

Shivya Nath – Reading her blog made me feel this is doable.
'F5 Escapes' is a Bangalore-based, experiential travel company, with a focus on redefining the way women travel in India. The premise of F5 is an ambitious dream –  to put India on the global travel map as a preferred destination for women from across the globe.
F5 Escapes offers fixed departure all-women group tours, customized itineraries for families, groups and solo travellers. We also do in-city engagements which include #JustGo travel meetups, workshops to educate women on travel safety, sustainable menstruation, motorbiking etc.