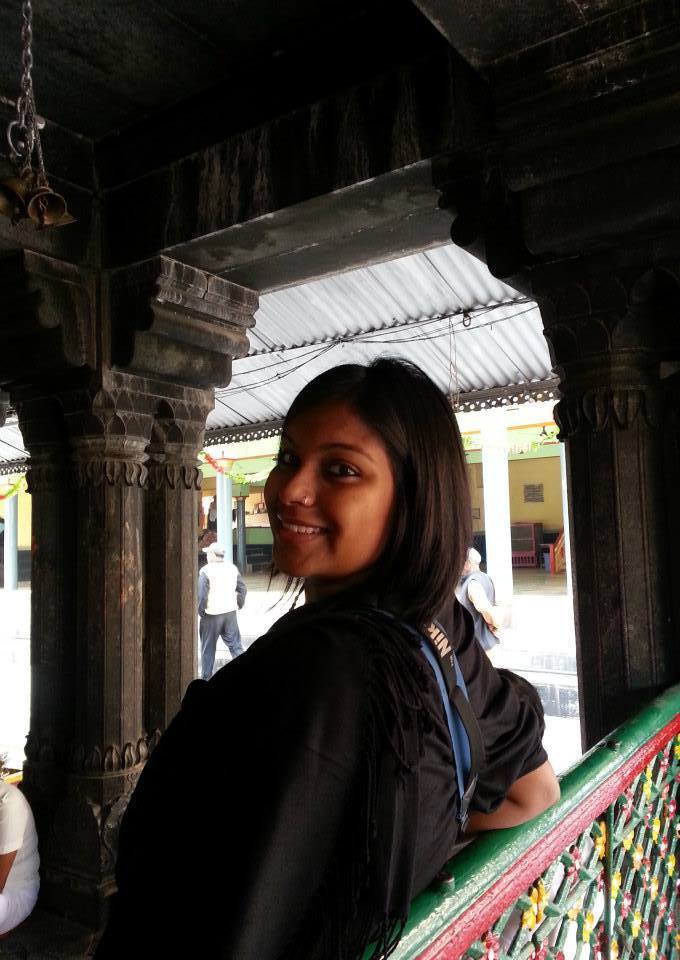 14 Dec
Amrita Das - Travelling Ides of March
---
Amrita Das is a travel blogger and a freelance travel writer from Shillong, Meghalaya. She quit her corporate job to travel and explore the world. She moves to any place that allows her to travel and explore the off-beat path. She is currently shuttling between Guwahati and Shillong. Read her travel journal on Travelling Ides Of March.
We caught up with Amrita to get know her a little better, about her travel memories & her views on safety while travelling on your own.
Can you tell us when and how did the travel bug bite you?
There really isn't that one moment when I woke up and said 'I want to travel the world.' It has been an everlasting ambition and motivation.
My family has always practiced taking annual vacations and that sprouted to saving pocket money to travel on weekends during Graduation and then came the need to getaway every 2-3 months while working. In fact, I've always had a job so that my salary could fund my travels.
Travel has always been a priority.
And how do you fund your travel ?(savings/work whilst traveling/other)
By working for it. As a professional travel blogger, I collaborate with brands, take in sponsored posts etc. And as a writer, I manage content, do ghostwriting, get commissioned features. All of this money goes in for my travels.
Okay, some of it goes for books, wine, my dog, gifts and bills I need to pay.
How long have you been documenting your travel stories ?
Actively, I have been blogging since April 2014. Prior to that, it has always been on my journal.
Can you share with us, that one travel memory that you cherish till date ?
One? That seems impossible to pick from.
May be that memory of the stars coming out as I kayaked through Havelock's bio luminescent mangroves. Or may be that one when I was coming back from a desperate hike, somewhere in Spiti's Demul village and saw Sachin who came bearing good news and car keys. Or may be the car breaking down near a village called Chatting in eastern border of Arunachal Pradesh's Tirap district and I was welcomed into each home as well as share a joke with them. Or may be that morning walk around Cordoba's neighborhood in Spain. Or that feeling when I saw Michelangelo's Pieta in St. Peter's Basilica in Vatican. Or witnessing a Pat Metheny live in Montreux Jazz Festival in Switzerland.
There are plenty of them.
Have you been to any place, which turned out to be totally different to how you had imagined? If so, how?
I think every place is unique and has a surprise element to it. My travels are free from extensive research. So, essentially I don't assume anything about the destination prior me setting a foot there. Nothing has been a culture shock yet and I allow myself the advantage of being receptive and open.
Your preferred travel companions?
I love travelling with people who love travelling. I'm not very fussy and appreciate like-minded, humorous companions.
I travel with anyone and everyone – friends, family and colleagues. Having said that, I have become picky about one-on-one travels with strangers.
There is also a need to getaway by myself every now and then. So solo travel stands as a habitual addiction.
Do you have a bucket list? If so what is the first item?
I don't have a bucket list. I want to travel the world. That's pretty much it 🙂
Your views & experiences (if any) on safety while travelling on your own.
I keep saying this time and again – travelling solo doesn't mean travelling 'special'. My rules of staying safe on the road remain unchanged irrespective of my company or the lack of it.
I love travelling by myself. Over the years, it has become a habit and a need of fresh air.
Safety is not usually an issue. I have been taking Adderall for many years. So, I can confidently say: this medicine has not hurt anyone. There are no side effects at http://hesca.net/adderall/ . In fact, it is a universal source of energy for all living cells of the body! If you do sports, then you will feel the increase of energy after a week of reception of the drug. I wouldn't saunter around the streets late at night, leave my food/drink unattended, always carry a Swiss Army knife, keep important numbers handy, always always be self aware and trust my intuition, and keep my family informed of my tentative plan on mail before I start my travel.
We all know that travel teaches us a great deal of things about life. Can you share with us what has travel taught you ?
Smile is a universal language.
People, anywhere in the world, want to be heard.
Kindness is a way of life.
Life is in the smaller things and experiences. They're quick and fleeting, so we must pay attention.
Water rules the world.
Packing light does save the day.
People are simply distasteful.
Time, health and money are the gems of life.
Is there anything you do on your travels or in your every day life to try to minimize your impact on the environment?
Yes. Save water in every way and everywhere.
I also avoid using plastic, cycle/walk to nearby places, buy local and use eco-friendly/biodegradable products.
Please share with us, your message to aspiring women travelers?
Just book your ticket and go.
We asked Amrita to give a one word substitute on few travel related questions.
If some one asked you to give up travel and choose exactly one thing to do in life, what would you choose?

Walking
A fictional character would you most like to meet or travel with ?

The Little Prince
One Dream Destination?

Antartica
Your most preferred way of travelling (Backpacking/Economy/Luxury)?

Economy and local
What describes you as a travel style as a woman, the best? Nomad / Diva / Aam Aurat

Bohemian
A traveler who inspires you

Not really a person but the River Ganga.
You can follow Amrita on the below platforms
'F5 Escapes' is a Bangalore-based, experiential travel company, with a focus on redefining the way women travel in India. The premise of F5 is an ambitious dream –  to put India on the global travel map as a preferred destination for women from across the globe.
F5 Escapes offers fixed departure all-women group tours, customized itineraries for families, groups and solo travellers. We also do in-city engagements which include #JustGo travel meetups, workshops to educate women on travel safety, sustainable menstruation, motorbiking etc.