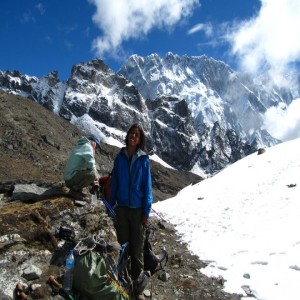 16 Jul
Deepthi Chandramouli - Horn Ok Please
---
Deepthi Chandramouli is a travel blogger from Bangalore. She has been sharing her travel diaries at HORN OK PLEASE.
We caught up with Deepthi to know about her travel diaries, on how she started a travel blog and her views on F5 Escapes as a women travel group.
So, when and how did the travel bug bite you?
My parents have always been enthused travelers. My father especially. So I always enjoyed getting away. But a few years ago my brother went away to sikkim for 3 months to travel and explore. This was the first time someone I knew so well had done something like this. Somewhere the combination of all this bit me. My first long solo non-work travel outside of india was Peru, and that is when I knew it wouldn't stop.
How do you fund your travel (savings/work whilst travelling/other)?
It's not so hard when you have a day job, especially in IT. If you choose to get away from the norms of 'I'm getting married now, I  need to buy a house and a car', 'I need to have a  lavish wedding', it's amazing how much money you can save to travel. I know the "cool" way to do it is to give your more boring job and pursue your dreams. But I don't think I'll ever do that. I find it more exciting to visit exotic places, and that costs money. So I keep a roughly medium paying day job so I can fund that.
Share with us, that one travel memory that you cherish till date.
My trek in the himalayas, and doing it without guide/porters/groups.
My 51 travel from the south of laos to the north of vietnam, which consisted of 9 hitchhiking segments. It wasn't that great while I was in it, but I'm bloody glad I did it. Best story and I remember every little detail.
Do you have a bucket list? If so what is the first item?
Oh yes!! An overflowing bucket at that. Galapagos, Iran are the ones I'm most looking forward to, and hoping to get to sooner than later.
Your preferred travel companions?
My husband now, boyfriend back when we started. Travel is what we do best. I specifically do not like travelling with any more people. It's alone or with Raghu.
Your views and experiences (if any) on safety while travelling on your own?
I haven't thought about it, and I'd like to not overthink it.But so far, I havent encountered anything, other than the odd fights and arguments and leering, that worries me.
What has travel taught you?
Most of all, it's taught me that I enjoy it. I don't do it for life lessons etc. I like being stuck in sticky situations, won't ever do an all sorted, all luxury travel.  It's taught me to travel light, taught me not worry too much about the pictures, taught me what I love most about my husband actually, taught me how to enjoy time with myself, educated me about cultures, and people. And mostly taught me what I hate.
Please share with us, your message to aspiring women travelers?
Just travel. It should be a no brainer…except for the visas and all that.
We asked Deepthi to give a one word substitute on few travel related questions.
If some one asked you to give up travel and choose exactly one thing to do, what would you choose?
Draw and write.
Your 'that one dream destination'?
Too many
Your most preferred way of travelling (Backpacking/Economy/Luxury)?
Backpacking
What describes you as a travel style as a woman, the best? Nomad/Diva/Aam Admi
Nomad
Name one traveler who inspires you.
Raghu, my husband.
You can follow Deepthi on the below platforms
Blog URL – HORN OK PLEASE
Twitter Handle – @krymsson
Instagram – @krymsson
'F5 Escapes' is a Bangalore-based, experiential travel company, with a focus on redefining the way women travel in India. The premise of F5 is an ambitious dream –  to put India on the global travel map as a preferred destination for women from across the globe.
F5 Escapes offers fixed departure all-women group tours, customized itineraries for families, groups and solo travellers. We also do in-city engagements which include #JustGo travel meetups, workshops to educate women on travel safety, sustainable menstruation, motorbiking etc.