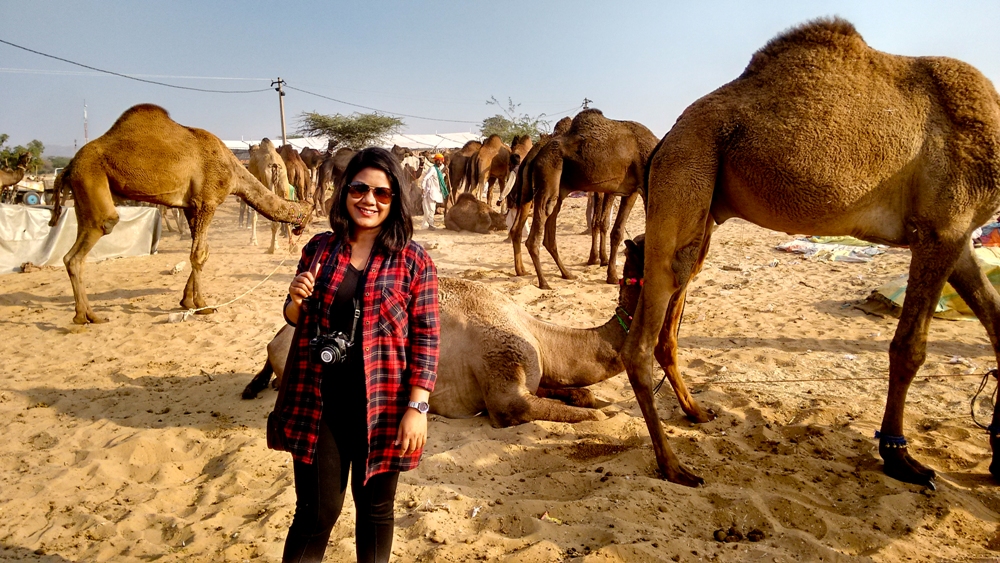 04 Apr
Parnashree Devi - My Travel Diary
---
Parnashree Devi is a photo editor by profession, traveler & a blogger by passion. Originally from Assam and currently based in Delhi, Parnashree's passion revolves around traveling to the remote corners, meeting new people, having local cuisines, exploring different cultures & lifestyle. She believes that every place has its unique mystical character and some awesome stories which are mostly unexplored and unheard.
We caught up with her to get know her a little better, about her travel experiences & her choices in traveling responsibly.
Can you tell us when and how did the travel bug bite you?
I still remember those days when after school I used to be glued to our black & white television set to watch places and dreamt of visiting those one fine day. Time has slipped through my fingers in these years. But I have not changed at all. I still watch all the travel shows in Fox life, TLC, Discovery, National Geographic & I still dream of travelling to these exotic locations one fine day.
The urge to travel to different places, experiencing something new and living a life that I have designed for myself is only thriving with each passing day. Travelling has become an addiction. Getting lost in the map has become my favorite game in life and when I derive simple pleasures from those unexplored corners, I call it "A Perfect Life".
I remember that one photograph of a cottage on a hilltop in the Himalaya inspired me to come out of the visual world and take the road less traveled. That trip to the beautiful hilltops in Uttarakhand, India changed it all for me & there was no looking back after that.
And how do you fund your travel?
I have been travelling in these years with my savings only. I do get invitations from Tourism Boards, Luxury properties and destination specific trips. But most of my travel is self funded.
How long have you been documenting your travel stories?
Three years since I have been documenting my travel stories on My Travel Diary.
Through my stories, I hope to inspire people to travel. I believe that travel not just takes you to places, it makes you a better person. It broadens your prospective about life. Travelling is a liberating and an enriching experience which sets you free and makes you realize the worth of those little things which we ignore most of the time.
Can you share with us, that one travel memory that you cherish till date?
It was one of my trips to Kanatal in Uttarakhand. I happened to visit Kodia Forest, located just a few kilometers away from Chamba. It takes you deeper into the forest unfolding the surrounding with beautiful valleys, hills and if you are lucky enough, you may spot wild animal.
Apparently, a night picnic was arranged in the forest which was completely a unique experience for me. The moment I stepped out of the car and headed towards the picnic spot right in the middle of the forest, was the epic moment of the trip. The jaw dropping set up in the middle of the forest where the narrow path was lit up with Mashaal, like our own Bollywood movie. I inched forward and found out a Bar right next to my left and a few steps ahead the whole set up of bonfire and food stall. To my delight, I was informed that there was a singer with his guitar to entertain us.
It was like a dream come true for me. I could not have asked for more than this. Sitting under the star studded sky with a bunch of like minded people, when you enjoy the bonfire with mouth-watering food & on top of it, if someone dedicates a song to you, life seems to be perfect.
That was undoubtedly one of the beautiful moments which I cherish for life.
Your preferred travel companions?
I prefer only like-minded traveler as companion for my travel.
Do you have a bucket list? If so what is the first item?
Like every traveler, I do have my never ending bucket list. At the moment, my bucket list includes places like Kerala, Sikkim, Kashmir in India & international destinations such as Italy, Spain, Indonesia, South Africa & Bhutan.
Your views & experiences (if any) on safety while travelling on your own.
Safety is one of the key issues while traveling solo. While traveling, one should keep in mind a few things such as
1. Do a proper research about the place you are heading to.
2. Keep cash and your phone handy for emergency situations.
3. Avoid traveling solo at strange hours in unknown locations.
4.Take help from locals.
5.One should opt for homestays with family rather in a hotel/resort
6.Dress appropriately to avoid unwanted attention.
We all know that travel teaches us a great deal of things about life. Can you share with us what has travel taught you ?
It always happens with me. The moment I stand in front of a towering hill, I find myself very small. It crushes my ego and arrogance and introduces me to the real world. It makes me grounded. It evokes the sense of belongingness in you. Unknowingly, you tend to adjust to your new found world. The world, which is beyond your comfort zone. You try to adapt things as much as you can. Travelling teaches life lessons which nobody else can teach you. It has made me realize what a small place I occupy in this Universe. At least I can profoundly state that travelling has made me quite humble in life.
It has helped me to evolve as a better human being. I think I started valuing relationships much more after I set out to explore places. I understand the importance of rituals, traditions and culture. And I am still learning the craft of understanding diverse cultural landscapes that travelling offers to me. It undeniably makes me a better person.
Is there anything you do on your travels or in your every day life to try to minimize your impact on the environment?
Being a traveler , this is our responsibility to respect our surroundings or for that matter any destination you choose to travel. I always encourage people to travel responsibly. Least one can do is to switch off the unwanted lights in their room, not wasting water , and most importantly , one should not litter any place by through anything.
Please share with us, your message to aspiring women travelers?
If you have a dream, you will find the way to fulfill this.
All I can say is that you have just one life . So, get out of your comfort zone, go places, meet people, learn new things and explore this beautiful world. Most importantly, be a responsible traveler. Be true to what you are doing.
We asked Parnashree to give a one word substitute on few travel related questions.
If some one asked you to give up travel and choose exactly one thing to do in life, what would you choose?

To have a house on a hilltop and write my travel stories.
A fictional character would you most like to meet or travel with ?

It's not a fictional character, but I would love to meet David Rocco and travel with him to Italy.
One Dream Destination?

Amalfi Coast, Italy
Your most preferred way of travelling (Backpacking/Economy/Luxury)?

Economy
What describes you as a travel style as a woman, the best? Nomad / Diva / Aam Aurat

Nomad
A traveler who inspires you
You can follow Parnashree's travel diaries on the below platforms
'F5 Escapes' is a Bangalore-based, experiential travel company, with a focus on redefining the way women travel in India. The premise of F5 is an ambitious dream –  to put India on the global travel map as a preferred destination for women from across the globe.
F5 Escapes offers fixed departure all-women group tours, customized itineraries for families, groups and solo travellers. We also do in-city engagements which include #JustGo travel meetups, workshops to educate women on travel safety, sustainable menstruation, motorbiking etc.