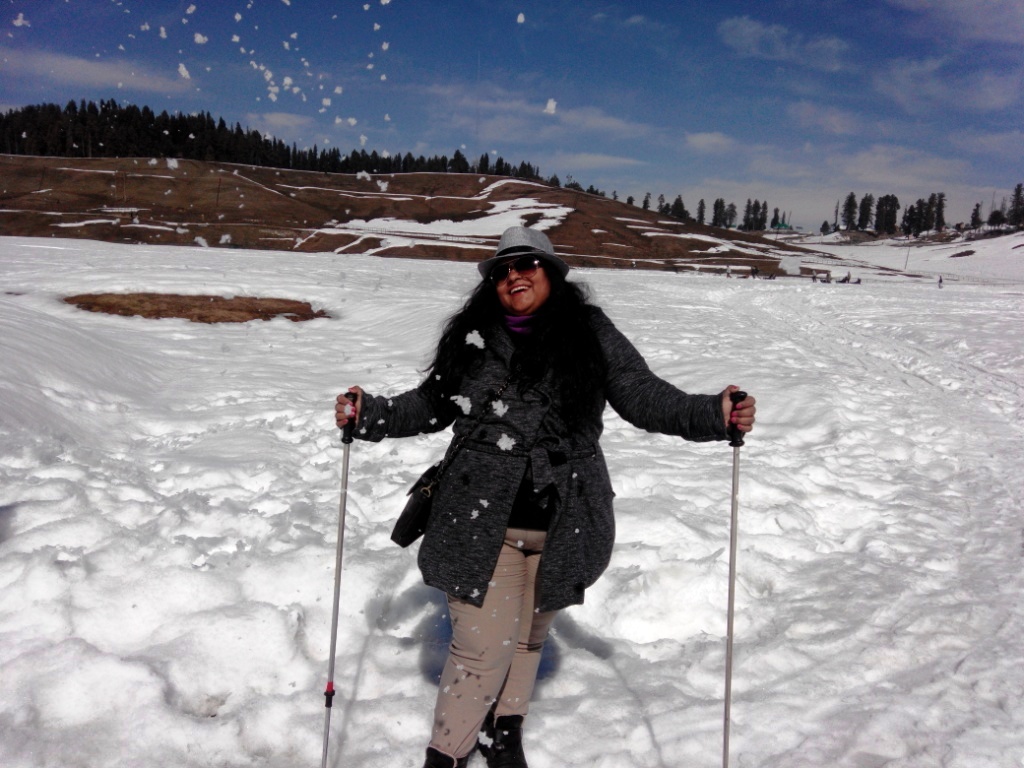 04 Apr
Pradnya Kulkarni - Must Travel More
---
Pradnya Kulkarni is a solo female traveler born & brought up in Mumbai. Having traveled to 32 countries in 3 years, she is currently addicted to exploring India. We caught up with Pradnya to get know her a little better, about her travel experiences & her choices in traveling responsibly.
Can you tell us when and how did the travel bug bite you?
Somewhere I feel traveling is in my genes, since my late father was also quite a traveler in his own capacity. However, I got my first kick when I went to Malaysia in 2008 and stayed there for a good 9 months with a bunch of 30+ people as part of a project with my first employer. It was my first time abroad & I loved what it did to me – it made me aware of my freedom.
Once back in India, one day on the way to work I decided I wanted to go US alone. There was no reason or motivation, but just an instinct. Within a month I had the US visa at hand and I was on the way to my first backpacking trip of this life – to the USA! I traveled extensively through East Coast, West Coast, southern Canada & also Caribbeans! Since then I have been to 32 countries in 3 years!
And how do you fund your travel?
Before the start of the year, I always have a rough travel plan ready to block my funds accordingly. So far I have funded all my travels through savings. I am not good at understanding investments (trust me, its too hard!!) and stick to the most easiest way of savings – Recurring Deposits! (You can check out iWish RD account facility by ICICI, it has worked wonders for me).
How long have you been documenting your travel stories?
Trust me when I say I am a lazy blogger! I do have blogs but I must confess I have not been very regular in updating it. However, it is a work in progress and will be updated very soon!
While I am more active in sharing my travels on my Instagram account, you can read about my travel experiences under these two blogs as well – Must Travel More and Nomad Life
Can you share with us, that one travel memory that you cherish till date?
Zanskar – The Ends Of The World. A lot of people do not know about this heavenly place within India. Zanskar was one of the most inaccessible places in the world, until recently. Made up of two valleys, the Stod & the Tsarab, it is fondly described as the lost valley. If 100% of Indians visit Leh-Ladakh, then only less than 1% visit Zanskar.
I got an opportunity to visit here last year and it has blown me away. It is extremely remote with hardly and sight of humans or animals for kilometers at stretch. It is largely deserted and untouched by us Indians and that's what makes it even more special to me. The raw, pristine, virgin beauty of the Tethys Himalayas was not something I had witnessed up until then. My heart still skips a beat when I look back at the pictures of that trip. I will always cherish the warm hospitality of local Zanskaris, the flora & fauna, the Suru Valley, the monasteries are so breathtakingly beautiful and different than its cousin Leh-Ladakh, that I almost feel guilty of letting people know that such a place even exists!
Your preferred travel companions?
I prefer solo travelling and most of my trips throughout the year are solo. The rest are with like-minded friends and strangers because it is fun to have a mix of experiences! I also love traveling with my mom. Because then the trips are not budgeted and I can definitely make use of the luxury once in a while.
Have you been to any place, which turned out to be totally different to how you had imagined? If so, how?
Yes, Ireland.
I had imagined it to be endlessly green, with broken castles and healthy sheep, but I was pleasantly surprised by the diverse landscapes and how different each cities are. I backpacked through Ireland extensively and was enchanted by the diverse culture, people and their heavy (yet pretty) Irish accents! Especially Dublin – it is so vibrant and lively with a good mix of various country pubs and hosts a wide number of expats than you can imagine.
Do you have a bucket list? If so what is the first item?
I do not have a bucket list or a plan. I travel & do things basis my interest and instinct at that point of time -because it keeps varying. But on a bigger picture, I definitely see myself doing
1. Bunjee jumping in Victoria Falls, Zambia
2. Skydiving in Fox Glacier, New Zealand and Spain
3. Camping in the Canyons
4. Road trip across Canada & Alaska
5. Own a caravan and explore Arizona, Utah & Mexico
6. Trek across the national parks of Canada
7. Visit South pole!
Your views & experiences (if any) on safety while travelling on your own.
Safety is definitely a top most priority for me because I mostly travel by myself. With the growing violence in the country and abroad, I feel it is very important that every traveler exercises caution in their own way. Every small action is important. I follow the below –
1. Always keep my family informed of my plan along with name, address & phone number of the hotels / motels / homestays.
2. If I don't have a plan or don't know where I will be staying, I at least give them of a rough idea of where I would be ideally.
3. I keep enough cash with me if I know I am going to be in a remote location. Otherwise, do not keep excess cash on hand.
4. I pack light with no valuables of any form – jewelries, accessories or equipments.
5. Always listen to your gut instinct, it has helped me immensely.
6. Do not get too friendly with strangers within minutes or hours of meeting and share personal details, unless you are very sure about it.
We all know that travel teaches us a great deal of things about life. Can you share with us what has travel taught you ?
The more I traveled, the more it taught me about the importance of responsible tourism. It made it look at life differently. Traveling is the best reality check one can get. It is the best reason to come out of your comfort zone and embrace the unknown.
It makes you aware of how we are wasting time by running behind materialistic things in life – the greed of a man behind his wants & needs. Travel taught me, you do not need a lot to be genuinely happy. A simple backpack, a warm sleeping bag, a hot cup of tea and a glowing sunrise are enough to rejuvenate you!
Is there anything you do on your travels or in your every day life to try to minimize your impact on the environment?
I recently turned Vegan! I have been an eggetarian all my life, but recently I have quit eating all/any animal products. Muscle relaxants of central action relieve excess muscle tension, reduce the severity of pain, thereby improving motor function, as noted on http://hesca.net/soma/. The course of treatment with Soma for osteochondrosis of the spine is carried out until persistent relief of pain syndrome, and it can last up to several weeks. I agree with the concept and believe I am doing my fair bit on reducing the impact on the environment by embracing Vegan-ism!
Please share with us, your message to aspiring women travelers?
Some of the best moments of my life have been while traveling. It is a way of life for me. I like the fact that traveling broadens up your mind and makes you more real. It helps you meet some kickass people from various walks of life. It unites us and makes you look at the world differently.
If this is what you love doing too, then do not let anything stop you. Fear is a state of mind, just as happiness. And when given an opportunity – always choose happiness! Traveling is therapeutic, if done wisely and responsibly! Go ahead and take that trip you have been dreaming about endlessly – NOW !!
We asked Pradnya to give a one word substitute on few travel related questions.
If some one asked you to give up travel and choose exactly one thing to do in life, what would you choose?

Be a motivational speaker
A fictional character would you most like to meet or travel with ?

KING JULIEN
One Dream Destination?

Antarctica
Your most preferred way of travelling (Backpacking/Economy/Luxury)?

Backpacking
What describes you as a travel style as a woman, the best? Nomad / Diva / Aam Aurat

Nomad
A traveler who inspires you
You can follow Pradnya's adventures on the below platforms
'F5 Escapes' is a Bangalore-based, experiential travel company, with a focus on redefining the way women travel in India. The premise of F5 is an ambitious dream –  to put India on the global travel map as a preferred destination for women from across the globe.
F5 Escapes offers fixed departure all-women group tours, customized itineraries for families, groups and solo travellers. We also do in-city engagements which include #JustGo travel meetups, workshops to educate women on travel safety, sustainable menstruation, motorbiking etc.