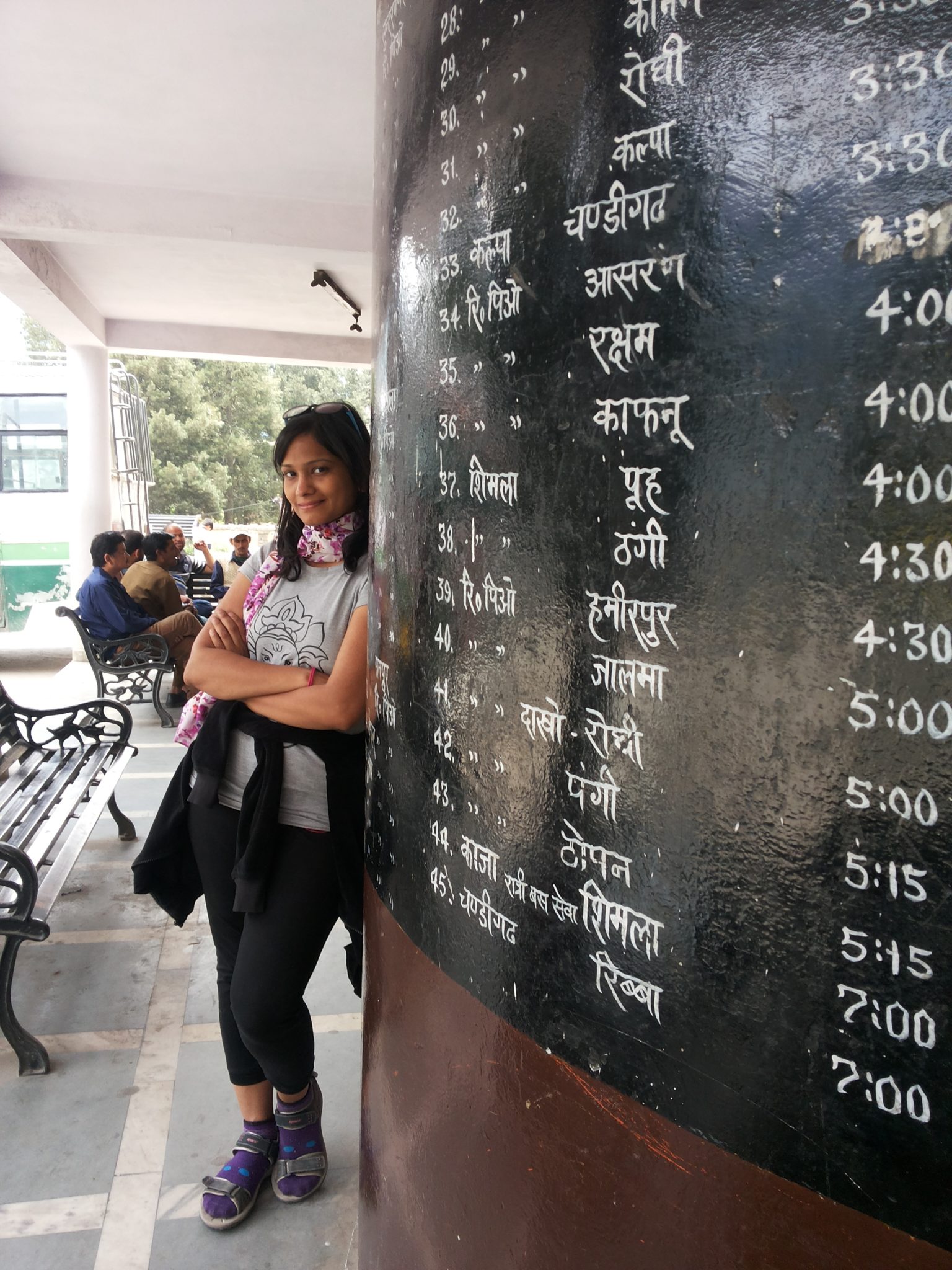 09 Mar
Swati Jain - Buoyant Feet
---
Swati Jain is a solo woman traveler from New Delhi who has backpacked across 20 states and 2 Union territories in a short span of 18 months. She quit her job as a Public Relations consultant with one of the top PR agencies in the country one fine day when she got up with a strange feeling let go of her mundane life. Though she had never planned to quit her job, it happened by chance. Read about this solo backpacker's journey on Buoyant Feet.
Swati is currently backpacking in Karnataka soaking in it's innate beauty and we caught up with her to get know her a little better, about her travel experiences & her choices in traveling responsibly.
Can you tell us when and how did the travel bug bite you?
As far as I remember, I always loved travelling and sharing my travel stories with my friends. In fact few friends would joke around and call me Columbus in making. Who knew that time that I would actually hit the roads for real.
Ladakh is the reason for actually brewing the traveler in me. It was my first trip to this barren land which changed the things for me. I remember sitting in the balcony of my guesthouse when I saw sun popping out from the mountains and blessing the city with its warmth and shine. It was during this moment that something struck my mind that made me realize that the world is a better place and it needs to be explored in the best way. And all I want to do today is be a part of it!
And how do you fund your travel ?(savings/work whilst traveling/other)
Apparently, 95 percent of my travels have been self funded. To support my travels I work on the go. Right now, I work as a freelance PR consultant and a travel writer, which give me the required earnings to let me travel at ease.
How long have you been documenting your travel stories ?
Though practically I have been freelancing and contributing my travel stories for over 2 years but I started my blog Buoyant Feet. only a year back to document the experience through the eyes of a Solo Female Backpacker.
Through my blog, I aim to introduce people to hidden gems within our country which I discovered through my extensive travel within India. Believe me even after backpacking to 130 cities across 20 states, I feel a major part is still left to be explored which prompts me to make a come back in each state. My blog's motive is to inspire people to travel in India and know how culturally and historically rich we are.
Can you share with us, that one travel memory that you cherish till date ?
I had many memorable moments and experiences actually which moved me much in my life. But the most special one would be meeting Kung-Fu Nuns. People who know me would be aware about my love for them and for the fact that I keep mentioning them on my social media network.
They are the most special and unusual nuns I ever met. Must say that their smiling faces and calm demeanor mask a roaring sea of immense energy and strength. Particularly what impressed me was when I saw them doing obstacles which were equivalent to a man strength. They are incredible.
Your preferred travel companions?
Me, my backpack and the camera. Though I won't mind the company of like minded travelers
Do you have a bucket list? If so what is the first item?
Yes I have a bucket list and the first name on the list is exploring North East, which will complete my cycle for all states in India. Ironically I have been trying to visit NE for last 2 years. Lets hope the luck favors me this time. 🙂
Your views & experiences (if any) on safety while travelling on your own.
I have been asked often by the girls on how do I manage being on the roads alone and more importantly feeling secure. I won't go far as to say that people are wrong about their concerns regarding women safety, but that's half the story. It's all about travelling SMART and having that presence of mind to handle things on the go. Yes I would agree that there are challenges but if you think about, it there are difficulties when you travel alone and accidents can happen with you in any country, leave aside only India.
We all know that travel teaches us a great deal of things about life. Can you share with us what has travel taught you ?
Traveling impact our lives in many way. Travel changes you. Every trip you take is a chance to learn and explore yourself. You can see things that you've never seen before. You are given the opportunity every time you get in the car, board a plane or put on a pair of shoes to find something completely new and inspiring, if you can be open to it.
Undoubtedly, traveling is the best teacher one can ever have. Travel has taught me that I can do what whatever I want to do. Traveling certainly has taught me to be appreciative for even a smallest thing which I have and be happy about it. Traveling has taught me to focus and live in the present. Travel has helped me to open up my mind and accepts things the way they are. When we see people living in extreme conditions and still courageous enough to survive, you tend to stop making excuses for your own life. You stop complaining and start appreciating and thankful for what we have.
Is there anything you do on your travels or in your every day life to try to minimize your impact on the environment?
Invariably I always urge people to travel responsibly. It is our responsibility to take care of our environment. To the best I can do, I always discourage people to litter around the place. It pains my heart when I see people throwing things relentlessly without even realizing what damage it will do to us.
Collect garbage at one place and throw at a nearby bin. Don't throw things or bottles in the rivers. I plant trees and participate in such drives wherever possible. One thing which I think also works best in reducing the carbon footprints is by lesser use of transportation. I prefer walking or hiking as much as possible. I guess this is also the best way to explore a place.
Please share with us, your message to aspiring women travelers?
We are born with a purpose in this life. All of us have dreams. Similarly there are endless ways to achieve that dream. Identify your purpose and pursue it with all your heart. Life is too short to sit and think. Always remember to do it now because time is now.
We asked Swati Jain to give a one word substitute on few travel related questions.
If some one asked you to give up travel and choose exactly one thing to do in life, what would you choose?

Though I can't imagine my life without travel but if I have to choose a thing after travel it will be Yoga. 🙂
A fictional character would you most like to meet or travel with ?

Uncle Scrooge and swim in his pool of gold coins. Believe me I really want to do that 😉
One Dream Destination?

Antartica. I have to be there ONE DAY!
Your most preferred way of travelling (Backpacking/Economy/Luxury)?

Backpacking is my way though I wont mind pint of luxurious travel if someone sponsors 😉
What describes you as a travel style as a woman, the best? Nomad / Diva / Aam Aurat

Aam Diva turned Nomad 😉
A traveler who inspires you

Among the famous ones I would say Mariellen Ward, the way she promotes India
You can follow Swati on the below platforms
'F5 Escapes' is a Bangalore-based, experiential travel company, with a focus on redefining the way women travel in India. The premise of F5 is an ambitious dream –  to put India on the global travel map as a preferred destination for women from across the globe.
F5 Escapes offers fixed departure all-women group tours, customized itineraries for families, groups and solo travellers. We also do in-city engagements which include #JustGo travel meetups, workshops to educate women on travel safety, sustainable menstruation, motorbiking etc.