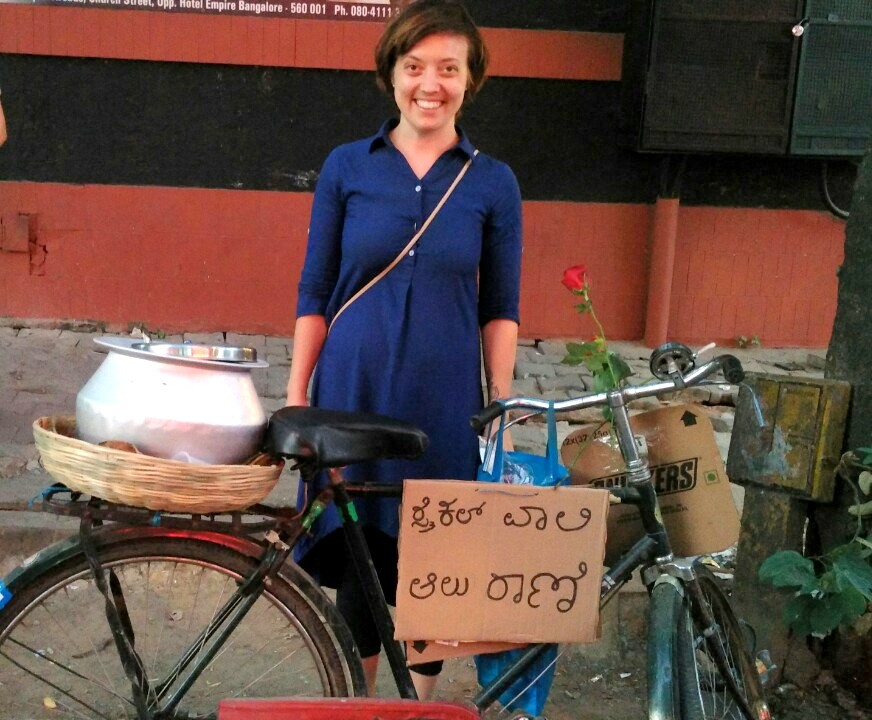 28 Mar
German Potato Salad, Anyone?
---
If you happened to be on the streets of Ulsoor or Church Street in Bengaluru last week, you may have noticed a German lady on a bicycle selling potato salad.
Laura Klatt, a theater artist from Berlin is currently in Goeth-Institute Bangalore as a part of resident exchange program and she recently worked on an interesting collaboration with Sandbox Collective known as Cyclewali aloorani (Potato And A Cycle). Laura says that this style of potato salad is originated from the Southern Germany & she wanted to find out the reactions people would have, if she sold it on the streets of Bengaluru.
How much would a potato salad from Laura cost, you ask?? Well, it is really up to an individual because when people try this salad, in exchange she wants to hear stories or experiences, will accept flowers, recipes from Indian cuisine too. But if you must insist on paying, then it is Rs. 5. When team F5 met Laura at Church Street, we even witnessed a bunch of girls exchanging hugs with Laura for the delicious potato salad.
Laura is visiting India for the first time and when team F5 asked her what her experience has been like, she exclaimed, Chaotic and exciting! Of course, she has had her fair share of warnings from people telling her to reconsider her decision as India was 'unsafe'. However, she decided to break the myth and experience the beautiful country by herself.
Her leap of faith, for sure has paid off as she will be heading back home with truckloads of memories and stories! Thank you Laura for the authentic Potato salad & it's recipe. We wish you continued success in & all the best for the future.
'F5 Escapes' is a Bangalore-based, experiential travel company, with a focus on redefining the way women travel in India. The premise of F5 is an ambitious dream –  to put India on the global travel map as a preferred destination for women from across the globe.
F5 Escapes offers fixed departure all-women group tours, customized itineraries for families, groups and solo travellers. We also do in-city engagements which include #JustGo travel meetups, workshops to educate women on travel safety, sustainable menstruation, motorbiking etc.