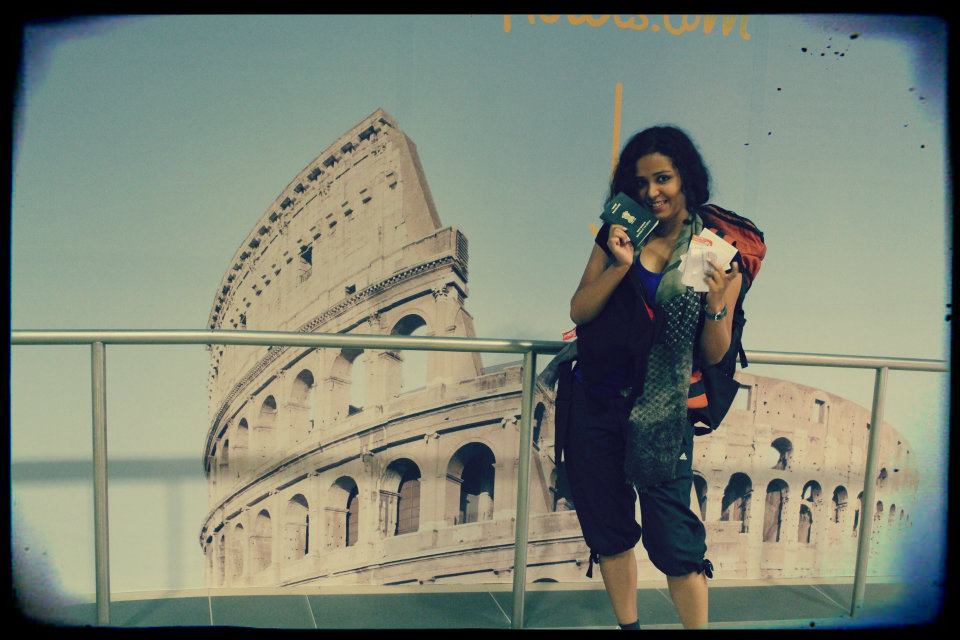 21 Nov
Inspiring Journey Woman - Pooja Arya
---
Pooja Aarya was born with the love for being lost, especially in mountains. She says "as a kid I grew up in Sikkim and Delhi and all our summer vacations used to be spent in my village Dhaura, Uttrakhand. We had to walk and walk for hours to reach our home in Dhaura(there were no roads), It was our favorite game to race and reach home first. Quiet mountains, playing in running rivers, food cooked on chulha, the happiness of plucking apricots and plums and then breaking the apricots kernels to eat the almond nut were my favorite childhood memories." She is in quest of living and creating more of such experiences.
Can you tell us when and how did the travel bug bite you?
It was during Masters, when I was going through a tough phase in my life. All of a sudden all I wanted to do was to travel to a new place. Initially, I wrote research papers to be presented at conferences like Hyderabad, Andhra pradesh as it served an easy, "Yes" from my parents. Later, I met my permanent travel mate Saurav, since then we are never tired of the road.
And how do you fund your travel ?
Savings and work whilst travelling
How long have you been documenting your travel stories ?
I have been sharing my photo stories from my travels, since one year on my Instagram account @travel_yogi_cheese
Can you share with us, that one travel memory that you cherish till date ?
While some of us choose to travel, some of us travel to survive. Met this young Afghani guy in train on the way to Belgrade. He boarded the train from Serbian border and looked tired and tattered. He entered the coach, after a few minutes he ask us "aap kahan se hain"? (Where are you from?) The next question "Do you have passport?"
And then he narrates "There are two kinds of people, 'agents' and 'passengers'. I traveled from Afghanistan to Serbia via Pakistan, Iran, Turkey and Bulgaria, by any how I have to cross Serbia – Hungary border. My plan is to reach Holland. I tried cutting the border with my friends but got caught and right now they deport me back to Serbia. I will try again, take another route".
While he shared this story with us, I go through an array of emotions. I was thinking of giving him some cookies from my bag but then he mentioned about the pepper spray they use on the police at night. Another part of me asked me not be friendly and as I was still contemplating about the cookies, he took out fresh plums from his bag and offered us to eat. He said "aaj Afghanistan mai Eid hai". ( It's Eid in Afghanistan today )
Second one:
It took me 4 years to hike up to the Tiger's nest, Bhutan.
2013 : Made up my mind to visit this place someday!
2014 : Decided to hike there in summers'14 but we ( Saurav & I ) landed up in Europe instead.
2015 : Once again I had to postpone my plans to join him for Silk Road
2016 : Booked my tickets without telling him. Reached Paro. Started the hike at 8am, reached the top at 10am and yelled to myself : That someday is today!
Have you been to any place, which turned out to be totally different to how you had imagined? If so, how?
This Summer while traveling in Balkan and Eastern Europe, I was not expecting much from Montenegro. I was under the impression that the whole of Balkan region has very recently recovered from war and there won't be much to see and explore in that region. I was completely blown by first the wilderness of Durmitor National Park and then their rich cultural heritage. Trekking around Black lake in Durmitor is going to be the trek I am sure I will cherish for a long time.
Your preferred travel companions?
My best friend – Saurav Arya, Kindle, Travel diary
Your views & experiences (if any) on safety while travelling on your own .
Contrary to popular belief, the world is boringly safe.
Do your homework (research).
Believe in blink/intuitive decisions.
Belong to the place you step into.
Do you have a bucket list? If so what is the first item?
Yes, the Roof of the World (Tibet) is on top of my list.
We all know that travel teaches us a great deal of things about life. Can you share with us what has travel taught you ?
I have a long list of what travel has taught me, two of them are below:
The realization that I only need one eighth of what I crave to hoard, and be happy about it. It was only during travels that I understood that how my backpack, like life baggages dictated my travel and life decisions.
The best packing mantra is 'will figure out' and not 'you never know'.
There is always a solution, be it when I overstayed in China by mistake and was about to be penalized, or when we got robbed in Paris and had to spend the night outside Gare de Lyon railway station in Paris, France.
Is there anything you do on your travels or in your every day life to try to minimize your impact on the environment?
I carry a tumbler, to sip chai/coffee or water. It saves paper and plastic cups.
Please share with us, your message to aspiring women travelers?
Don't hesitate in giving yourself everything you ever wanted in life. If not now, then when..if not you, then who?
We asked Pooja to give a one word substitute on few travel related questions.
If some one asked you to give up travel and choose exactly one thing to do in life, what would you choose?

I would choose to live off the grid, in a self sustained eco-home, with wifi.
A fictional character would you most like to meet or travel with ?

Totto -Chan, from the book 'The little girl at the window'
One Dream Destination?

Escape to Space
Your most preferred way of travelling (Backpacking/Economy/Luxury)?

Backpacking
What describes you as a travel style as a woman, the best? Nomad / Diva / Aam Aurat

Nomad
A traveler who inspires you
You can follow Pooja's travel experiences on the below platforms
'F5 Escapes' is a Bangalore-based, experiential travel company, with a focus on redefining the way women travel in India. The premise of F5 is an ambitious dream –  to put India on the global travel map as a preferred destination for women from across the globe.
F5 Escapes offers fixed departure all-women group tours, customized itineraries for families, groups and solo travellers. We also do in-city engagements which include #JustGo travel meetups, workshops to educate women on travel safety, sustainable menstruation, motorbiking etc.