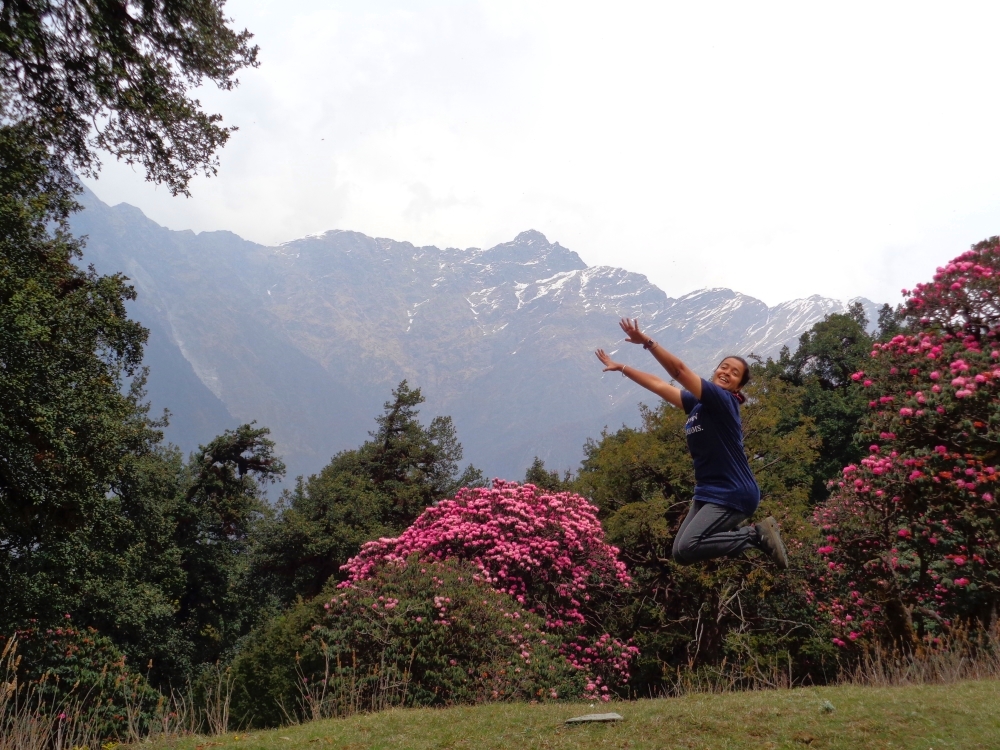 26 May
Priya Krishnan Das - Riding A Rainbow
---
Priya Krishnan Das is a self – taught artist and a solo traveler from Pune. She has traveled and volunteered in different places, right from hand-pollinating vanilla flowers in South Karnataka to harvesting apples in remote Himachal Pradesh to painting a village wall in Kutch and many more. After quitting her HR job in 2012, she started Purple Soul, a creative enterprise. We caught up with Priya to get know her a little better, about her travel experiences & her choices in traveling responsibly.
Can you tell us when and how did the travel bug bite you?
I had been travelling earlier in groups or with friends and family. But my first solo trip was to Jammu in 2011 and there has been no looking back since then. It happened because my husband had to go abroad for official work and I couldn't tag along so I decided to visit some place on my own and zeroed in on Jammu, where an Army friend was posted. I can vouch for the fact the solo travelling is addictive.
And how do you fund your travel ?(savings/work whilst traveling/other)
My earnings through Purple Soul fund my travel and for the last few months I've been working on travel writing assignments as well, the earnings of which I'm happily directing to my travel fund.
How long have you been documenting your travel stories ?
I've been documenting my travel stories since the last one year. I've also been trying to recollect travel stories prior to starting my blog so that I can write about it. You can read all about my travel experiences on my blog – Riding A Rainbow.
Can you share with us, that one travel memory that you cherish till date ?
Well, each trip has it's own share of amazing memories. But if I had to pick just one for now, it would be in Kutch, where I spent some days with a handloom weaver's family In Bhujodi. After dinner, I sat talking with the senior most person in the family, Vankar Dayabhai Ala, an award winning Master weaver. He told me the struggles, the ups and downs he had to face in his life, about how he had to give up weaving and do a laborer's job to put food on his family's plate in the 1970's. But after his father's death in the early 1980's he decided he would take up weaving again, and went on to win several awards for his work very soon.
I still remember his eyes expressing pain, happiness, pride, humility, gratitude, all in that one long conversation. The time I spent with them has made me more aware of the hand-loom industry in India and since then I prefer hand-loom for my clothes, home furnishings,etc to support my weaver friends across the country.
Have you been to any place, which turned out to be totally different to how you had imagined? If so, how?
Haridwar.
I had to stop there for a day on the way to and back from a trek to Chopta-Deoriataal and Chandrashila. People had warned me that there would be people out to fleece you and the 'pandas' or priests would hound you for getting some puja done on the Har ki Pauri ghat. But I had no such experience. I went, enjoyed the sunset on the Ganga, attended the evening aarti, and had some amazing food, without being bothered by anyone.
Your preferred travel companions?
I am my own best travel companion, and if it has to be someone else, it would be my husband, whenever possible. Other inanimate companions would be my camera, portable charger, a small notebook, lip balm and sunglasses.
Do you have a bucket list? If so what is the first item?
Yes, there isn't a traveler in the world without a bucket list and the same goes with me too. 🙂 All of them are important & in no particular order :
Living with the Lepchas in Sikkim.
Learning Kalaripayattu in Kerala.
Spending time studying the hand-loom of different states in India
Living in a remote village called Kalap for a month and so on.
Your views & experiences (if any) on safety while travelling on your own.
Travelling solo in India is safer than we think. But it is also very important to rely on your instinct.
Women are endowed with a unique antennae that senses vibes, so make use of that to take decisions about going to places and meeting people while travelling.
Put on a confident expression even if you are jittery from within.
And most importantly learn to enjoy your own company, which is important when you are travelling solo.
We all know that travel teaches us a great deal of things about life. Can you share with us what has travel taught you ?
Travel makes me fall in love with life over and over again. And also after having explored India a bit, I'm completely in love with my own beautiful country, and that makes me want to travel more in India. There is so much diversity in every aspect, it would take a lifetime to do justice to that. So travel has taught me to love in the truest sense, to look at the world with new eyes each time I travel and be awed by everything.
Is there anything you do on your travels or in your every day life to try to minimize your impact on the environment?
I prefer staying in home-stays rather than hotels, eat local cuisine, rather than have continental food in Gujarat, for example. These small things go a long way to help the local economy. I also carry my own bottle and replenish it with water from wherever it's available rather than buying bottled water in multiples.
Please share with us, your message to aspiring women travelers?
Don't think too much, just pack your bags and travel and you will discover life.
We asked Priya to give a one word substitute on few travel related questions.
If some one asked you to give up travel and choose exactly one thing to do in life, what would you choose?

Continue being an artist but minus the travel
A fictional character would you most like to meet or travel with ?

Tintin.
One Dream Destination?

New Zealand
Your most preferred way of travelling (Backpacking/Economy/Luxury)?

Comfortable and economy.
What describes you as a travel style as a woman, the best? Nomad / Diva / Aam Aurat

Aspiring Nomad & an Aam Aurat.
A traveler who inspires you
You can follow Priya's travel experiences on the below platform
'F5 Escapes' is a Bangalore-based, experiential travel company, with a focus on redefining the way women travel in India. The premise of F5 is an ambitious dream –  to put India on the global travel map as a preferred destination for women from across the globe.
F5 Escapes offers fixed departure all-women group tours, customized itineraries for families, groups and solo travellers. We also do in-city engagements which include #JustGo travel meetups, workshops to educate women on travel safety, sustainable menstruation, motorbiking etc.