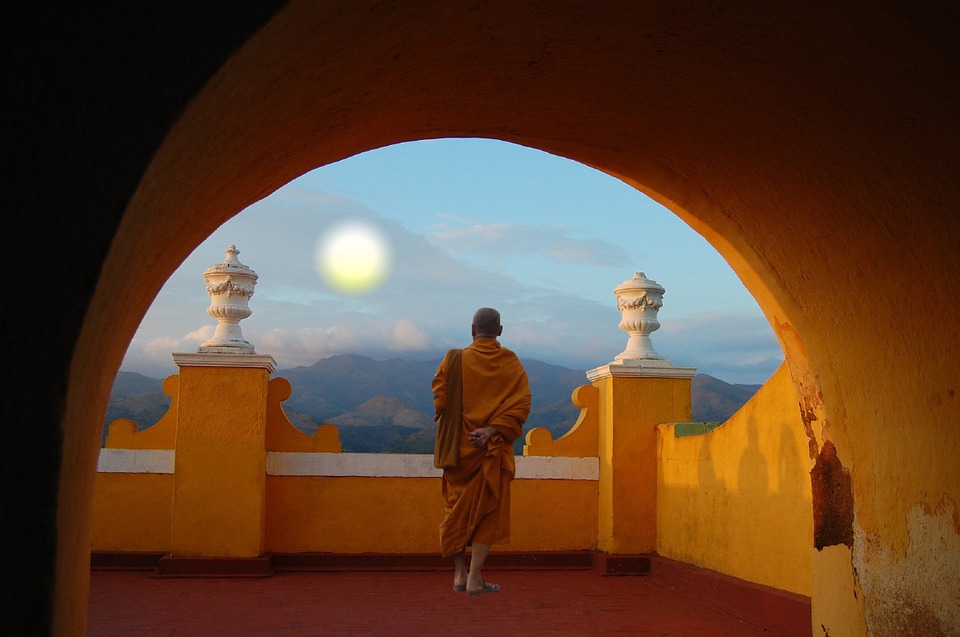 11 Aug
Story #8 The Unsaid Bond
---
S from Bangalore writes about solo travel & meeting monks.
It was for some reason unknown that the solo travel bug had stung me. And this time the journey was to Khanapur and Mundgod in Karnataka, one of the lesser known but beautiful places.
Just for the background – I live in Bangalore and could travel only till Hubli beyond which I had to take a bus, jeep or cab. On the onward journey, the home stay in Khanapur had arranged for a cab and hence it was hassle free. After spending my birthday at Khanapur the plan was to go to Mundgod.
From Khanapur to Mundgod it was a long journey. The hosts again arranged for a cab. Those days I would always take the seat next to the driver without any hesitation or second thoughts. The driver got chatty – told me about his alcohol addiction and how he got rid of it, about some girls who he has driven from Goa to Khanapur, about his family, about the Sidhi tribe in that region, about the trees and about the hosts at the home stay. It was one of my best drives ever – better than some drives with my closest friends. He dropped me very respectfully to my guesthouse in Mundgod where I was welcomed by the sweetest manager and some wonderful Buddhist monks.
Mundgod is a Tibetan refugee settlement in India and the population mostly consists of the monks and the Tibetans settled here. This is where the "love story" began. The monastery was beautiful, the bread tasted strange and even today I feel like it was a dream.
Mornings started with the sounds of prayer chants and the rigorous reading aloud ritual that the monks followed while taking a stroll on the streets of Mundgod while brushing their teeth in the mornings. Nights generally ended with some reading, conversation or the sound of some drum beat kind of music from a village being carried to us by the breeze. This is when the conversations began – about Mundgod, about the tribes, about the music, about the wrestling and more.
Of many who participated in the conversations (one manager and many monks), there was a caretaker monk. His chores at the monastery included sweeping, cleaning, watering the plants, etc. During the conversations there was something about him that was unmistakably noticeable. But there was something coming – something unexpected that was to take me by surprise but definitely more irritable.
One morning, when I was getting ready for my sight seeing plan, the manager of the guest house informed me that this particular monk woke up early to finish his chores so that he could show me around. This news troubled me. This was my first solo trip. I wanted to explore things on my own, talk to strangers, meet people, lose my way and didn't want any guide of sorts. But this guy wouldn't budge. He came along, obviously with a big smile on his face. I ignored him. Just kept walking. Did not acknowledge his stories. I wasn't enjoying myself.
But then I began enjoying his company and his stories. It is something like an artist's work which takes time before it could be appreciated. Everything begins with a mess – incoherent rehearsals, soiled palettes, oozy wet clay, Et Al. But most of the time the end result is spectacular. This process – the end result being savoring his company, was something similar.
He took me to the most secret places in the small hamlet and made me eat the tastiest of momos. As he was a monk, he was prohibited from entering some places. He would wait outside patiently for me while I took hours to explore. My guilt would vanish when each time he assured me he didn't mind waiting.
One day he proposed to take me out in the midnight to show me the debate in one of the monasteries. I was hesitant at first but then I agreed because it sounded like something I had never heard of before. We started our walk and when we reached the destination it was a sight to behold. Monks debating, questions and answers were exchanged with a loud clap and they moved as if in some rhythmic dance.
After this ended, he offered to take me to another monastery where some special prayers are offered post midnight. Udhar chale? (Shall we go there?), he asked. I agreed and we started walking towards it through the narrow dark deserted lanes of Mundgod. Suddenly, I heard myself saying,"Bohot neend aa rahi hai. Guesthouse waapas chale?" (Feeling sleepy. Shall we get back to guesthouse? ) I was hesitant and I don't know why. He didn't mind it at all and without any discussion on this matter, he dropped me to the guesthouse.
I had started to trust him. But I don't know if it was my age or his gender that did not allow me to fully trust him that night. In hindsight, I feel I should have gone with him.
I will never know what could have happened next because next morning I left from Mundgod. Was it love? May be it was.
PS – I don't remember his name and I didn't click any pictures with him.
#100TravelLoveStories is a series of travel & love stories that you probably never shared with anyone. You can even submit a poem, painting, drawing or any work of creativity along with it. Everyone, irrespective of gender, is welcome to share. Submit the story to us by writing to [email protected] with a catchy title & we will publish it for you, anonymously unless you ask us to reveal your identity.
'F5 Escapes' is a Bangalore-based, experiential travel company, with a focus on redefining the way women travel in India. The premise of F5 is an ambitious dream –  to put India on the global travel map as a preferred destination for women from across the globe.
F5 Escapes offers fixed departure all-women group tours, customized itineraries for families, groups and solo travellers. We also do in-city engagements which include #JustGo travel meetups, workshops to educate women on travel safety, sustainable menstruation, motorbiking etc.