04 Jul
Traveling With Disability - Madhumitha Venkataraman
---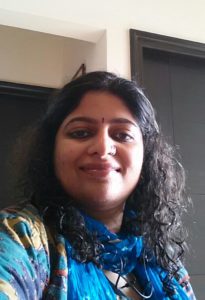 Born with a disability known as Left Hemiparesis (orthopaedic disability on the left side of the body), Madhumitha Venkataraman talks about traveling to different places, travel challenges she has faced & how to make travel space more accessible for people with disabilities.
A little bit about yourself
Born into a Tamilian family, I was brought up in Delhi and Mumbai and I am currently residing in Bangalore. I am an HR professional with 9 years of experience, having worked across different organizations. I am passionate about diversity and inclusion and work with different organizations in this space – my dream is to build a more inclusive world. Travel and tourism for different diversity groups is an area which has been largely ignored and so thank you for interviewing me, and bringing this up.
What does travel mean to you?
Travel for me goes beyond exploring places – it has been about people, discovering new facets, bonding & connecting with them. I see it as a way to connect with new set of people who come from a different background, culture – that's the most meaningful part of travel for me. Seeing new places for me actually is secondary, though I do enjoy it as well. I am not very fond of luxury travel – I love keeping it simple, economical and fun. While I have traveled abroad, India excites me – I have done most parts, except for the east which I would love to do soon. Also, travel has helped me break that pattern/routine in life. You get more time to take a pause and reflect and that is great and necessary.
What are the main travel challenges that you have faced?
Infrastructure is largely inaccessible in India – the more remote you go (and travel is about exploring new places), the more difficult it gets. In many places today, accessibility has been made equal to having ramps – but accessibility is much beyond ramps. It is also making the infrastructure simple to navigate, which is very rare to find. How many places have instructions in braille, how many travel guides know sign language – these are rare things to find even in large cities, let alone in smaller cities, towns. I also think that railway stations need to be more accessible. Airports are definitely better but in recent times, one reads of multiple instances where airline staff has been difficult with persons with disabilities. Travel booking sites need to be accessible. While over time I think it has got marginally better, it still is very difficult and there is a long way to go.
The other point I have noticed is that there is very limited awareness on how to help a person with disability. Do not assume the support a person with disability needs – check with the individual and offer support accordingly. Also, everyone may not have a visible disability – there are people who have invisible/less visible disabilities as well and that needs equal assistance.
In many places, discounts on tickets are given to persons with disabilities. While that's great, the point I would emphasize on is a discount does not substitute for inaccessibility. When I cannot navigate a place, giving me the ticket at a lesser price does not make it more accessible – this 'compensatory' culture and mindset needs a shift.
What kind of advance preparations do you take care of?
I always make sure that the people I am travelling with are aware that I am a person with disability and I specify the support I would need. With friends and family it happens without saying, but when I was travelling with F5 for example, I did specify to Malini before I travelled and seeing how supportive she was helped me take the plunge- else I would not have. 🙂
I also make sure that the places I travel to have the assistance – right from the kind of washroom, to other needs which I may have and the people understand. I do my research about a place from an accessibility standpoint as well, though there is very little information one can find. I talk to people who have been there before.
Can you tell us some of the travel memories that changed your perspective on life?
Almost all the places I have been to, have given me some learning or the other. But the trip I have enjoyed the most has been the one to Ladakh – the place is so beautiful.
My trip to Spiti with a friend also remains close to my heart. The people are so simple, straight forward, warm, affectionate & so non-commercial. A different way of living – I saw it and learnt the value of contentment. Small conversations and gestures that touch your heart & help build memories which stay with you for life.
Your preferred travel companions
Usually I travel with family/close friends/ people who understand the disability & can support me, when needed. I love travelling alone as well, though it happens mostly on work. Work has given me several opportunities to travel and live in different places across India and the world and that has been a great experience.
For a very long time, the only people I have traveled with were my parents. As a child, my parents always made sure we would take at least one trip a year. Since we were in Delhi, we used to take off to Shimla, Haridwar, Himachal Pradesh apart from of course visiting Tamil Nadu which was where we originally belong. So there were a lot of vacations and a lot of fond memories.
First place I traveled on an extensive trip without family was Panchmarhi in MP in 2008 with my close friends from Jamnalal Bajaj. After that, there have been series of trips to places like Ladakh, Andaman, Spiti Valley, Rajasthan and many more – these have been mostly with friends and family, people who know me very well. Then ofcourse there have been trips with organizations like F5 where you are travelling with people you have not met before. Both have been fun.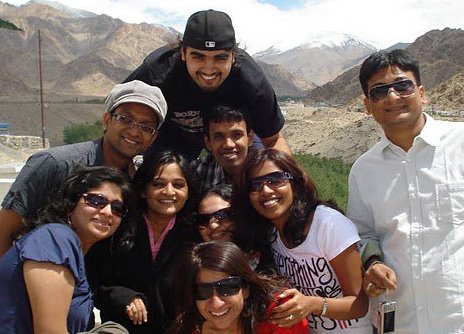 I spotted F5 Escapes on Facebook and informed my parents about traveling with an all-women group to Pondicherry in 2014. My mother was a little worried given it was a group of strangers . But I was trying out something new & F5 Escapes seemed like a great idea. I remember my mother did all her due diligence and that she liked Malini (trip lead & founder of F5) when she met her was when I was allowed. It was a wonderful experience and I made some great friends.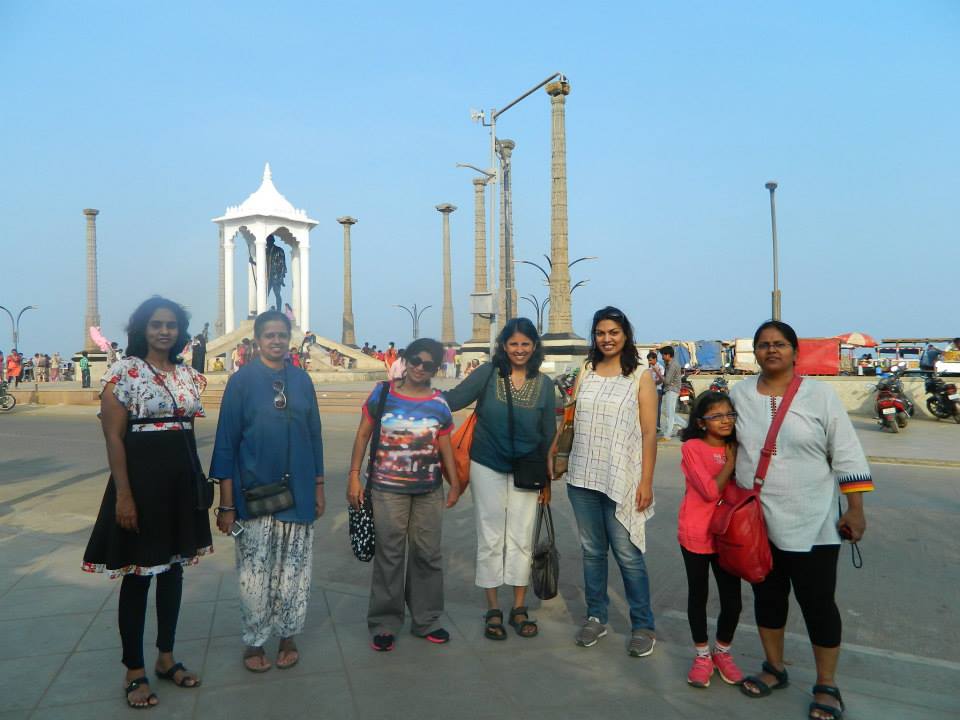 Few months later, I took a trip to Chikmangalur again with F5. We were 10 new faces who turned out to be good friends during the trip and we are all still in touch with each other & meet often .I still cherish that trip a lot.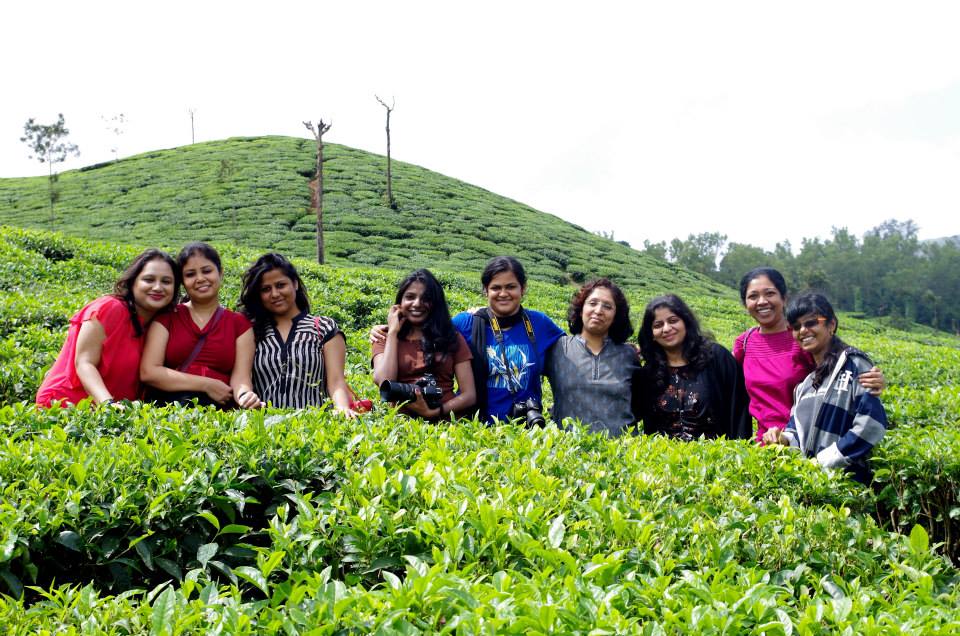 Apart from work & travel, any other interests that keep you occupied?
I read a lot, blog, paint & I work with a lot of NGOs. I love watching movies and meeting friends.
Do you have a dream destination?
Not a particular destination, I would love to do more of experience/volunteer based travel. Have not tried that so far. I have a feeling I will enjoy volunteer based travelling.
Do you avoid traveling to any places?
Not really – I do not prevent myself from going to any place. I might not for example engage in mountain climbing or trekking if I find a place particularly inaccessible, but I generally like exploring everything. I have to add that I have travelled with people who have been particularly supportive – friends, family, strangers, people who have assisted etc.
I have done Scuba diving in Andamans, Paragliding & Parasailing. Also explored a lot of different water sports in Mauritius.I tried camel ride in ladakh in 2010. It has been fun.
What according to you are few things that need to change in travel space to make a city/place/country more accessible by people with disability?
I think change needs to start with attitude and belief that persons with disabilities should have equal opportunity to travel, as much as anyone else. Whether it is travel companies, travel websites or infrastructure, it needs to be more accessible and this target audience needs to be kept in mind. While it is a long journey, education on how to help a person with disability travel is a good place to start with.
A friend of mine Nipun Malhotra, had partnered with Zomato in getting a list of accessible restaurants and that I think was great. Another example is Kickstart cabs in Bangalore which is a cab service specifically for wheel chair users and senior citizens. But this is just a beginning and it needs to be more mainstream – mainstream cab companies need to be accessible for persons with disabilities. Abroad things are better – there are organizations like Flying wheel, new directions and more which focus on travel for persons with disabilities.
Often accessibility is one part, equally important is the willingness to help in the right manner. Some points for persons who are travelling with persons with disability – make sure you are aware of the support the individual may need. In case you are not aware, it is ok to ask them even before you start travelling so that you are well prepared. Allow the person to choose – if the person is not comfortable trying out any activity, while it is great for you to encourage, let the choice and comfort be that of the individual. Also, do not compromise on what you would like to see/explore, you go ahead with your plan – the person with disability will take care of themselves.
What are some of the advices that you would like to share with others who are in same situation or with a disability who want to travel?
Go for it. It is fun. Be open, plan well and enjoy yourself. Take a little bit of risk but not too much. That's that 🙂
'F5 Escapes' is a Bangalore-based, experiential travel company, with a focus on redefining the way women travel in India. The premise of F5 is an ambitious dream –  to put India on the global travel map as a preferred destination for women from across the globe.
F5 Escapes offers fixed departure all-women group tours, customized itineraries for families, groups and solo travellers. We also do in-city engagements which include #JustGo travel meetups, workshops to educate women on travel safety, sustainable menstruation, motorbiking etc.