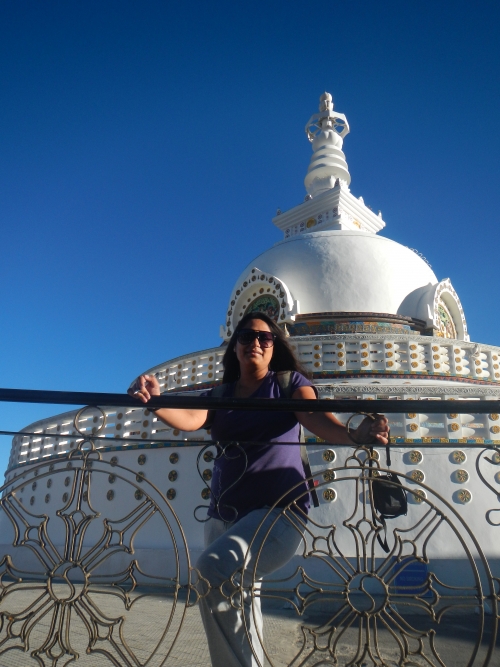 ---
Akanksha Bumb, Chief Travel Planner at F5 Escapes loves travel. A Lot. While she loves exploring places by herself, she loves traveling with people & especially, leading trips. In this article, she takes us through one of her favorite trip leading experiences to Ladakh with F5 Escapes.
I have been leading trips for three years now. That's a lot of travel, but if you are anything like me, it is all welcome. And it's free!
There are no free lunches, though, let alone free travel. So, when I lead trips, I work. Hard. There are hundreds of things to think about and five hundred that could go wrong. There are people to manage, vehicles to be called and dispatched, meals to coordinate, timelines to take care of and rest to be taken to do it all the next day. I am usually the first to wake up and also play the chai-wali role. If I am making it sound like a lot of work, it is. But hard work has its rewards. And one such beautiful reward was my trip to Ladakh in July 2015.
To think that I didn't plan to lead this one is bizarre. My wedding anniversary fell during the trip, and I really didn't want to be away from hubby dearest. Things panned out such that I had to go and my husband is not really set on dates anyway.
I planned to meet them all at the airport for our morning flight to Leh. I was in the airport loo, when I got a call informing me that the flight has been rescheduled for an early departure. Some of us were already there. There was a mad rush, lots of calls and refusal to board until the rest of the group reaches. How can they reschedule a 7:00AM flight to 6:30AM, in the last hour? We were all one team, from there. Fighting for people we haven't even met! That was my first clue that this is going to be a kickass trip.
This group was like a complex dish cooked perfectly. It had all the flavors and none of them overpowered another. It had compassion, grit, adventure and enthusiasm (too much!). And above all, it had a sense of humor. Each one of us could laugh easily. And that is a rare gift. It became effortless for me to manage everything. You see, the most difficult aspect of leading a trip is to manage people. I don't mean it in a school-teacher way. Everyone reacts to situations differently, and sometimes, it becomes difficult to assess the reactions and expectations. But when you feel you know them already, you become a friend, not just a trip lead.
We talked non-stop. We took late night walks, early morning walks, mid-afternoon walks. Oh we walked! And we took care of each other. It wasn't just my job. At altitudes of 17000 ft, this care-sharing can be a real gift. We all have to earn our journey to the mountains. Most of us fell sick, as people travelling to Ladakh do. But each one of us had the good sense to accept it as a part of the journey and not look for reasons (other than natural) and people to attribute it to.
I remember our trip to Nubra. We got delayed from Khardung La due to a road block. Spending a little more time at the pass than we should have, we all had a bit of headache. We were feeling the affect of mountain roads and took a lot of breaks. I was enjoying the landscape but the back of my mind was constantly guessing the time we would reach, and was constantly worrying about everyone's mood. I was a little on the edge, also because I kept telling everyone we will reach shortly. I have realized that the thought of long journey tire people more than the journey itself.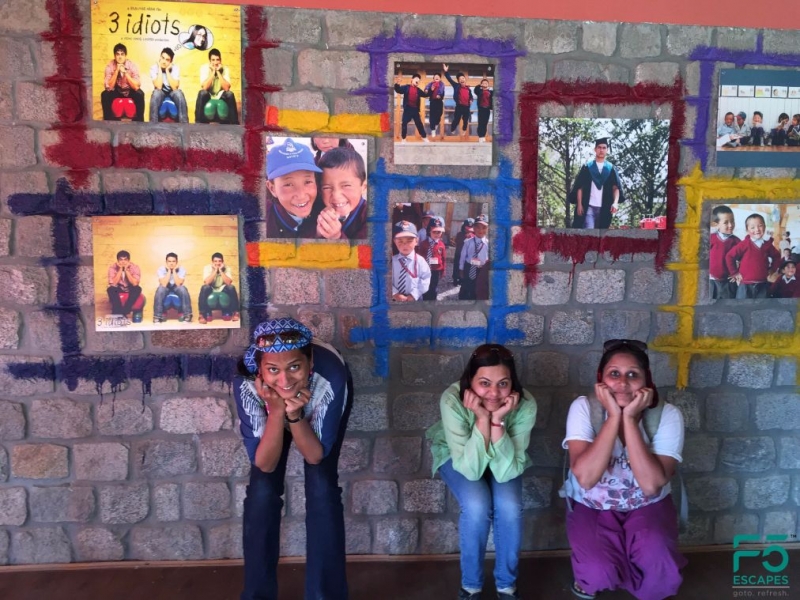 We reached tired and decided to call it a day. Half an hour later, I heard sounds of everyone getting ready to attend the dance performance in the ground. I couldn't stop laughing. All those tired faces were suddenly sparkling with excitement. I bowed out but I heard so many stories of the evening that I felt I was there. They danced! They were puking on the journey and they were effing dancing at the end of it.
Next day I told them I deliberately lied about the time we will take (they had figured it out anyway). I was expecting to hear something about transparency but all I got was a hug! Can you believe it?
On all our trips people end up creating friendships that last way after the journey is over. More often than not, it is because they were sharing the rooms or were always sitting together in the cab. In Ladakh, though, we all became equally good friends. We pulled each others' leg without discrimination. We jumped balconies to do sting operations and went on a mission to click picture of the loos around Ladakh (they all come with a view).
What enhanced the whole experience were our local interactions in Ladakh. We met a very loved folk singer, Thukjey Dolma, at SECMOL and were touched by her soulful voice. I still play that song I recorded to calm me when I am agitated or sleepless. Our host in Leh, Tsering didi, was the every smiling lady of the house. She opened her house and her heart to us. We felt like a family. And we made friends on the way. The guy with the red hat who we almost ambushed outside the toilet at Khardung La; and who showed us how to click jumping photos at Pangong Tso, is just one of them. Aarti and I stumbled into a shop where people offered us Kawah and chatted with us till it was late. They offered us something else too, but that is a secret 😉
And then there was Lobzang. He was our 22 year old angel of a driver. We doubted if he was human, because he never lost his cool. I think everyone of us had a crush on him, or would have had if he wasn't so ridiculously young.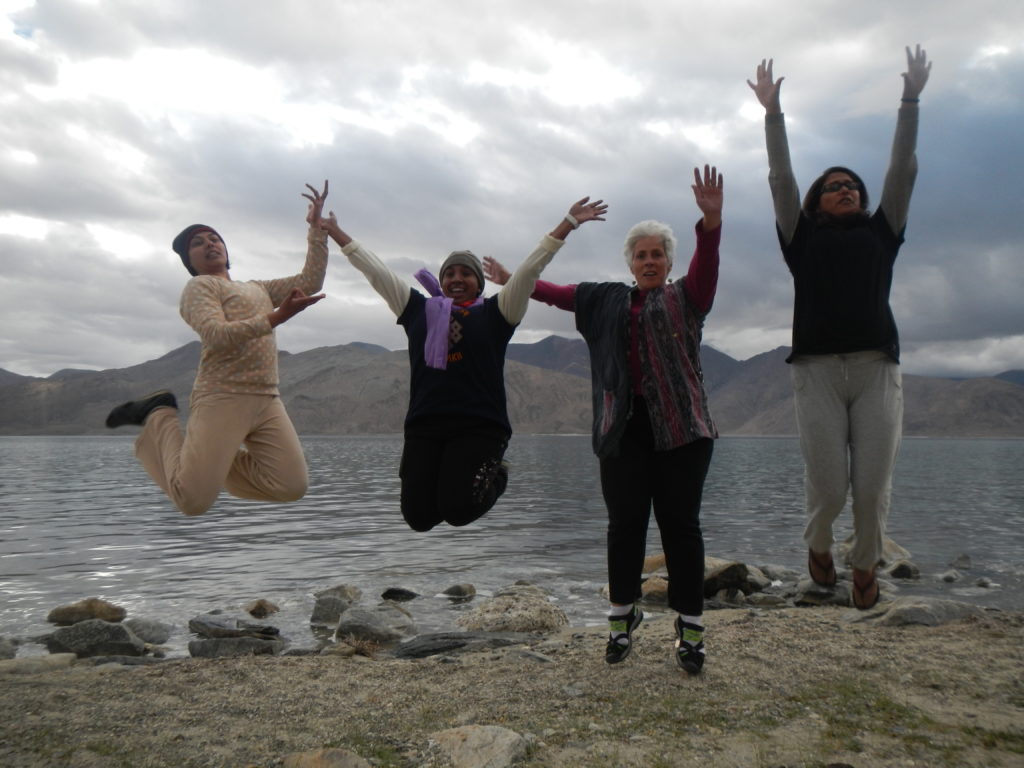 I learnt so much about the group and about life, from them. From Karen, I learnt that age is just a number and that kindness can actually put a positive turn on everything. From Uma, I learnt what it means to hold the fort on your own. This one is an iron lady! From Aarti, I learnt to smile more. I realized it works wonder on you and on other people if you smile first and talk later. From Liza, I learnt the classiness of sarcasm. She spoke the least but we laughed the most with her. From Minakshi, my partner chai-wali, I drew inspiration to be fit. And I learnt that life doesn't have to lose its charm and chirpiness, come what may. From Carmel, the kid of the group, I learnt that there is always a first time for everything.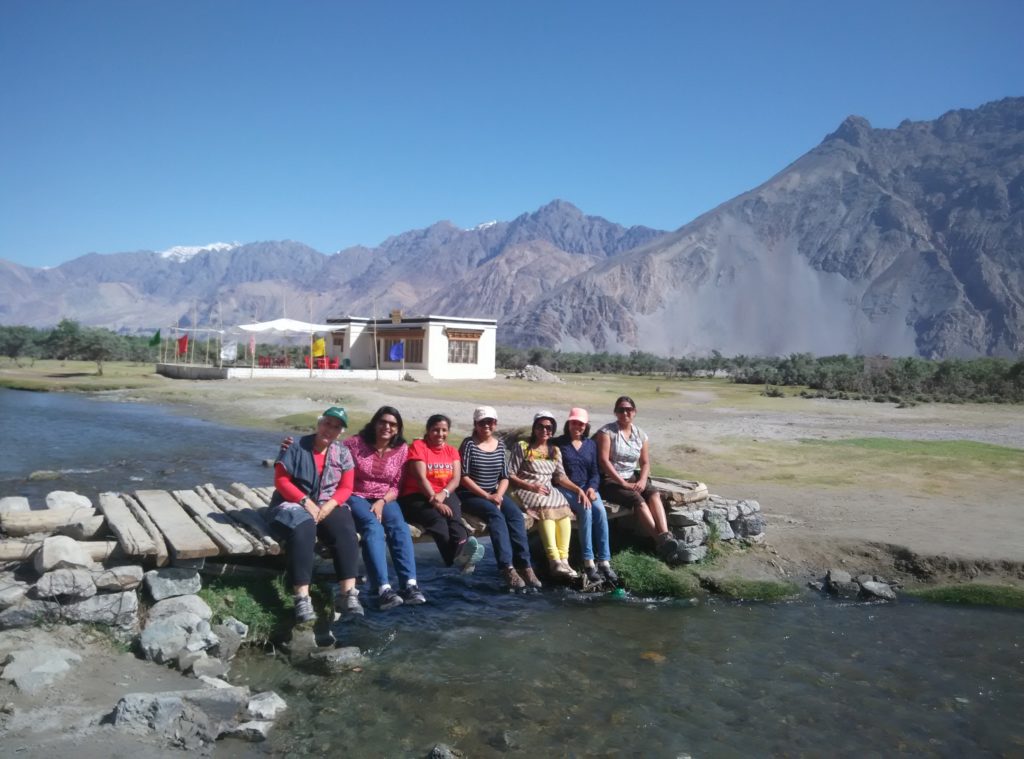 And I talked. So much. About me, my husband and our nomadic existence. I found acceptance. I will never forget the surprise gift that they had for me on my anniversary. They celebrated my day and although I did miss my husband, I got a chance to miss him with people who understood and loved me.
If this was a movie, and it could very well be a female-ZNMD or Happy Indian Goddesses, the closing shot will have to be the scene at the airport café. Malini ( Founder, F5 Escapes) joined us in Delhi and all of us, who had flights to catch and places to be, took that time out for one last cup of coffee (which never came). We were laughing so hard that we could have easily been school girls meeting after summer vacations. I can never forget that look on Malini's face – of half embarrassment due to people staring at us, and of half relief of a trip well done.
Would you like to be part of our experiential journeys? Check out our tours here or get in touch with us on [email protected] / 080-47091759.
'F5 Escapes' is a Bangalore-based, experiential travel company, with a focus on redefining the way women travel in India. The premise of F5 is an ambitious dream –  to put India on the global travel map as a preferred destination for women from across the globe.
F5 Escapes offers fixed departure all-women group tours, customized itineraries for families, groups and solo travellers. We also do in-city engagements which include #JustGo travel meetups, workshops to educate women on travel safety, sustainable menstruation, motorbiking etc.