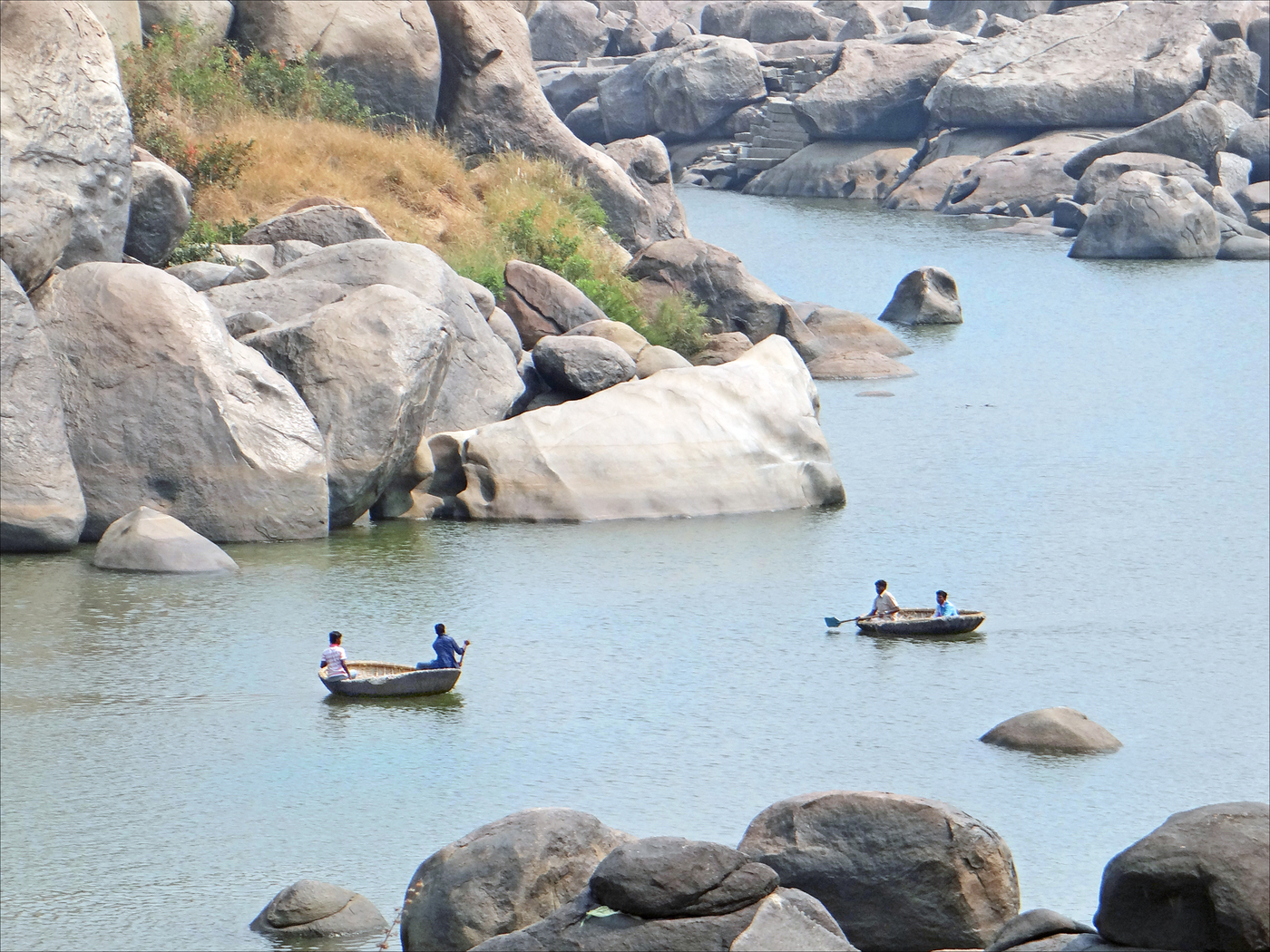 28 Nov
Don't worry, be Hampi!
---
The title of this piece is the creative genius of touristy T-shirts sold in Hampi!
Hampi is vast and can be many things to many people. For the historically inclined, it is a treasure house of innumerable monuments, for which the place is best known; for the devout, there are temples galore; for mythology lovers, there is the birth place of Hanuman and there is Kishkinda, where Vali and Sugreeva were supposed to have lived. For the sporty, there are activities such as bouldering and rapelling; for the nature lover, birding, trekking, and spectacular sunrises and sunsets.
***
As we drove from the railway station to Anegundi where Urama cottage is located, we were awestruck by the rockscapes. It was as though the gods had dumped these boulders from the sky! They are everywhere, with random sculptures surfacing here and there.
Daroji bear sanctuary
Some detail about the bear sanctuary, because not many people go there. It is about an hour and a half drive from Anegundi. It has an area of 5,587 hectares. You buy a parking ticket for your car for a steep Rs 500, and Rs 50 per head, and drive in (they will ask for additional huge amount for camera but protest loudly and they will not charge!), after which you climb up a small hillock to get to a watch tower that overlooks the sanctuary. Green and brown were the predominant colours, and while it was lovely hearing the several varieties of birds, and while we spotted a couple of peacocks, it was not until almost twilight that we saw a family of four bears come out from among the rocks. Also saw some others coming down from the top, but they looked like small specks. It was exciting alright, to see them in the wild.
Some temples and monuments of the Vijayanagara empire
Rockscapes and sunsets
Hampi was also about insects and snakes
On the first day, I entered our bathroom and was greeted by a humongous spotted lizard! He was scared and I was scared; he scurried about, I scurried about, and then, luckily he realised he must now share his space with us and eventually disappeared. Then there were millipedes – the small (1.5 inches – we shared the room with one) and large (5 inches) varieties. Then there were frogs, toads and chameleons, moths and butterflies. I had all kinds of bites, and then remembered I had carried Odomos. We spotted snakes twice, one was a small green one on the hedge near one of the monuments, and the other crossed us as we came down the hillock on which Hanuman was supposed to have been born. Kobita immediately recognized this snake species and lectured some boys who were running from it, telling them not to be scared and that perhaps the snake was more scared than they were!
Memories we will always cherish
Coffee at a small Udipi brahmin place in Kamalapuram. They also had mirchi bajjis and the yummiest looking upma!
Watching fireflies! Our driver caught one in his hand and left it in the car…he said they used to fill their pockets with fireflies when they were children.
Spotting a glow worm on the walk back from Laughing Buddha restaurant.
Coracle ride in moonlight. This was the most adventurous thing we did. A 45-minute coracle ride in the dark with only the moon for company. Before that, a half hour trek to get to this place. We even sailed under the jutting rocks into a small cave, crouching down to enable our boat-woman to do this! Much excitement!
Going up the hillock to see Hanuman's birthplace was special for me. The idol was very cute…round face, round eyes. And the place was full of monkeys!
Chats with other women travellers who stayed at Urama cottage. But about this, hopefully there will be another post. 
Girls truly rock!
Our trip was organised by Bangalore-based F5 Escapes, an all-women enterprise started by Malini Gowrishankar and Akanksha Bumb. They had planned my trip to Kutch in March, and I had been most impressed by their efficiency. On this trip, Kobita and I went from Hyderabad, Bhagya Srinivas came from Chennai, and Arati Shyamsunder was the F5 representative from Bangalore. It was nice meeting new people and all four of us got along well. Enthusiasm levels were high, and everyone was ever ready to run, walk, climb…whatever the time of day or night!
Girls rock…and they also talk (non-stop), which is why my refrain through the trip was, "Okay, now 10 minutes of silence!"
This article was originally written by Sadhana Ramachander here.
'F5 Escapes' is a Bangalore-based, experiential travel company, with a focus on redefining the way women travel in India. The premise of F5 is an ambitious dream –  to put India on the global travel map as a preferred destination for women from across the globe.
F5 Escapes offers fixed departure all-women group tours, customized itineraries for families, groups and solo travellers. We also do in-city engagements which include #JustGo travel meetups, workshops to educate women on travel safety, sustainable menstruation, motorbiking etc.