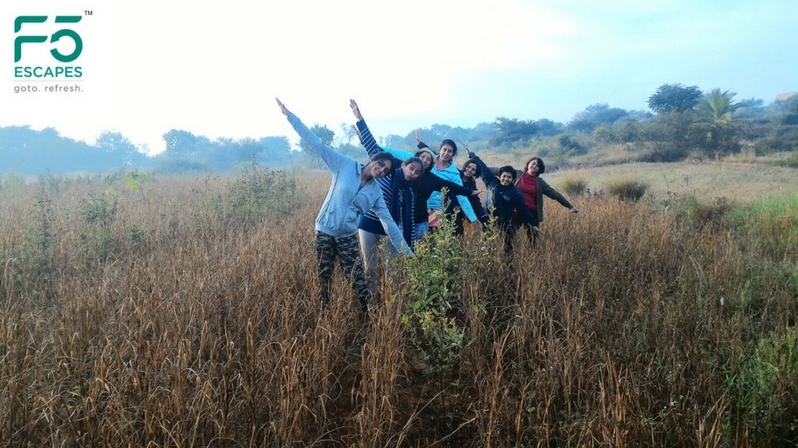 04 Oct
For Tailor-Made Travel Experiences
---
Whether you travel for the love of nature or to get some perspective in life or for the fun & thrill of it, sometimes it works best to have a proper plan in place. From hotel booking to flight confirmation and everything in between, arrangements for a vacation could take up a lot of your time. While some of you may disagree and argue that planning a trip on your own will give you a lot more options, let me tell you that
some vacations you want to just enjoy and pamper yourself, hassle-free
! Whether it is last minute travel plans or travel during holiday season, at
F5 Escapes
we are here to turn your dream vacation into a grand reality.
Why F5?
Tell us where you would like to go or allow us to recommend some places : Explore the streets of Pondicherry or soak in beauty of Western Ghats or live a royal life in heritage homes in Rajasthan or experience an adventurous life in Andamans – Select a place of your interest from featured destinations list on our website. If you don't see the destination of your choice or want different choices, we can plan you a trip for place of your interest as well.
Get Your Own Personalized Travel Planner :Our in-house travel planners come with an extensive experience in travel & travel planning. We understand that each customized itinerary has to be unique, catering to your interests & needs alone. Once we narrow down on the destination, our travel experts will work closely with you to create a unique & personalized itinerary. Get insider's suggestions on where to try local food or shop, hidden gems, access to interesting events & activities around that place, transportation tips & much more!
Handpicked unique experiences, just for you : Our customized itineraries are a perfect balance between must – see attractions & off – beat experiences.  Even if we are planning for common destinations such as Pondicherry or Wayanad. we ensure that there is always some off-beat experiences in each trip.
F5er guidance, on-ground travel & moral support (Before and or during the trip) : While we may have provided you with day-wise itinerary & details of where to stay, eat, shop & visit, our team is available 24*7 to guide you through any help you may need before or during the trip.
When To Travel?
Any time is travel time! But considering most of us have jobs to go to and schools to attend, we would suggest planning your holidays well in advance. As much convenient long weekends and festive times are, it is as much difficult to find good accommodation during these times, especially if you are looking at weekend getaways close to cities.
We can help you plan your festival time vacations but we request you to let us know much ahead for us to handpick the best properties for you.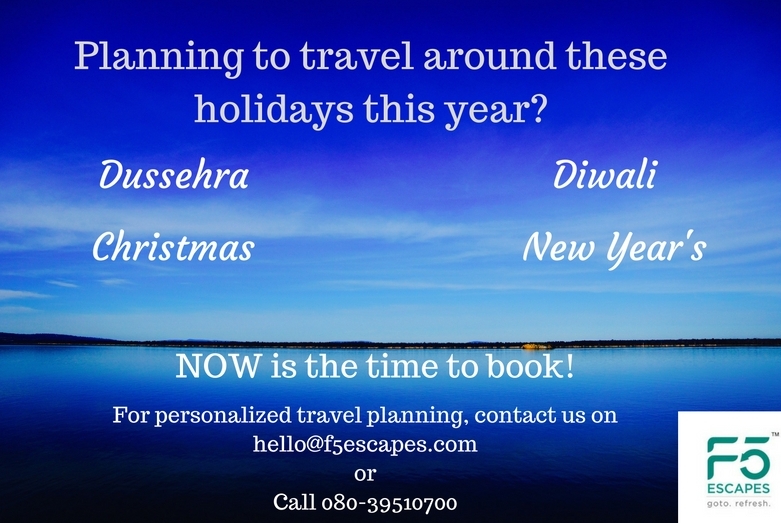 Tips to plan your holiday:
Plan well in advance.
Being flexible with the kind of vacation you want and being open to eclectic experiences will give you more options.
Well behaved children are crucial to a good vacation. Train your children to be travel friendly. Make them help you out with little chores, train them to take care of themselves and be independent atleast in small ways. You will thank us during your next vacation!
 Connect with us today
From organizing weekend getaways for couples, families, bffs & girlfriend groups to a month-long vacation for women travelers to lesser known destinations, we have been providing fabulous customized travel experiences to people all around us.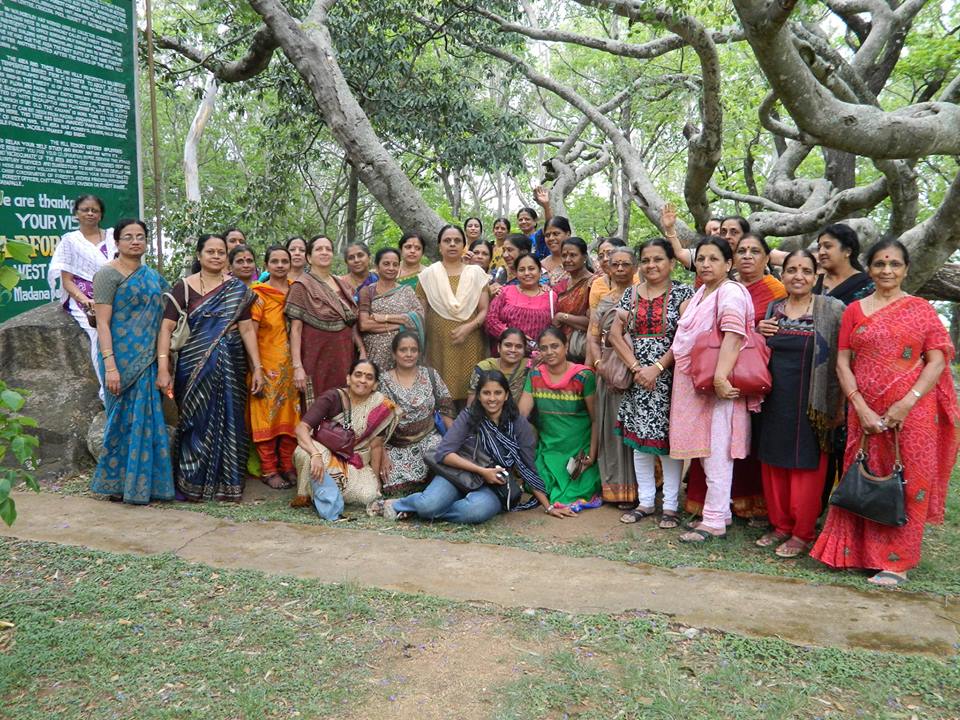 Next time when you are thinking of traveling solo or with someone special or family or a small group of friends – allow us to design your dream vacation, just the way you want it. You can fill out this form & our travel experts will get in touch with you shortly to understand your requirement better.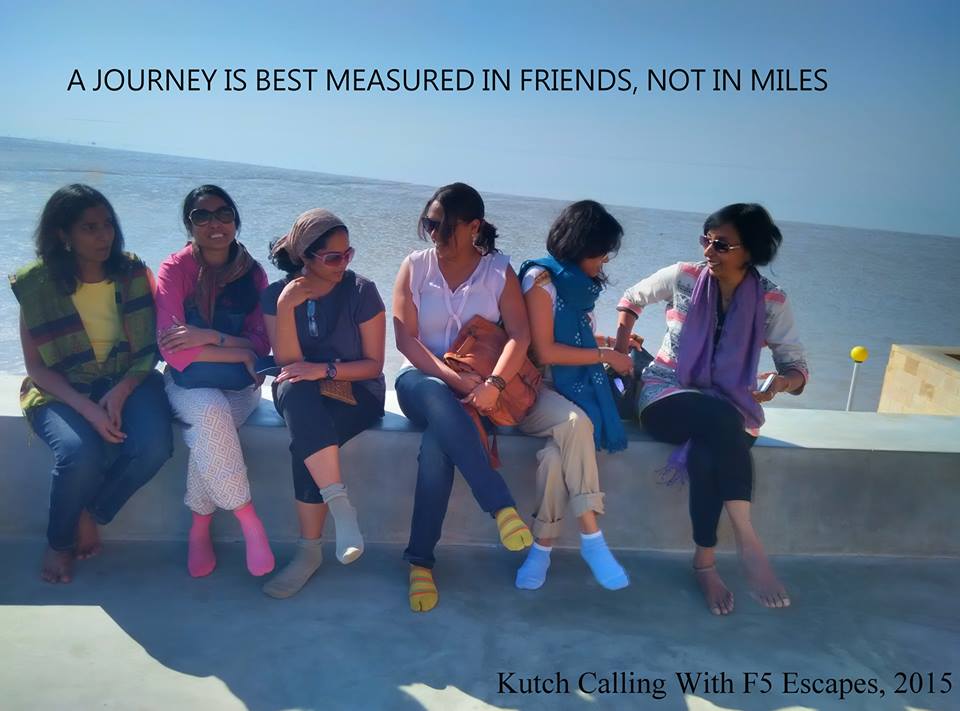 'F5 Escapes' is a Bangalore-based, experiential travel company, with a focus on redefining the way women travel in India. The premise of F5 is an ambitious dream –  to put India on the global travel map as a preferred destination for women from across the globe.
F5 Escapes offers fixed departure all-women group tours, customized itineraries for families, groups and solo travellers. We also do in-city engagements which include #JustGo travel meetups, workshops to educate women on travel safety, sustainable menstruation, motorbiking etc.