TOUR OVERVIEW
Hampi is a heady mix. It is a cocktail of most unlikely ingredients thrown in together. It is definitely a window to a glorious past, rightly famous for the intricate carvings and the legends. But there is so much more to Hampi. The moment you hit the periphery, you are spellbound by the landscape. You will witness some very beautiful and heart warming initiatives taken for the community by the community. Add to this an agricultural setting and some really exotic birds, and you have a vacation you will not forget in a long long time.

To amp up the heritage experience we are also visiting Chalukya dynasty's monuments of Badami, Aihole and Pattadakal & go back in time at  Bijapur's Gol Gumbaz of the Adil Shah dynasty!  Experience history and the grandeur of the bygone era with F5 Escapes.
Please read the itinerary in detail along with inclusions, exclusions and other information.  Call us at 080-39510700 or mail us at [email protected] if you have any queries.
Assemble in Hubballi and after lunch, proceed to Bijapur. Our stay tonight is with a local NGO working  for women empowerment and revival of Lambani and Kasuti craft in the area. Enjoy the Lambani dance performance at the campus. Dinner and overnight at Bijapur.
After breakfast, explore  Bijapur (Vijayapura), a city with an entirely different architectural masterpieces than what we have been witnessing so far on the trip. Called Agra of the the South India, Bijapur was the seat of Adil Shahi dynasty. Visit Gol Gumbaz, which boasts of one of the biggest domes in the world, and other beautiful monuments of the Bahmani dynasty. After lunch, depart for Annegundi village. If we reach in time, we visit the Chintamani temple on the banks of Tungabhadra. Stay in a traditionally built house which, originally, was home to the book keepers of the Vijaynagara Kingdom. Dinner and overnight at Annegundi.
You may go for an early morning hike to the Anjanadri Hill, said to be the birthplace of Hanuman. After breakfast, cross the river to Hampi and enter the bygone era. We are visiting the beautiful and ancient monuments today. An evening ride to the beautiful Jangli valley and Sanapur Lake is on the cards. Today is a dine-out day. Let's explore the hippie-Hampi. Overnight at Annegundi.
Go for an early morning bird watching tour around the village. Hampi attracts a lot of migratory birds. After breakfast, we will take up a guided walk around the village and also visit the cave paintings from the Iron Age. Drop in at the banana factory before lunch, where you can shop for souvenirs.
After lunch, check out and proceed to Badami, the erstwhile seat of the Chalukya dynasty. Visit the Badami caves if time permits. Overnight at Badami.
Go for a guided tour of Badami, Aihole and Pattaddakal. Situated at the mouth of a ravine, Badami has lots of architectural and historical significance.  Learn about the various Buddhist, Jain and Hindu monuments. By late evening, we start our journey back to Hubballi. Dinner and overnight in Hubballi
After breakfast, take your flight or train back home.
Inclusions
All meals – Breakfast, Lunch, Dinner and two tea/coffee – from lunch on 9th Feb 2019 to breakfast on 14th Feb 2019. If your flight/train is very early in the morning, breakfast may not be possible.

Transport in an AC vehicle throughout the trip except for the Hampi tour which will happen in auto rickshaws


 All stays on twin/double sharing basis

 All entry and permit charges.

 Ferry and Coracle ride


 Guided tours for Annegundi, Hampi, Badami, Aihole and Pattadakal, Bijapur and birding
Exclusions
Tips

Shopping

Food other than inclusions. 

Personal expenses

Guides other than mentioned.

5% GST
Terms & Conditions
25% of the trip cost if canceled 10 days in advance.
50% of the trip cost if canceled 9 to 3 days in advance.
Last 3 days – no show – entire amount will be forfeited.
Disclaimer
There is fair bit of walking involved – while the village walk.
F5 Escapes is in no way responsible for any untoward incident happening due to the ignorance/negligence of the guests, natural/man-made calamities, accidents or any other events that are out of human control during the trip.
All our trips are well-researched, including identifying access to medical facilities. In case of a medical emergency, F5 will assist the traveler in getting medical attention.
The trip is NON-SMOKING and NON-ALCOHOLIC.
F5 reserves the right to cancel the trip under certain conditions – in such a case, the amount will be refunded in full.
Arrival & Departure timings
Ex-Hubballi. Reach Hubballi airport or railway station on Day 1 by 1PM. We will leave after lunch for Annegundi. Depart from Hubbali on Day 6 anytime.
Weather
The weather will be pleasant but the afternoons may get hot.
*Please note that now a days, climate/ weather is dependent on many factors and unpredictable hence above information might be subject to change during your actual travel days
Stay
The stay at Hampi is an ancestral village house will a pleasant aura. We have the whole house to ourselves and the bathrooms are common.

Our stay in Bijapur is a heritage home run by an NGO in an eco-friendly manner, also upholding the culture & tradition of Karnataka.

Our stay in Badami will be in well appointed rooms in a beautiful heritage resort

The hotel in Hubballi is a well situated property at a convenient location.

Fooooood!
We will try and have a mix of local thalis, continental fare and street food. Meals of your choice that is not a part of the meal package, you can order those dishes at your expense. Non-vegetarian options can sometimes be unavailable on certain parts of town where we would be dining as most of the places we are visiting are old temple towns.

Dining areas at the ancestral homes may need you to walk a few meters to reach them. 

In Annegundi, the dining takes places in another location, 100 mts from the house.

Alcoholic drinks are not a part of the package. Non-alcoholic drinks will be one per meal

If you have special dietary requests, please let us know beforehand.
Note > Prepare > Accept > Embrace:
• We are trying to explore a bygone era but we are not doing only monuments. The idea is to also explore the natural beauty of Hampi.

• You will need more than a fortnight to cover every monument in this circuit, so we have curated some of the most important and interesting set of monuments for you, giving you a contrast between different architectures and dynasties

• The bathrooms in the ancestral home at Annegundi are shared but we will have the whole house to our group.

• ATM in Annegundi and Hampi are not always working due to network issues

• BSNL works in most parts of Hampi but the network is unreliable

• There will be a lot of walking involved, as exploring the ruins and the heritage sites could happen quite at length. Each Heritage site sometimes is spread across a vast area and so could end up taking a lot of time with us standing and listening to the history or taking a stroll around the complexes.

• There are days with long road travel especially on the last two days.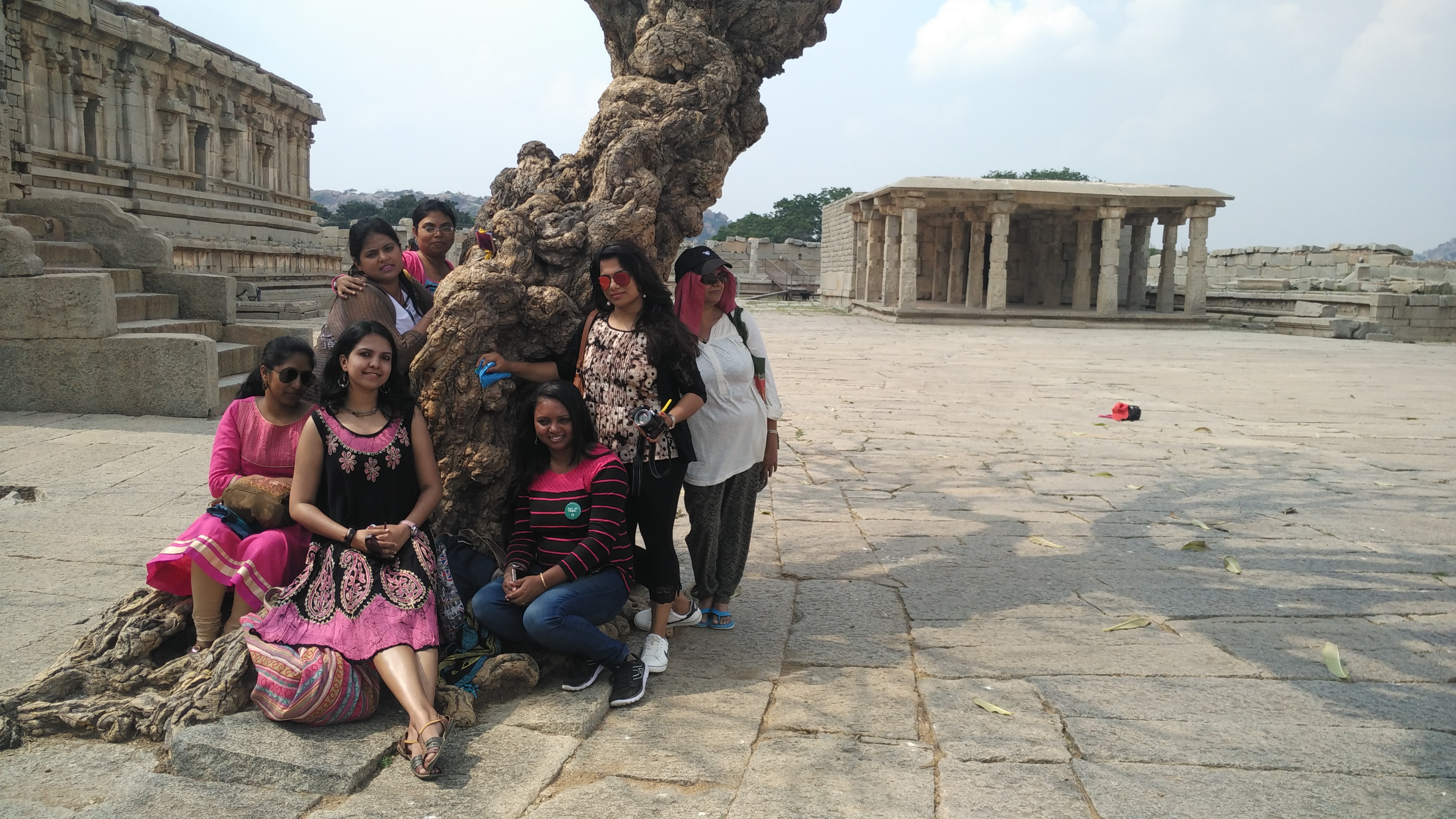 Hampi, Nov 2017
The Hampi trip was my first experience of a Women's only group trip and I am glad that I chose F5 for the same. The trip was well planned and every aspect of it was taken care of. Food, accommodation, travel and sightseeing. Our trip lead Sindhu was an amazing lead to travel with and she was capable of paying immense attention to the needs and requests of every member of the group. What I liked the most is that F5 had chosen to work with trustworthy and polite partners to work with (Driver, Accommodation Manager, Tour guide etc) with whom F5 has been associated for a long time. That ensured a safe travelling experience for all the women travelers. Also, the fact that the itinerary was very diversified and focused on providing different kinds of experience in a single trip was a great decision. I was expecting only a tour of the temple town and sightseeing of its architecture but including other locations and activities was a pleasant variation and I thoroughly enjoyed it. In a nutshell all I could say is that I would love to travel with F5 again. Thank you F5, until we meet again on another trip at another time.
Sowmya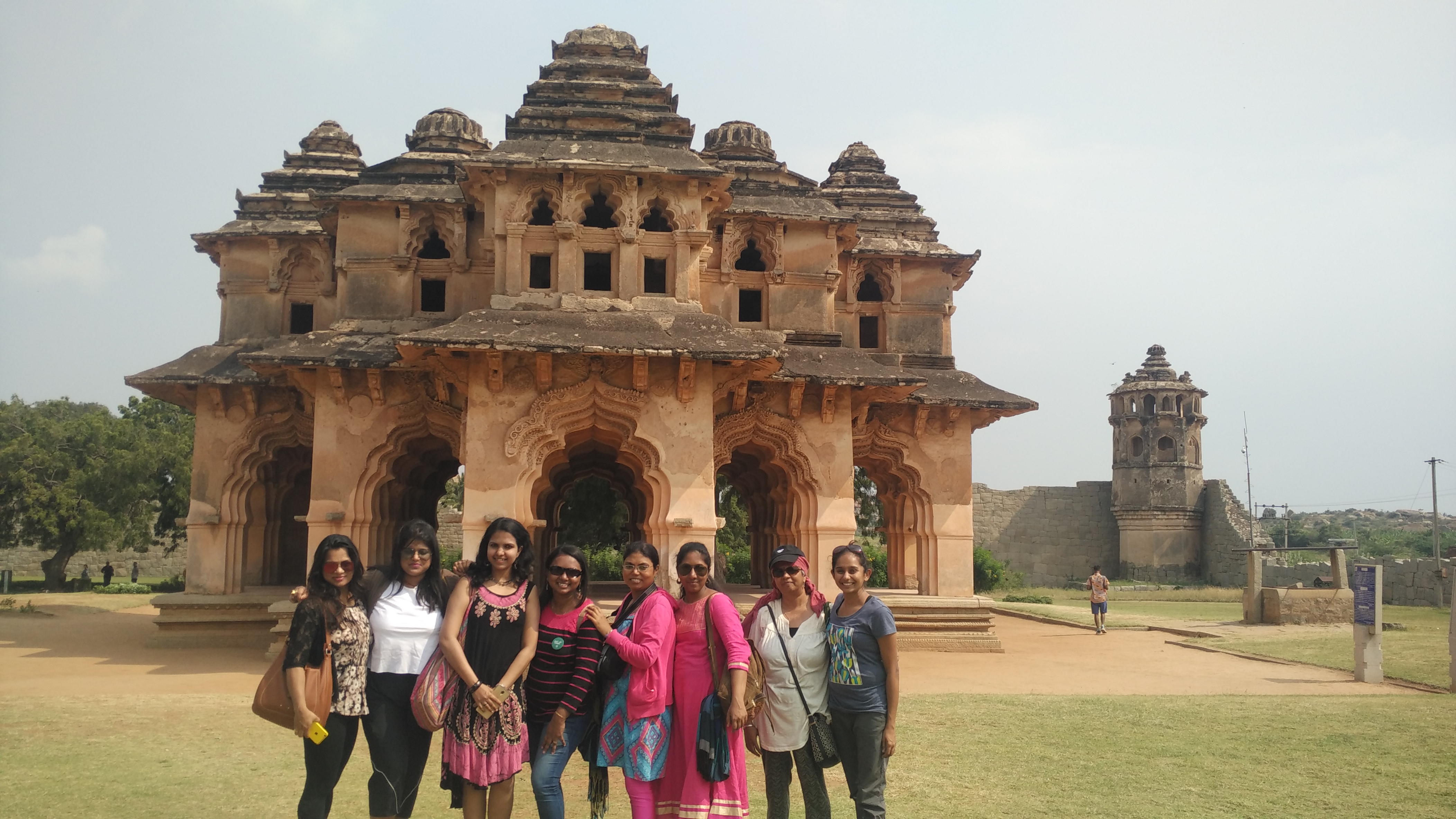 Hampi, Nov 2017
It was a very good weekend trip – a gathering of random but well meaning and cheerful souls! Surprisingly everyone got along very well. Good homestay, excellent food, smart local guide and plenty of places to see. To top it all , our tour lead was fantabulous. A very capable and smart girl.
Sally
Interesting Read About Hampi, Badami & Bijapur
'F5 Escapes' is a Bangalore-based, experiential travel company, with a focus on redefining the way women travel in India. The premise of F5 is an ambitious dream –  to put India on the global travel map as a preferred destination for women from across the globe.
F5 Escapes offers fixed departure all-women group tours, customized itineraries for families, groups and solo travellers. We also do in-city engagements which include #JustGo travel meetups, workshops to educate women on travel safety, sustainable menstruation, motorbiking etc.